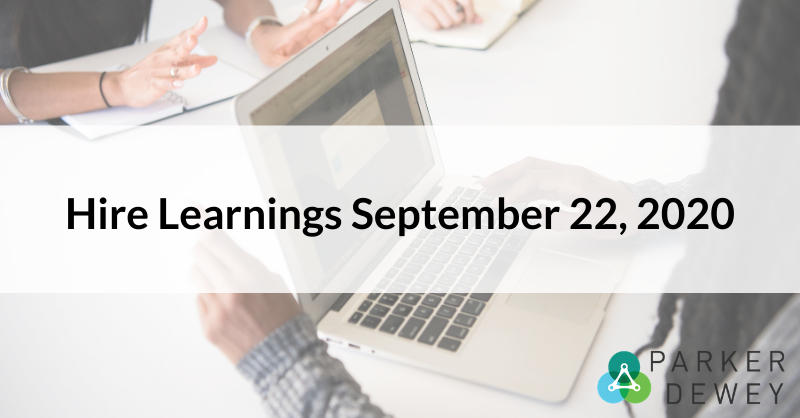 Hire Learnings September 22, 2020
It's no secret that COVID-19 caused worldwide disruption. Yet, many professionals have embraced this moment to adapt in ways that not just help get through the current situation, but also improve efficiency and outcomes.
This week we're highlighting four articles that challenge you to do the same. With many campuses fully remote, how can companies still recruit effectively while also supporting existing employees who are busier than ever? The answer is simpler than you might think: meaningful experiences are the #1 way college students want to be recruited while providing on-demand support for busy professionals.
Next week, we'll be hosting a webinar to check-in with early-career professionals during which we'll discuss what's working, what's not, and share remote recruiting strategies that have worked even before the pandemic. I invite you to share your "check-in" with us and provide an update on your current recruiting plan here.
Whether or not you can join us for our webinar next week, I'd love to hear from you and share what I'm hearing from my seat at the intersection of colleges, students, and companies.
Jeffrey Moss, Founder and CEO
---
What We're Reading
The Internship Must Go On
- ERE
Is 2021 The Year of the Intern?
- CMS Wire
AI and Talent Acquisition: Helpful or a Hindrance?

- Business 2 Community


What's in your mix of virtual recruiting tactics?

- Parker Dewey
---
"In fact, because we knew a lot of consulting companies were cancelling their programs, we made the decision to take on even more students than we'd planned on accepting."
A Chicago-based global consulting firm experienced resounding success from its decision to continue virtual internship programs this year. And many of those interns accepted formal offers to continue in 2021. The company explains that adapting to the changes has provided a better experience for both interns and the company itself.
Related reading: Help Managing Remote Internships
---
Some companies are leveraging the changes in virtual internships and the virtual learning environment to reassess the skills they'll be looking for in candidates next year. They've also developed a positive outlook on their ability to prepare for what 2021 will bring.
"When it comes to interns, I will also choose people who live in different cities and countries and I think this is an amazing opportunity for everyone. My team will be diverse, and new interns will get a chance to work for a good IT company without having to relocate physically."
Related reading: Virtual Internships Allow Hiring Assessments to Evolve
---
Have some AI technologies developed a bias? If your HR team is using AI for talent acquisition, this article might help to shine a light on challenges that have been brought to the surface.
"The idea of an employer using an AI recruiting tool would seem like it could help reduce the possibility of unconscious biases. However, many people believe it still isn't advanced enough."
Related reading: The pandemic's impact on hiring strategies point to a new, human-centered approach
---
Your fall recruiting plan is going to look a lot different this year. With travel off the table, you'll need to re-group around high return virtual recruiting activities. But did you know there's one tactic that will save time, resources, and money?
Related reading: How to Use Micro-Internships for Campus Recruiting (An infographic)
For more stories and insights on HR, diversity and inclusion, and hiring, click here to subscribe to our weekly newsletter Hire Learnings.