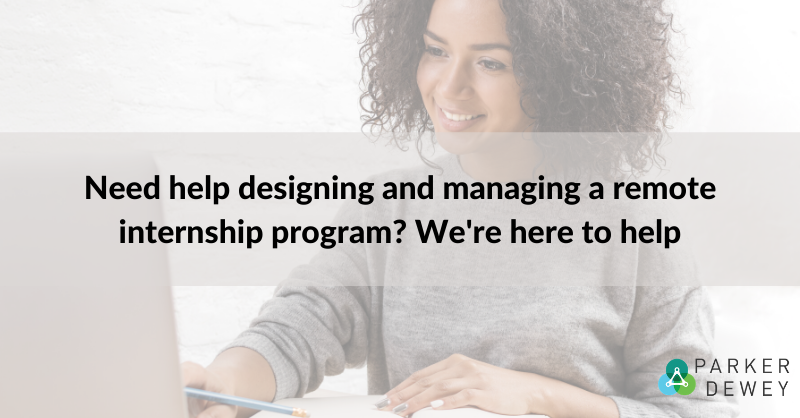 Help Managing Remote Internships
Parker Dewey hosted our first remote Micro-Internship in 2015 with the goal of bringing college students and companies together on-demand. As we've grown, we have learned a lot about both the unique benefits and opportunities college students bring to the workplace, as well as the unique challenges and support needed by those launching a career. Today, both companies and college students are facing unprecedented disruptions to summer internship programs slated to kick off in just a few short weeks. While Micro-Internships are not a replacement for 10-week in-office experiences, our learnings from facilitating thousands of projects can help companies to accommodate remote interns, ensure learning and development take place virtually, and see that work gets done to the benefit of both the organization and students seeking to grow their skills.
Now, we're uniquely positioned to share our expertise with companies when many interns will be unable to complete their internships on-site as planned. During the Summer 2020 Internship season, Parker Dewey is proud to offer our assistance to companies to help support partially or fully remote internship experiences. Though not ideal for all industries or roles, online internships can provide a safe, work-based learning experience and — with effective program design — can build meaningful relationships with college students interested in working with your organization after graduation.
Remote Internship Program Design and Management
Should you need it, Parker Dewey is here to support both interns and managers facing this new reality. Based on our own best practices and our partnerships with universities nationwide, we can provide interns with training on working remotely, effective communication when working on a distributed team, and professional guidelines for success. Additionally, we can provide managers with advice on providing oversight to virtual interns, managing and mentorship best practices for online work, and training to unbundle the summer experience into a series of discrete projects to ensure success for interns and managers alike.
As the situation develops and throughout the summer, Parker Dewey can also help you to maintain engagement with remote interns. Ongoing engagement can include just-in-time micro-lessons on common entry-level tasks, feedback and mentoring on professionalism, office hours with experts, and social engagement.
While no online or short-term experience could ever replicate the unique benefits of a traditional internship, moving the Summer of 2020 internship season online is a better option for students who rely on this opportunity to gain experience and explore career options, especially those from underrepresented backgrounds who may not have other opportunities to do so. Likewise, for organizations offering summer internships, online internships also provide a better solution than eliminating these programs this year, especially for those that rely on summer internships as a recruiting tool. We know there are a lot of "what ifs" right now. We're here to help.
If you're interested in learning more about how we can help you manage your remote internship program, sign up for a free consultation with us.
Read more on what to do about internships in light of the COVID-19 pandemic from The Center for Research on College-Workforce Transitions, UW-Madison.