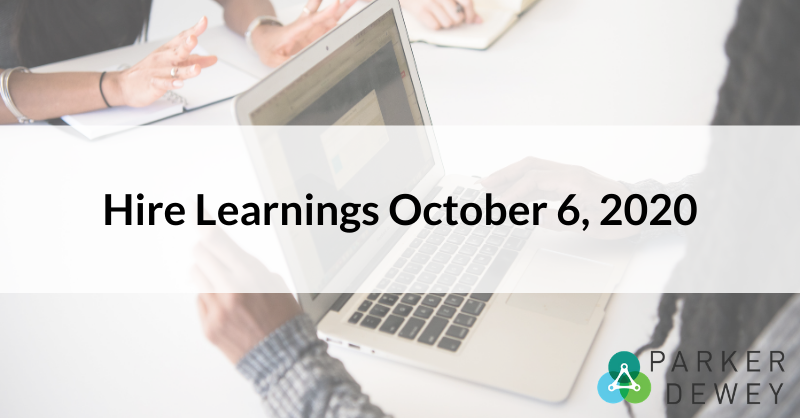 Hire Learnings October 6, 2020
Though our reading this past week includes various perspectives on what not to do, each offers considerations on what talent professionals can do to attract, assess, and retain the right talent.
Additionally, we share ways to ensure your switch to remote recruiting stays on track. While many had high hopes that virtual career fairs and info sessions would support their recruiting needs, engagement is down considerably as "Zoom fatigue" sets in and students only attend sessions for roles they're already interested in.
Later this week, we'll also be checking in with more companies, colleges, and organizations to learn how employers are hitting their diversity and other hiring goals in the midst of the pandemic. Be sure to join us live for this event.
Jeffrey Moss, Founder and CEO
---
Articles of The Week
Legal: AI-Based Video Interviewing Is Biased. End of Story. - ERE
How to Create an Authentic Employer Brand- Medium
This Is One of the Biggest Mistakes Companies Make When Evaluating Candidates' Soft Skills - LinkedIn
2020 Fall Remote Recruiting Check-In - Parker Dewey

---
"If we haven't accounted for every gender, race, religion, disability, sexual orientation, age, etc., along with adjusting for change and innovation when the AI was created, we're going to get biased results."
Many recruiting professionals have turned to AI-based technology as part of their strategy because vendors and experts claim it will decrease bias. However, this may not actually be true.
Related reading: Platforms for Hiring College Students in a COVID Environment
---
"I'm not interested in selling you something fake. It's not only shady, but bad for the bottom line."
If you're creating a brand marketing strategy, how do you make it authentic? A Medium employer brand marketer shares practical tips and guidance for building a human-centric employer brand.
Related reading: The pandemic's impact on hiring strategies point to a new, human-centered approach
---
"We've conducted focus groups and trainings with thousands of hiring managers, recruiters, and HR reps, and 90%+ say the primary reason people fail at their companies is related to soft skills…"
Soft skills are often overlooked in the decision-making process, especially given the difficulty of assessing these vital competencies. If this is the case at your organization, you may be missing out on the right hires, and opportunities to diversify your team.
Related reading: At the Core of Job Success: Why "Soft" Skills are Core Skills
---
We gathered insights from recruiting professionals about the state of this fall's campus recruiting to understand what's working and what's not. This is the summary of our Fall Remote Recruiting Check-In webinar.
For more stories and insights on HR, diversity and inclusion, and hiring, click here to subscribe to our weekly newsletter Hire Learnings.