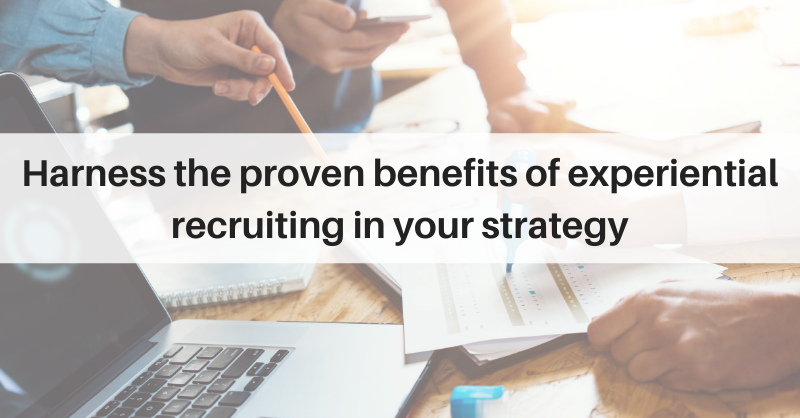 What's in your mix of virtual recruiting tactics?
As campus recruiting teams continue to plan their strategy for this year, organizations are deciding on their mix of tools and tactics in response to the pandemic. With travel off the table as schools shift to online learning and limit campus visitors, you'll want to focus your efforts around high return virtual recruiting activities.
To transition your full-funnel recruiting strategy online, your team needs to be adept at:
Sourcing tools to identify candidates:

LinkedIn
Resumes
Virtual career fairs

Digital marketing tools for consistent engagement and brand awareness:

Social media
Email
Online advertising

Virtual engagement tools make recruiting events possible online:

Webinars
Virtual office tours
Virtual info sessions

Virtual assessment tools to reshape traditional interview techniques:
That's a lot of unique skills to develop and use at a time when many companies are scaling back recruiting budgets. But did you know there's one tactic that will save time, resources, and money? Micro-Internships not only support a full-funnel virtual recruiting strategy but also complement your existing programs.
To be clear, we're not suggesting that you give up everything you've done in the past. Virtual alternatives to traditional recruiting exist and can be easy to use. However, with so many online options untested by your team, it's important to include proven high-return activities into your recruiting mix. And with less time on the road this year, many campus recruiting teams are using their "extra" time to pilot new programs that add value to their existing ones.
Why Micro-Internships?
To help campus recruiters solidify their strategy, we went straight to the source and asked students how they want to virtually engage with companies. More than 86% of students rated "real work experience" as their preferred method of engagement with employers. Meanwhile, barely half of college students are interested in engaging in virtual career fairs, info sessions, or employer websites. This data is clear: simply switching your tried-and-true strategy to virtual methods won't cut it. What potential candidates value right now is pathways for versatile engagement with your organization to get to know you on more than an introductory level.
In the middle of an economic downturn, students need more reassurance that entry-level jobs are pathways to a secure future with employers. Engaging student candidates with hands-on projects gives them the opportunity to connect with you professionally, allows for meaningful experiences, and serves as a mutual assessment to show you what they are capable of and shows them what you have to offer.
There are a few easy ways to introduce Micro-Internships within your company, and this method of recruiting is made easy by design. (See our latest infographic that outlines how to do so.) You can start harnessing the benefits of experiential recruiting as soon as you'd like since Micro-Internships provide immediate value for busy professionals within your organization and allow students to participate on-demand as their schedule allows.
Things may have changed, but talent acquisition doesn't have to be hard this year. Micro-Internships are your competitive advantage for campus recruiting, for COVID contingency planning, and right now. Since 2015 Micro-Internships on Parker Dewey have resulted in better hiring outcomes that are more cost-effective than traditional recruiting tactics. Our team at Parker Dewey is dedicated to empowering your efforts.