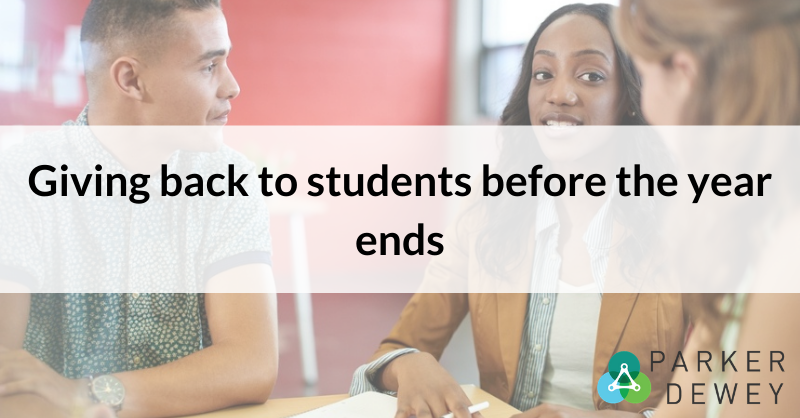 Plenty of opportunities to give back in December
As the year comes to an end, many of us are reflecting on how the pandemic has impacted our personal lives, our companies, and our professional responsibilities. And with so many unusual aspects to this year, this December is more important than ever to tie up the loose ends and make sure we're ready to leap into the next chapter by applying the lessons learned during 2020 to ensure we're prepared for what's ahead.

If you are like most recruiters or other HR professionals, the challenges of this year have certainly been amplified by a combination of budget pressures, travel constraints, and an increasing focus on ensuring equitable access to roles. If your results haven't achieved your goals yet, there's still time to amplify your efforts. Chances are that the projects you or your colleagues in other departments want to wrap up before year-end can be generated into valuable experiences for students helping tie up loose ends and achieve recruiting and DEI goals.

We've just passed Giving Tuesday, but it's never too late to participate. Consider giving back by providing a project to available students nationwide that are looking for the opportunity. Get the help you (or other teams at your organization) need and find a great potential candidate in return. Unsure if you have a good project fit for a Micro-Intern? Check out our decision tree (and share it with your colleagues) to help you identify projects that can benefit you and college students seeking experience.
Jeffrey Moss, Founder and CEO
Articles of The Week
5 Breakthrough Approaches to Hiring in the Covid-19 World - Entrepreneur
Recruiter Realness: "Recruiters Don't Understand Our Day-to-Day Struggles" - ERE.net
4 Ways Recruiting Budgets Will Change Over the Next Year - LinkedIn
The Future of Internships- Future Talent Council
---
"On the upside, employers have access to a larger talent pool, thanks to changing workplace dynamics and the number of workers displaced due to the economic effects of the virus. But some hiring managers are relying on old-fashioned tactics and sifting through mounds of resumes when the best candidates may still be employed."
Hiring strategies are steadily getting an overhaul as the new realities of the workforce take place. There are several ways employers are pivoting to ensure they hire and keep the best candidates.
Related reading: What's in your mix of virtual recruiting tactics?
---
"...it's critical not just to be well-versed in recruiting but also to really understand a role, especially a technical one, so that you can best bridge disconnects between hiring managers, candidates, and yourself as a recruiter."
When it comes to recruiters and hiring managers working together, which metrics are most important to their hiring goals? These two roles may not always be on the same page when understanding each other's needs, but this it's critical to both of their success.
Related reading: Optimizing Your Organization: Comparing Interns, Contractors, and Employees
---
"To get a better sense of COVID-19's impact on resources, we interviewed over 1,500 global talent professionals for the Future of Recruiting report to learn how they expect their organization's recruiting budget to change."
LinkedIn's latest report's findings show trends around COVID-19's impact on recruiting budgets and where some companies may be increasing or decreasing their spending.
Related reading: Platforms for Hiring College Students in a COVID Environment
---
"Apprenticeships, internships, and cooperative education will continue to grow and deepen their impact on business, government, non-profit organizations, and academia. Those who embrace them embrace the future."
The future of experiential learning highly depends on the emphasis that companies and organizations will put on them. These experiences lead and develop the next generations to enter the workforce and build from the inspiration each new wave brings in.
Related reading: Company Voice: Why We Launched a Micro-Internship Program
For more stories and insights on HR, diversity and inclusion, and hiring, click here to subscribe to our weekly newsletter Hire Learnings.