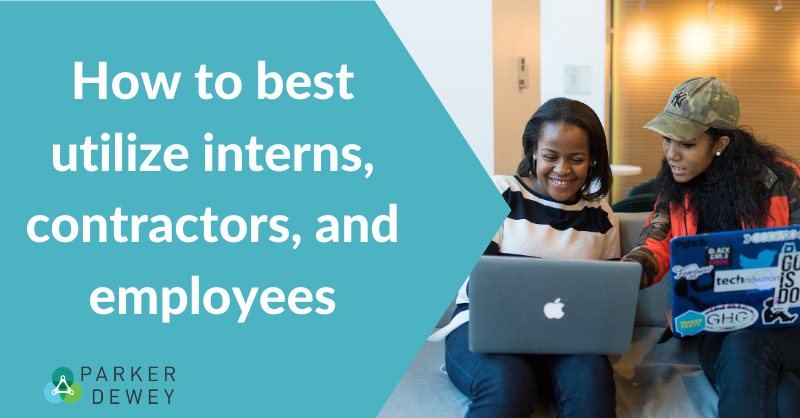 Optimizing Your Organization: Comparing Interns, Contractors, and Employees
I own a tutoring and test prep company called MyGuru. We provide high school, college, and graduate school students with customized 1-1 tutoring for both academic classes and standardized tests. Most tutors are independent contractors with other managerial and administrative and managerial roles are filled by W-2 employees and 1099 contractors.
When I started working on MyGuru, I was a full-time MBA student, and it was essentially a side project for an MBA class. In the five years after I graduated, I continued to work on the "project" and it grew into a legitimate side business. Since then, it has become closer to a full-time endeavor, and as such I have shifted the mix of interns, contractors, and employees involved in helping me build the company.
This article is a "case study" of sorts. It's intended to help a business owner or manager think about how to use different types of resources to drive growth efficiently and effectively by analyzing my company's experiences (which include both positive and negative examples). I'll start by giving a quick overview of the company's business model, and then explain how I've used interns, contractors, and employees, highlighting what has worked well and what hasn't.
MyGuru's Business Model
Our tutors work with students both in-person and online. Parents or students request, for example, an SAT tutor, by calling us or filling out a form on our website, and a "Managing Tutor" fields the request. They ask a variety of key questions and eventually connect the student with a tutor. The Managing Tutor handles administrative details like tracking payment vs. hours used, explaining cancellation and refund policies, etc. Tutors report their hours via an online system and are paid once per month.
To keep it simple, there are a few key organizational roles to keep in mind:
CEO/Owner/President – that's me. This role involves creating business processes, hiring people, and designing and executing marketing strategy. Early on and for much of the life of the business, I did almost everything below except for tutor, as well.
Tutor – typically an independently contracted expert tutor has filled this role. But most recently, one contractor has been transitioned into employee status.
Managing Tutor – this individual fields inbound requests and is the frontline with the customer, functioning in a mixture of customer service, sales, and managerial capacity. For a long time, I held this role. For a while, it was a role I used contractors to fill. Currently, employees reside in these roles.
Marketing Manager / analyst – responsible for creating content for the website, managing social media accounts, building partnerships, etc.
Accounting – I have typically used contractors for all accounting related activities.
Before proceeding, I should point out that one thing is clear. If you want to grow your business, you must outsource activities to others so that you can focus on what you deem to be the highest value, strategic issues. It's a trite phrase, but a business owner must work on the business, not in the business. You must set the processes and expectations so that other people can fill key roles and be empowered to make the right decisions. The trick is figuring what exactly to assign to what type of business partner, colleague, employee, contractor, or intern. Check out Parker Dewey's list of 18 "We should but I shouldn't" projects that don't belong on an entrepreneur's plate.
When Employees Are Optimal: Operational Activities Requiring Deep Knowledge of and Commitment to Your Specific Business
For the first few years of the business, I did almost everything I've described above. My first big decision was to try to transition some of my trusted tutors into the "Managing Tutor" role, so they could field requests and route them to other tutors. But this did not work out well.
The issue was that this role required tracking emails and interactions between students and tutors, answering questions during this period, and being available to "close" the relationship and handle payment issue before a session could be confirmed. This could require working during off hours. It was thus important for this person to be fully invested in the company. There are also many different types of tutoring services that we provide, from ACT tutoring to physics tutoring to GMAT tutoring and we have tutors in a variety of cities. It's important to be able to speak intelligently about all these subjects, be familiar with the available tutors, and facilitate the best available connection. A Managing Tutor also needs to fully understand the rationale behind specific policies around matching students with tutor, providing refunds, etc. to know how to explain them and when it's OK to bend the rules to keep a customer happy.
And most importantly, facilitating connections between students and tutors, talking to parents and students, and ushering the situation through towards payment is perhaps the most important activity in day to day operations of the business. You are the "front line" for the customer. Assigning the Managing Tutor role to someone who wasn't fully invested in the business, wasn't officially trained, and wasn't spending most of their week learning and thinking about the business, did not make sense. This was a great role for my first employee.
When Contractors Are Optimal: Activities Primarily Requiring Functional Expertise
The following roles at MyGuru have been successfully filled by contractors:
Tutors, who are experts in specific subjects
Select marketing activities, such as local SEO optimization and some paid advertising endeavors
Accounting and bookkeeping, where there are standard, weekly, monthly, or annual activities requiring knowledge of common software and regulations
In my view, contractors are best used to fill unambiguous – yet potentially very important – roles where expertise that isn't necessarily easy to build over time is required.
To take an extreme example, MyGuru is nowhere close to needing a full-time accountant. We use a bookkeeper to close the books at the end of each month, and an accountant to send the required W-2 and W-9 files to contractors and employees at the end of the year. Of course, our CPA files our taxes. These are critical roles requiring deep expertise in accounting, but not in the underlying nature of MyGuru's business.
So, if you have complicated tasks the business must complete that are important to get right, and you lack the scale to have an employee focused on these tasks all the time, then using a contractor is the right path.
When - and How - to Use Interns
A small business like MyGuru faces two very tricky problems that interns can help solve. First, it's hard to recruit new employees. We just don't have the resources to go on campus, and we can't risk making a full-time offer to someone who does not pan out. The direct and indirect costs of hiring someone, firing them, and finding a replacement are far too high. Micro-Internships are a great way to "trial" someone before deciding to consider them for a full-time or expanded role as a regular contractor.
Second, we have many small projects to consider doing and a constantly expanding to-do list across a variety of functions. Whether it be administrative tasks around cleaning up data, generating content for the website, editing the website, reaching out to potential partners, or analyzing customer or operational data, there is a lot to do.
Micro-Interns are a perfect way to get more productive in general while trialing new potential employees or contractors. If you can make a long list of marketing-oriented tasks that are important yet not a top priority, an intern is a great option to help you cross items off your to-do list and in so doing, drive faster growth for the business.
How to Get the Most of Working with an Intern
The key when working with an intern population is to be as specific as possible. Interns typically have less experience, so it's best to assume that you must describe specifically what you want done. Instead of saying, "write a blog article about X," you would provide the title, word length, a high-level outline of the article's thesis and logical key points, and some target keywords.
Summary
To maximize the growth of your business, it's important to optimize your mix of employees, contractors, and interns. In my view, many companies probably underutilize interns and contractors relative to hiring full-time employees.
About the Author
Mark Skoskiewicz holds a BS in Business from Indiana University and an MBA from Northwestern University. He helped found TRC Advisory, a strategic consulting firm, and is also the founder of MyGuru, a 1-1 tutoring and test prep company that was the focus of this article.