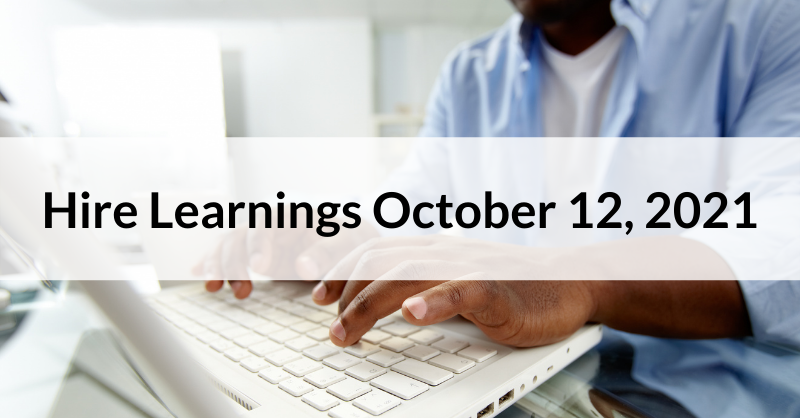 Unpaid Internships in Disguise
At this point, everyone agrees that unpaid internships hinder recruiting, hurt diversity, and are generally unfair. But as we see more companies working to enhance employer brand, build equitable pathways, and ensure campus recruiting success, we've seen the emergence of what we're calling "unpaid internships in disguise." In short, these challenges, discovery programs, and other virtual experiences ask college students to do between five and 20 hours of work for the chance to "have your application for an internship prioritized" or win some sort of prize.
To be clear, companies are running these programs with the best intentions of helping college students gain professional experience and (usually) aren't getting value from the work being done by the student.
However, the outcome is that these opportunities create yet another barrier for those students who cannot invest the time to do free work – and, as we heard yet again from college students in our annual Student Sentiment Survey, these barriers limit access and hurt employer brand.
But are these opportunities really the same as unpaid internships? Well, since the audience for these programs is the students, we asked them. You can read how these impacted two students here, but a few things stood out:
"Being forced to choose between your basic responsibilities and the chance to further the career of your dreams is a soul-crushing reality that countless students find themselves facing. Not to mention unpaid assignments like these could be standing in the way of hardworking students like me that don't have the time or the means to afford focusing on them."

"These [unpaid] experiences demand time, effort, and brainpower that, situated within a proper employer-employee relationship, would otherwise be paid."

"At the end of the day, companies will miss out on great students when they choose their paid jobs and valuable extracurriculars over these recruiting strategies."
When asking users of these programs, their response is typically that these experiences still provide valuable experiences to students and help ensure that those really interested in their companies get access. While true, they still limit these benefits to those students who are forced to choose between them and meeting their financial obligations.
This is why I am so excited about programs like HubSpot's, which is not only giving these students these experiences, they are paying students for their work. As a result, not only do the students get the learning experience, the companies benefit from the work being done by the students.
And a leading medical device company is taking it even further, paying students to develop a pitch for one of its products, ensuring that students aren't being forced to choose between having this experience and paying their bills. In addition to the value of the work and opportunity to build its employer brand, the company can assess the students' skills at the start of the process – saving hours spent flipping through resumes, conducting phone screens, and hosting visits trying to guess who is the right fit.
As we've seen, instead of spending tens (or even hundreds) of thousands of dollars running programs like these, these same funds can be used to pay the students, ensuring equitable pathways and driving better outcomes for students and companies alike.
Jeffrey Moss, Founder and CEO
---

Colleges and companies across the nation have shifted to virtual processes to reach students transitioning from college-to-career. But are the primary tactics utilized by recruiters reaching high-potential candidates?
Parker Dewey surveyed students currently enrolled to understand how they want to engage with prospective employers.
In this full report, you'll discover answers to the following questions:
How do students prefer to engage with recruiters?
What do they want most to help them prepare for their careers?
Do students really care about virtual career fairs?
What uncertainties are students facing when it comes to securing a job?
---
Articles of the Week
A Lack of Funding for Diversity Hiring Continues to Plague Orgs - ERE
Another kind of communication: From dance to public relations - Work Shift
Beyond Compensation: Preparing Student-Athletes to Earn After College - Kaplan
---
A Lack of Funding for Diversity Hiring Continues to Plague Orgs - ERE
"Some business leaders mistakenly view D&I as a social issue rather than a key driver of business results. Consequently, their companies choose to invest heavily in external activities as part of a corporate social responsibility campaign."
There's no shortage of research to prove that a strategic diversity, equity, and inclusion plan can lead to outperformance of less-diverse organizations—so why has progress towards better diversity and inclusion outcomes been so slow? Author Rocki Howard posits that companies "don't know how to invest" in D&I as a key driver of business, and not solely as a social issue. And instead of tactical D&I investments, companies continue to "make empty promises to improve D&I." This article gives an overview of the common challenges companies face when it comes to investing in D&I. (And for one potential solution, see the related reading below.)
Related reading: Why Engage ERGs in Recruiting?
---
Another kind of communication: From dance to public relations - Work Shift
*Written by Micro-Intern Gabriela Rivero*
"She quickly found that her dance experience was more relevant to communications than she'd thought. Her discipline and the skills she learned in marketing, self-advocacy, networking, and organization have all come in handy both in her classes at Griffith and her new job managing ads and social media for an arcade gaming company."
As the pandemic took hold, 24 year-old Arriana Menzies was forced to revisit her goal of becoming a professional dancer. However, after enrolling in an online communications degree program, Arriana found that her dance experience had helped her develop core skills that were directly transferable in her career pivot. Check out this article (written by a Micro-Intern) for more on Arriana's story.
Related reading: Student Success: How Kenzie's Micro-Internship Shaped Her Career Plans
---
Beyond Compensation: Preparing Student-Athletes to Earn After College - Kaplan
"Between practices, workouts, film reviews, travel to competitions, team-building activities, compliance meetings, recruiting activities, and a host of other commitments, college athletes often spend more than 30 hours a week on their sport."
Though student-athletes can now "profit from the use of their name, image and likeness while playing NCAA sports," the majority will still earn their post-grad living outside of playing professional sports. Given the packed schedule of a student-athlete, how can educators help ensure career readiness? This article lays out three approaches, including: "putting career planning on the agenda," "identifying transferable skills," and "offering flexible career-building programs." Plus, all three of these tactics can be put into play with Micro-Internships. Check out the related reading below for more perspectives on how experiential recruiting can be especially valuable to student-athletes.
Related reading: Recruiting Student-Athletes
---
This Week's Upcoming Webinar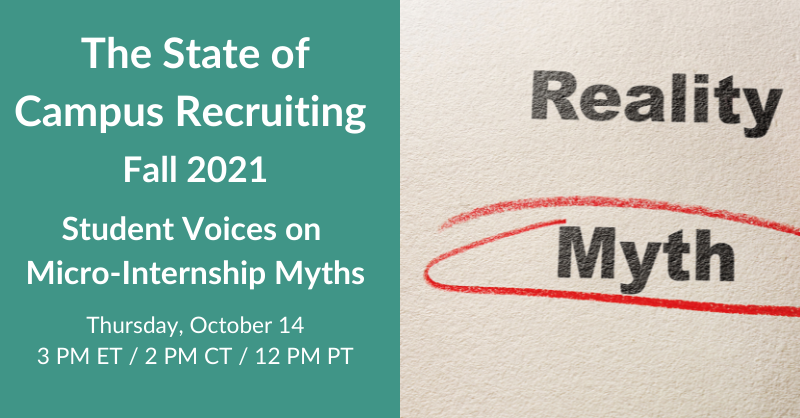 Join us this Thursday, October 14, for part two of Micro-Internship Myths! Our three student panelists will share their perspectives on:
campus recruiting strategies that drive engagement,
what's working (and what's not) in virtual recruiting, and
the benefits and value of Micro-Internships.
Additionally, we'll share data from our upcoming Campus Recruiting Student Sentiment Survey and all attendees will receive a full copy of the report.
---
For more stories and insights on HR, recruiting, and diversity, click here to subscribe to our weekly newsletter Hire Learnings.