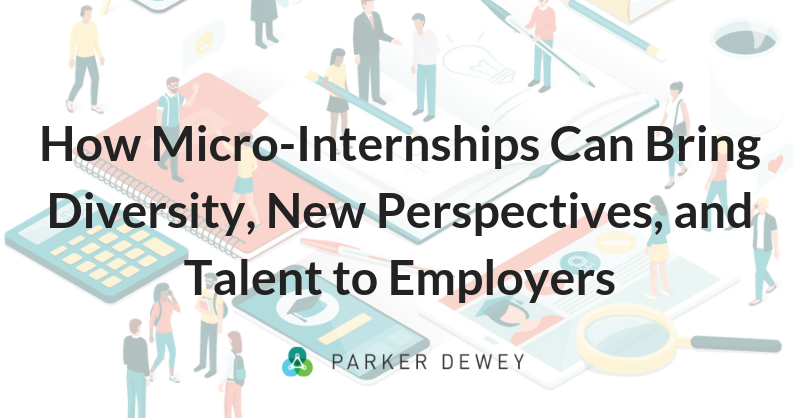 How Micro-Internships Can Bring Diversity, New Perspectives, and Talent to Employers
Written for Parker Dewey by Alysha West, Ferris State University Class of 2019
Having a more diverse workforce is not just an act of goodwill or cultural progress; it can truly lead to better company performance. According to research done for the 2018 McKinsey Diversity Matters report, companies in the top-quartile for gender diversity on their executive teams were 21% more likely to have above-average profitability than bottom-quartile companies. With ethnic or cultural diversity, this increases to 33%.
Unfortunately, especially for first generation college students, women, and members of minority groups that are underrepresented in the workforce, college-to-career transitions are broken. While companies understand the value in increased diversity, they often face challenges related to recruiting from certain schools, majors, or GPAs. Talent goes untapped and diversity initiatives lack the vibrancy and fullness of their intended goal.
When a company fails to find and hire the people who are from different schools, majors, GPAs, abilities, or backgrounds, it makes sense that their efforts for diversity fail. How can a company encourage diversity if everyone is nearly the same?
One way to bridge the gap is with Micro-Internships. These low-risk, short-term, paid, professional assignments allow companies to engage with the diverse talent of highly motivated college students and recent graduates, giving them a leg up in their diversity initiatives. Micro-Internships help companies find candidates—also known as Career Launchers—with grit, determination, and the skills to thrive irrespective of their pedigree.
Companies looking for diversity can use Micro-Internships to help expand their reach, select who they want, and overcome bias.
---
Expand Your Reach
Micro-Internships help companies expand their reach and find new candidates. More than 100,000 diverse Career Launchers are ready to accept Micro-Internships through Parker Dewey.
Over 80% of Career Launchers selected on Parker Dewey come from underrepresented populations. Our partnerships with United Negro College Fund, Dell Scholars, America's Urban Campus, and others allow previously untapped candidates to bring their skills to companies who need them.
According to Merriam-Webster Dictionaries, diversity is "the inclusion of different types of people (such as people of different races or cultures) in a group or organization."
If diversity revolves around different, how does a company find different types of people? Through a different type of approach to hiring.
Micro-Internships provide that approach. Career Launchers are candidates of all abilities, not held back by non-project related limitations. They are from schools that not all companies target. They are from all backgrounds, not just privileged ones. They are highly motivated, but not yet noticed.
Many Micro-Internships have the additional advantage of being remote work-based. This improves accessibility for people with disabilities and reduces barriers for Career Launchers with time or location obligations.
Here is an example: A tech company in Silicon Valley needs a content calendar for their social media. They partner with a student on Minnesota who attends a small university in a small town. This student, who lacks local opportunity, does not lack in her ability to create content and bring in fresh ideas. The company has benefitted from her good work and now has a connection with someone new who they could offer a position upon graduation.
Select Who You Want
Micro-Internships help companies select candidates who have grit, determination, and the skills to thrive.
Not only do Micro-Internships help companies expand their talent pool, but these auditions allow companies and Career Launchers to mutually assess fit before committing to an internship or full-time role.
Offering a Micro-Internship, like any employment, involves a selection process. The difference, however, is that the selection process is tailored to the project rather than degrees and accolades. Career Launchers respond to short-answer questions like "Why do you think you would be a good fit for this position?" and are selected based on their answers. Some companies also ask for samples of work as evidence or contact the Career Launcher for more information. This process of skill-matching takes out diversity-hindering barriers, which can impact their ability to fill positions. Some companies use Micro-Internships as a tool to find future full-time employees.
For companies looking for a leg up in their quest to attract qualified employees, diversity could put their open jobs in a more desirable position. By 2020, 12 million jobs are expected to go unfilled due to a lack of skilled labor. Having a diverse workforce can improve a company's ability to find, attract, and retain talent. According to a survey conducted by Glassdoor, 67 percent of job seekers place importance on a workforce's level of diversity when considering job offers. Diversity is the competitive hiring edge that gets the right people in the right places, allowing companies to select and be selected by potential employees.
Overcome Bias
Micro-Internships help companies overcome biases based on pedigree.
According to Crain's Chicago Business, "Easy generalizations about broad groups of candidates have to go. Companies need to consider more candidates, scrutinize all of them more closely, and reach individualized decisions on each. Casting aside crutches can be scary. But companies that stop relying on others to screen talent will gain a key competitive edge: better workers."
When searching for new talent, companies tend to look to target schools where they assume the best talent will be found. These entry-level hiring practices cause companies to compete for just 1–2% of the 3.8 million degree-earners in a given year. Making these assumptions about an employee's ability to do a job well based on generalizations—such as the school they attended—not only misses opportunities for diversity, but it misses opportunities for a competitive edge and better workers.
In the traditional entry-level hiring process, candidates are evaluated on arbitrary criteria. Skill sets are wasted, qualified individuals get filtered out and diversity initiatives flounder in rooms with people who have the same degrees, experiences, and thoughts.
The career-gap facing first generation college students, women, and members of minority groups is not going to resolve itself. Entry-level hiring practices especially are structured with a repeated unconscious bias toward the people who bring in the diversity your company needs.
The solution? Micro-Internships.
Parker Dewey offers the largest network of highly motivated college students and recent graduates who are excited to complete short-term, professional assignments. While executing these Micro-Internships, Career Launchers demonstrate their skills and grit, and exceed expectations as they seek the right full-time role or internship.
Learn more about how Parker Dewey can assist your company in Diversity and Inclusion initiatives.