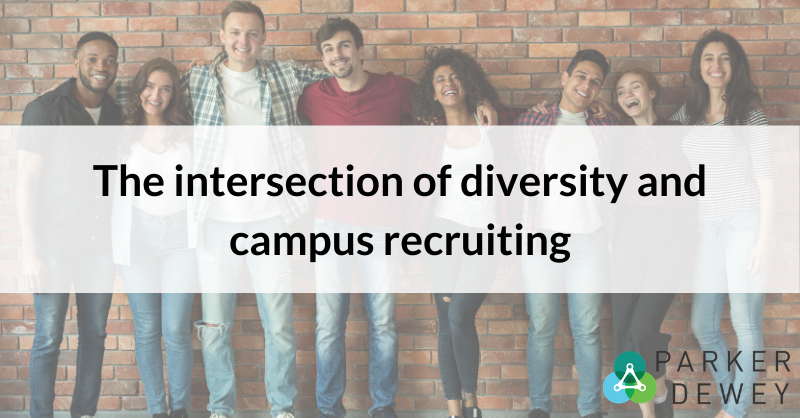 Diversity initiatives are important for companies and students alike
Every one of us appreciates the value of diversity and wants to ensure college students and recent grads have equitable pathways to professional careers at our organizations. Unfortunately, many of the efforts in place to do this aren't having the impact we hope. While these programs have the best intentions, for many of these Career Launchers the underlying obstacles in the recruiting, assessment, and engagement process remain.

Given the importance of diversity initiatives for companies and students alike, next Thursday (11/5) I will be hosting a panel with the leaders of four non-profits that work closely with college students, companies, and universities to improve college-to-career transitions. During this discussion, leaders from the Dell Foundation, University Innovation Alliance, Winning Edge, and TheDream.US will highlight the challenges inherent in many corporate DEI efforts, especially as so many companies prioritize diversity in their recruiting efforts.

They will also share actionable strategies that companies can use to complement their current efforts to enhance business and social impact. Although the students supported by each of these organizations are unique (e.g., first-generation college students, diverse student-athletes, underrepresented students at large universities, and DACA dreamers), the benefits to companies of providing equitable opportunities are consistent.

While this week's articles below highlight some of these topics, I really hope you can join me next Thursday for what will be an actionable and eye-opening session.

Jeffrey Moss, Founder and CEO
---
Articles of The Week
Building a Diverse Talent Pipeline: 6 Meaningful Steps Every Company Can Take - LinkedIn
Companies Need to Think Bigger Than Diversity Training - HBR
After a successful summer, virtual internships are helping Chicago companies expand their recruiting reach - Chicago Tribune
College Recruiting: "Why Diversity Hiring Programs Are Failing Us" - ERE

---
"Beyond training your talent acquisition team, it's also crucial to train your hiring managers to ensure they're helping to actively drive your diversity efforts, rather than unintentionally hindering them. After all, it's no use building a diverse pipeline if your hiring managers always choose to move forward with candidates who come from similar backgrounds."
Creating programs where hiring managers work directly with individuals on real projects is one way to overcome some of these unintentional biases.
Related reading: How Micro-Internships Can Bring Diversity, New Perspectives, and Talent to Employers
---
"But is diversity training even worth fighting for? Not to the degree you might expect. We have analyzed data from hundreds of employers, across dozens of years… and found that the typical diversity training program doesn't just fail to promote diversity, it actually leads to declines in management diversity. Other simple managerial measures have proven to be more effective at opening opportunities up to people of color."
Diversity training alone won't be the silver bullet to the racial gap in the workplace. Significant increases in workforce diversity and opportunities rely on multiple systemic changes that can work together for long-term success.
Related reading:
Campus Recruiting and Challenges with Diversity
---
"When the pandemic hit in March, the corporate world shifted on the fly to a work-from-home paradigm. Some companies canceled their summer internship programs, while others pivoted to remote solutions, offering future titans of industry a chance to learn the ropes from their parents' basement."
As companies shifted their summer internship programs to take place remotely, they recognized that college students can still have great experiences and demonstrate their skills. As a result, more companies are applying the lessons learned earlier in the hiring process, with remote, project-based experiences used to overcome the recruiting challenges surfaced this fall.
Related reading: Micro-Internships in Cincinnati: How Your Community Can Attract and Retain College Students
---
"Despite employers promoting inclusiveness and "best places to work" awards, we were discouraged before we even applied, and that led to feeling further isolated. Even after getting help with our resumes from our college career centers, our experience wasn't a perfect fit with job application-requirements. We knew we would be overlooked, passed over, and screened out."
Noel, Fabian, and Rachel share their unique stories of interacting with college recruiters for entry-level jobs, how they felt disadvantaged, and the hurdles that they had to encounter that their peers did not. They also offer some suggestions for how recruiting programs can better serve diverse candidates.
Related reading: How to Use Micro-Internships for Campus Recruiting (An infographic)
For more stories and insights on HR, diversity and inclusion, and hiring, click here to subscribe to our weekly newsletter Hire Learnings.