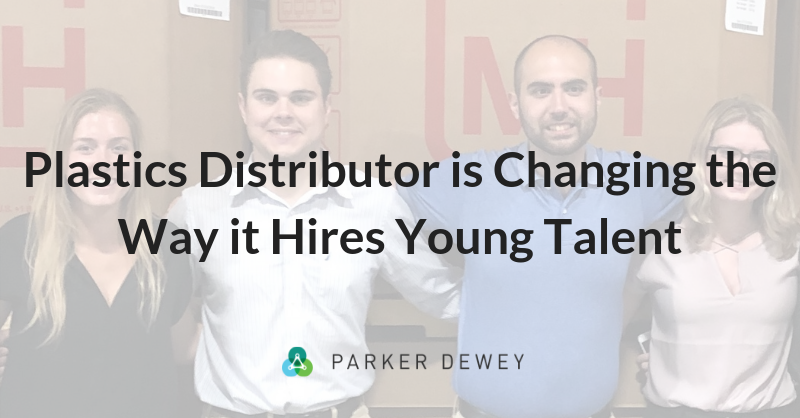 Alternative Approach to College Recruiting Aims to Reduce Cost and Attrition While Improving Diversity
In our high-pressure labor market, companies need an edge. No one knows this more than talent acquisition professionals in manufacturing, where the industry is projected to fall two million workers short of its needs within the next ten years.
But with so much attention paid to the technology industry (especially on college campuses) and the allure of the start-up-turned-unicorn, manufacturing isn't on the Class of 2019's radar. A recent article from IndustryWeek explains it this way:
"Manufacturing has a serious perception problem," says Carolyn Lee, director of the Manufacturing Institute of NAM. In addition to not understanding the economic factors of the industry, she points out that "many young people just don't know what is happening inside these plants -- they don't realize that it's a high-tech industry with great career potential."
Even as technology plays an increasing role in advanced manufacturing processes, manufacturing companies still need new ways to attract, develop, and retain skilled workers in order to have a competitive advantage in a marketplace that rewards efficiency, skill, and rapid turnaround times.
Plastics Distributor is Changing the Way it Hires Young Talent
One of the largest plastic resin distributors in North America with more than 65 years of experience, M.Holland is deploying a new spin on internships to help recruit, train, and retain its next generation of workers.
In 2017, Talent Acquisition Manager for M.Holland, Greg Watkins, discovered Micro-Internships as an innovative way to get temporary project support for his finance and supply chain teams. Though the company traditionally looked for more experienced professionals, they recognized a need to bring on junior employees who could learn and grow with the company as more Baby Boomers retire. Launching a Micro-Internship program was simple utilizing Parker Dewey, a network of college students, recent graduates, and companies that post project needs, set their price, review applicants and then select who they want to work with.
For manufacturers facing a widening worker shortage, Micro-Internships offer several key benefits:
On-Demand Support: As needs arise, M.Holland is able to connect with college students without spending time or money on college job fairs or getting their brand in front of college students.

Complementary Recruiting Tactics: While micro-Internships don't replace semester-long engagements or apprenticeships, they provide exposure to a much larger pool of diverse candidates than traditional campus recruiting tactics.

More Relevant Candidate Evaluations: Micro-Internships enable students to demonstrate skills that are often unrevealed in academic environments or traditional interviews and assessments. By actually working with one another, employers can evaluate hard and soft-skills in action.

Cost Savings: The Parker Dewey platform has no additional fees when hiring college graduates for full-time roles after completion of Micro-Internships. M. Holland estimates using Micro-Internships to support the team as-needed and hire college graduates has saved $17,000 to $18,000 per hire by cutting costs for campus recruiting budgets, and eliminating temp-to-perm and search firm fees.
"This is the 'anti-staffing firm,' approach" says Watkins,. "I set the price for the assignment, picked who I wanted, and when I decided to hire full-time, there were no fees."
One of M.Holland's hires, Suzan Batamuliza, who did a Micro-Internship shortly after graduating with a finance degree from Chicago's Roosevelt University recently spoke with Fistful of Talent:
"I applied for maybe two or three projects that I thought I might be interested in, and one of the projects was with M. Holland. I worked in their credit department and I was going to help them with some credit reviews. I was supposed to work for them for two weeks, which is what I thought the project was going to be, but they ended up extending it for a month. A month became three months, and at the end of the three months, they were saying, 'We like the work you're doing. You seem to understand everything that is happening. We would like you to interview for a full-time job.' And so I ended up becoming a full-time employee. Without the Micro-Internship, I would have never considered the company."
Micro-Internships can be a powerful complement to standard internship programs. For the manufacturing industry, they offer a way to diversify their employee pipeline, reduce attrition, and forge relationships with ambitious young talent. For students, they offer an excellent opportunity to gain real-world experience and explore careers with more flexibility and fewer barriers to access.
---
Greg Watkins sat down with us in a video interview and shared more insights to how his company found success with a Micro-Internship program.