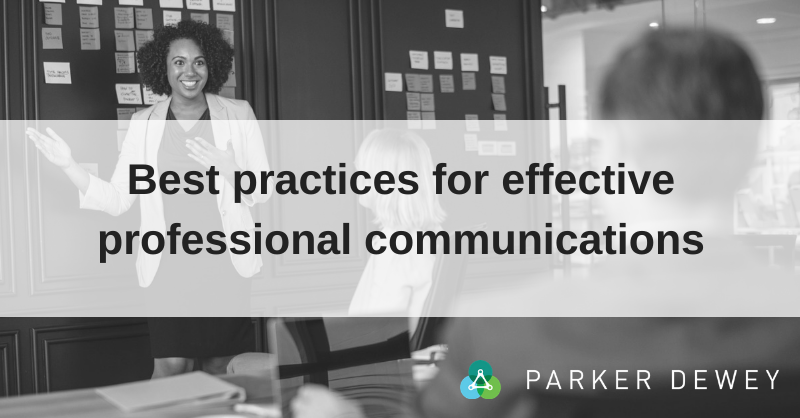 Career Launcher Resource: Effective professional communications
Effective communication is vital for personal and professional success. Whether you are working with a client on a temporary project, completing an internship, or serving in a full-time position, how you communicate speaks volumes about you and your work. Below are some best practices you can follow to communicate professionally and appropriately.
Email etiquette
While working on a particular project, you may be required to send emails to the client contact and other members of the organization. Whether they are work updates or clarification emails, the clarity and articulation you display in your messages will be a direct reflection of your thought process and attention to detail. To ensure that your emails are professional and well-written, follow these simple suggestions:
Always proofread your emails before sending them. Make sure you've used punctuation correctly. It's preferable to avoid exclamation points and emoticons in formal emails. Use the spell-check feature to ensure that words are not misspelled. Don't use abbreviations and slang.
Ensure that your emails are well-structured. A disorganized email reflects a cluttered mind. Ideally, an email should not have more than one main message, clearly stated in the beginning. This should be followed by data or evidence, questions or concerns, and action items.
Avoid using flowery language and jargon. Professional emails have a clear message or purpose, which should come across using as few words as possible.
Have a defined goal or reason for each email and make sure it is clear. The client should quickly know if you have a question, are providing an update, want to schedule a call, etc.
Be specific. One of the key elements of effective communication is specificity. For instance, you may need clarity about an editing assignment. Asking the question, "Could you tell me how many articles I will be editing, how many words each article contains, and whether I will be making changes myself?" is more effective than asking, "Could you provide more clarity about the project?"
Avoid being too verbose. We often use more words than necessary to convey our intended meaning. For example, it is better to say "although" than "despite the fact that."
Since the client may not be familiar with your working style and will not be monitoring you closely since you are an independent contractor, it is important to communicate regularly with them so that they know the status of the project. If you are going to be unavailable at a certain time, let the client contact know. In order to inspire trust in the client, make sure you respond to their email messages promptly.
Meeting etiquette
Although you are an independent consultant, you may be required to attend meetings with the client, virtually or in person. Below are tips you can follow to ensure that you display professionalism during meetings.
There are specific rules to follow for each type of meeting, but in general, remember to always come prepared for the meeting. The meeting organizer will most likely share an agenda for the meeting in advance so you can collect any data you will need to refer to during the meeting and have it ready. If you are leading the meeting, make sure you set a start and end time and provide an agenda. If possible, don't deviate from the agenda. Always arrive for the meeting early. If the meeting hasn't begun but there are others present, introduce yourself and initiate casual conversation with them.
For videoconferences and face-to-face meetings, carry a notebook and pen with you and take notes. Not only will it help you keep track of what is taking place, but it will show that you are focused and ready to learn. Maintain eye contact and sit up straight. Dress appropriately. Don't doodle or browse the Internet while someone else is speaking. And don't check your phone messages. In fact, it is usually polite to keep your phone set to silent and out of sight. Never answer a call while in a meeting. If you have something to say during the meeting, do so clearly and loudly enough for everyone to hear. Avoid eating and drinking during meetings. It is distracting and noisy. Also avoid actions such as blowing your nose, stretching, or yawning.
For teleconferences and videoconferences, you may be required to share your screen with the rest of the meeting attendees. In such cases, make sure all other documents, conversations, and windows are closed. If you're teleconferencing with someone in another country, be aware of the time difference and schedule the meeting accordingly. If you want to say something during a meeting, be sure to speak slowly so that everyone can understand you. Pause in between statements, and ask if anyone has questions.
Cross cultural sensitivity
Even if you are only communicating via email with the client contact and other members of the client organization, be aware of possible cultural differences. The best way to display sensitivity to others' cultures is by improving your awareness of how those cultures differ from your own. There are numerous resources on the Internet to help with this. Don't restrict yourself to stereotypes because they can be damaging to your relationship with others. Treat each person as an individual. Also, despite cultural differences, there are certain behaviors that are appreciated by people around the world. For instance, listening attentively during a meeting, smiling when you see someone, greeting people politely on calls and meetings, thanking people over email or telephone for jobs well done, and being articulate and clear at all times are positive behaviors that cross cultural boundaries.
Takeaways
Demonstrate good manners and respect for others while communicating over email with the client or others at the client site.
Make sure you follow the rules of etiquette specific to different kinds of meetings: teleconferences, videoconferences, or face-to-face meetings.
Be aware of cultural differences between yourself and those with whom you communicate. Avoid stereotypes and recognize behaviors that are appreciated across cultures.