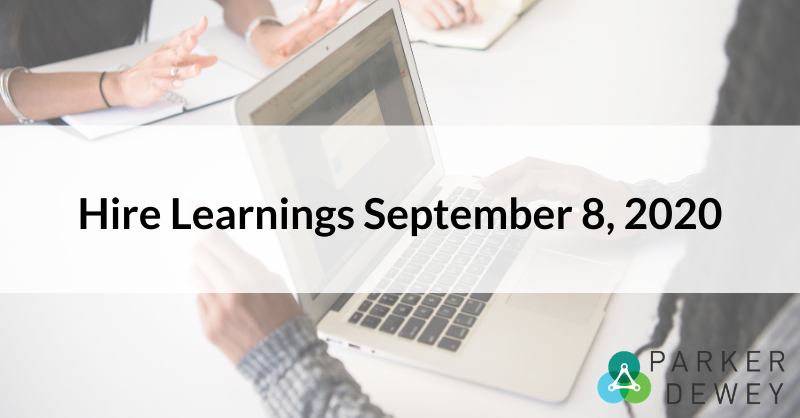 Hire Learnings September 8, 2020
Diversity and inclusion have been top of mind within HR and recruiting organizations. Though a push for increased diversity is a positive, companies' diversity messages are getting lumped together, making it hard to stand out to prospective full-time and interns candidates.
This is one of the reasons Experiential Recruiting is even more important than ever, as companies are unable to be on college campuses engaging and building relationships that are key to creating equitable pathways. However, by providing these prospective employees and interns with real opportunities to work on short-term, professional assignments, companies get to introduce students to their organizations and roles, mutually assess fit, and ultimately make the right hiring decisions.
While we are proud of the impact, with over 80% of Micro-Interns selected coming from underrepresented populations, this is only part of the solution. That is why this week we share some resources that highlight the landscape of diversity recruiting and so you can leverage this information to help you form your own strategies and tactics.
Jeffrey Moss, Founder and CEO
---
What We're Reading
New LinkedIn Data Shows People Are Paying Attention to Companies Talking About Diversity - LinkedIn
4 Diversity Training Methods Worth Implementing - Mentor Spaces
NPR internship applications spike after remote shift- HR Dive
"For many companies, this brought new urgency — and attention — to the ways they promote diversity, equity, inclusion, and belonging. But will this mark a real movement in corporate diversity, rather than a moment?"
A look into recent LinkedIn data illustrates how companies have been talking about diversity since the start of June versus the end of summer, and how candidates are reacting.
Related reading: COVID-19, Diversity, and Fall Recruiting
---
"How can your company provide effective diversity training? A recent study by US and Australian researchers provides essential best-practice insights."
A well-rounded diversity training program offers a welcoming work culture that is worth the effort. This article provides a few examples of where to start if you want to foster an inclusive culture in your organization.
Related reading: In Corporate Reckoning, Executives Pressed to Improve Racial Equity in Workplaces
---
Even though the pandemic has caused many companies to undergo pay and benefit cuts, some still turn to paid internship programs as a channel to introduce new talent in the company. NPR is one example of a company that successfully transitioned to paid remote internships and received over 20,000 applicants – a significant increase from the year before.
"Despite these trends, employers largely still view internship programs as important sources of talent, and many view pay as an important aspect of these programs…"
Related reading: Help Managing Remote Internships
For more stories and insights on HR, diversity and inclusion, and hiring, click here to subscribe to our weekly newsletter Hire Learnings.