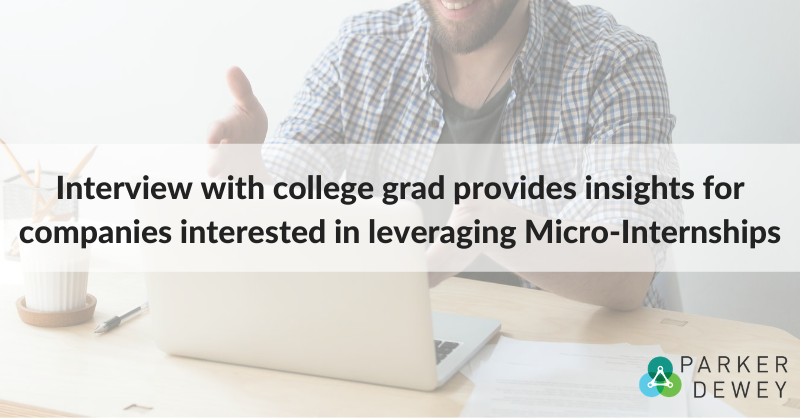 Student Voice: How Companies Can Benefit Through Micro-Internships
Zach Kahtava is a Micro-Intern veteran, a graduate of the University of Kansas, and now a full-time financial analyst. He started exploring career opportunities while he was finishing up his academic studies when he discovered Parker Dewey through the KU career center. We sat down with him to learn more about his experiences working with different companies on Micro-Internship projects.
Zach provided insights on what companies can do to provide the best experiences for students completing Micro-Internships, what kinds of companies can benefit from this type of experiential recruiting, and how these short-term projects can open pathways for students like him and companies looking to connect with early career talent.
Here's what he had to say:
Q. What were the big differences between the full-time internships versus doing the projects?
Zach highlights that while traditional internships provided more opportunities for teamwork, Micro-Internships allowed him to work independently and build his confidence in the workplace.
Q.What types of companies are best suited for hosting Micro-Internships?
According to Zach, whether big or small, all companies can benefit from offering Micro-Internships. "Relatively any kind of work can be transformed into a Micro-Internship," but projects around data, research, and writing are easy to push to a student and have them hit the ground running, regardless of company size or industry.
Q. What are some things a company should know if they are just getting started with Parker Dewey that will set them and their intern up for success?
Zach highly recommends companies ask students "How will you go about this project?" to help students begin to think about their skills and abilities and the resources they have to accomplish the job. Whether or not they are selected for the project, this question helps students connect their academic experience with the professional world.
Q. How are other companies reacting to your previous experiences with Parker Dewey when they see it on your resume?
"[Micro-Internships are] the hot topic on my resume! No doubt!" Micro-Internships highlight students and recent graduates that are self-starters, able to learn independently, and able to manage their time effectively - all skills sought after by employers.
Q. Is there anything else you'd like to add that we should know about students and companies connecting through Micro-Internships?
"Both parties are undoubtedly going to have benefits from working together on these projects!"
If you're curious about implementing a Micro-Internship strategy in your own company but don't know how to start, we have an infographic illustrating five easy ways to introduce Micro-Internships at your company.
Contact us today to learn more about working with Micro-Interns.