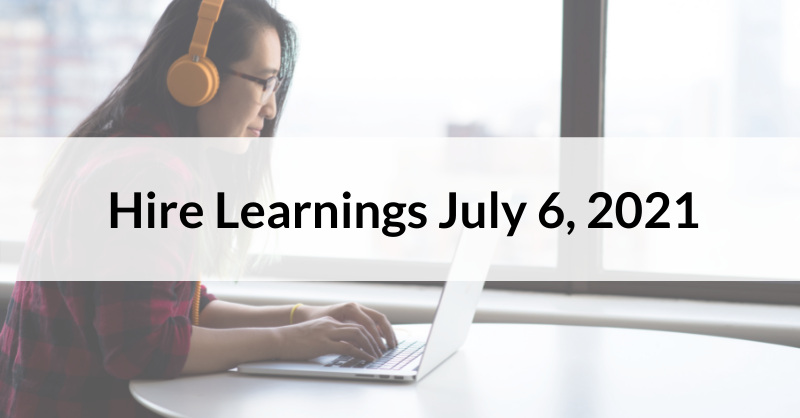 How Micro-Internships Bridge the Core Skills Gap
This week's first featured article highlights the Essential Skills Report, sponsored by the DeBruce Foundation and other Kansas City Partners. The report outlines six key competencies valued by employers—all of which fall into the core skills category that we love talking about at Parker Dewey. But the report also highlights the challenge of gaining and developing these core skills ahead of entering the workforce. To illustrate how Micro-Internships can help bridge the "skills gap," we paired some of these student quotes with the perspectives of past and present Micro-Interns:
From the report:
"Working with a wide variety of people in college—different ages, majors, levels of technology skills–would have helped me learn Interpersonal and Communication skills, and how to determine what method works best for different kinds of people and activities."
How Micro-Internships help:
The opportunity to work with various managers for short-term projects has helped students like Lily Abadir gain exposure to different interpersonal and communication styles: "Some [managers] are really hands-on. Some of them are wanting constant updates and to get to know you. Some of them say, 'Here's the job and the due date. I'll see you then.'... You have to read the scene."
From the report:
"I felt like I was floundering for the first year, not being used to having so much flexibility. I'm used to my college assignments – 'write this essay' – but I was totally stunned when I got an activity where I had to come up with my own things to do at work."
How Micro-Internships help:
Independent project work helps build core skills, like grit, determination, and proactivity. As former Micro-Intern Zach Kahtava shared, speaking to his Micro-Internship experiences in interviews showed potential employers that he "can be a self-starter, do some self-learning...if we put him on a project, undoubtedly he'll be able to work through it…"
From the report:
"With my upbringing, you do what you're told, when you're told to do it. No more, no less. That's it. And so that's something that I noticed I had a really big gap in when it came to thinking outside the box."
How Micro-Internships help:
The ability to test-drive companies, industries, and projects allows career launchers to "think outside the box" when it comes to finding an interesting role. Micro-Internships help employers reach students and recent graduates who may not know about the opportunities at a particular company. After her Micro-Internship with M.Holland was extended from two weeks to three months, Suzan Batamuliza shared, "I ended up becoming a full-time employee. Without the Micro-Internship, I would have never considered the company."
For more student perspectives, see more of our student success stories.
Jeffrey Moss, Founder and CEO
---
Upcoming Webinar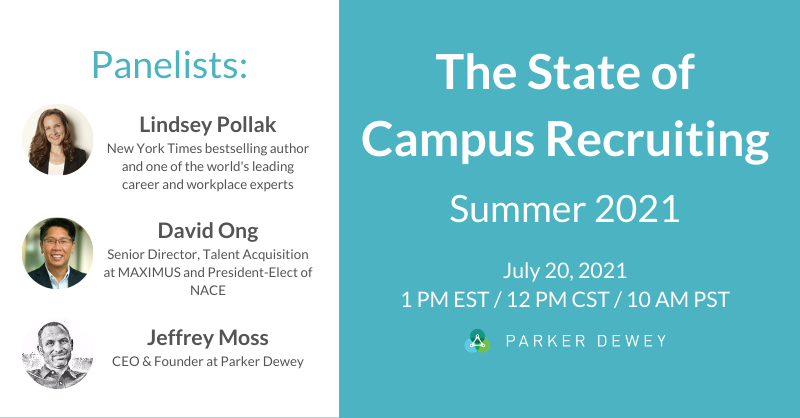 Join us for our summer edition of The State of Campus Recruiting! We'll continue on our recent theme of "reinventing university recruiting," and discuss what emerging talent is looking for after a year+ of disruption, how companies are responding to the call for more remote opportunities, and employer branding to attract talent across generations.
---
Articles of the Week
The Rise of Skills-Based Hiring And What It Means For Education - Forbes
10 strategies for expanding networks—not just skills—to expand career pathways - Christensen Institute
Virtual Recruiting is Here to Stay - Work Shift
---
The Rise of Skills-Based Hiring And What It Means For Education - Forbes
"The work starts with community conversations about new learning priorities—particularly skills key to entering and succeeding in the new economy. It continues with learners having multiple opportunities to develop and demonstrate new skills. And it ends with learners hired based on what they know and can do."
Skills-based hiring is on the rise—it "'remove(s) barriers for candidates that might not have the degree or network, while also increasing the size of employer talent pools, often letting them pinpoint quality applicants for hard-to-fill roles.'" This article explains why employers should place less weight on signals like academic pedigree and instead focus on core skills, like those highlighted in the DeBruce Foundation's Essential Skills Report.
Related reading: How Skills-First Hiring Supports DEI
---
10 strategies for expanding networks—not just skills—to expand career pathways - Christensen Institute
"The inconvenient truth is that skills and jobs aren't one and the same. The reality, in fact, is much messier. And more human. Social networks and relationships function as something of an unspoken currency in the world of work. An estimated half of all jobs come through personal connections. And even earlier in the educational pipeline, students' networks are proven to shape their career ambitions."
Students and recent graduates need both skills and networks in order to succeed. This article lists 10 strategies for ensuring career launchers are equipped with both. Among them: "Experiment with shorter, smaller-scale work experiences" like Micro-Internships. Short-term, paid assignments allow students and recent grads to both develop their skills and make invaluable connections with employers and alumni.
Related reading: How to Build an Inclusive Recruiting Process with Skills-Based Hiring
---
Virtual Recruiting is Here to Stay - Work Shift
"Some of the more successful online approaches this year, he said, have broken out of the 'career fair' format—with companies inviting students to meet not with recruiters, but with employees in roles similar to those they'd start out in. And a number of institutions are seeing success with Micro-Internships, typically one to four weeks long, that bridge the gap between traditional recruiting and full-fledged internships."
Students and employers alike agree that both hybrid and fully-virtual recruiting strategies aren't going anywhere, even as the pandemic winds down. This article walks through some of the benefits of virtual recruiting, data from the internship class of 2020, and whether virtual efforts bolster or undermine DEI efforts.
Related reading: Where Virtual Recruiting Fits In
---
For more stories and insights on HR, recruiting, and diversity, click here to subscribe to our weekly newsletter Hire Learnings.