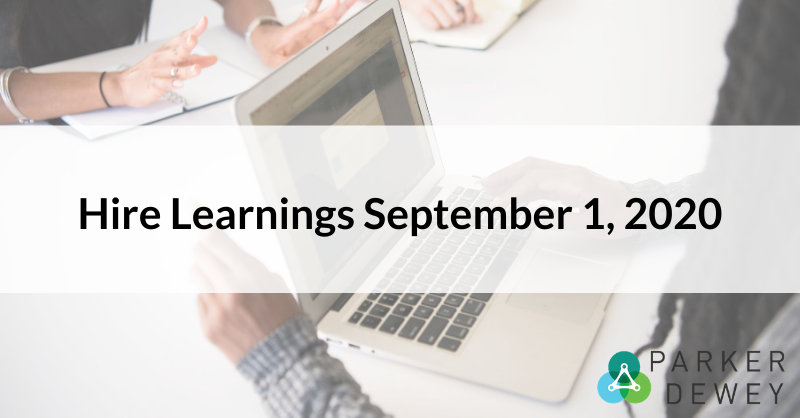 Hire Learnings September 1, 2020
Fall is just around the corner, and college students are eager to learn about companies and determine which roles they'll apply to. While they would normally rely on career fairs, info sessions, and on-campus discussions with other students, this year's environment will make this more difficult. In fact, many students have shared that they'll "only attend the virtual events if they're already planning to apply" and will "participate just for the face time or to prepare for the interview."
At the same time, we continue to hear from companies and colleges that they, too, are still reacting to the continuously changing environment. While they would normally look to one another for insights, the unusual situation has made the traditional university recruiting playbooks irrelevant. And with so many long-term questions still to be answered (e.g. target headcount, will employees still be remote, etc.), flexibility is vital.
Whether you've locked down your university recruiting strategy, are still planning for the fall, or are curious about ways to plan for some of the surprises that may arise, we wanted to share some of the best articles we've seen this week. And, having spoken with thousands of companies, colleges, and students these past few months, I'm also confident that you're not alone and I'd be happy to share more about what we've been hearing.
Jeffrey Moss, CEO and Founder
---
What We're Reading:
"The initiatives are intended to increase diversity by reaching beyond the handful of elite business schools and Ivy League universities long associated with Wall Street."
Major bank organizations have a disproportionate amount of staff that are alumni of private colleges. Virtual interviews are allowing companies like JPMorgan & Chase Co. and Goldman Sachs to connect with candidates from schools beyond elite business and Ivy League Universities. But while video interviews allow candidates to participate from anywhere on the globe, many of the same biases persist prior to the interview stage.
Related reading: In Corporate Reckoning, Executives Pressed to Improve Racial Equity in Workplaces, How Micro-Internships Can Bring Diversity, New Perspectives, and Talent to Employers
---
Despite the reality of the pandemic's impact on recruiting, many companies are seeing a positive result from virtual tactics which have become the new normal. Flexibility and adapting to these changes play a key role.
"Many managers are unexpectedly finding that hiring without face-to-face interviews is successful, and some recruiters who saw reduced demand at the pandemic's outset are now surprisingly and happily noting an upswing in requests for services."
Related reading: Platforms for Hiring College Students in a COVID Environment
---
"Organizations can more effectively evaluate a candidate's qualifications based on interview metrics directly associated with a role, a candidate's credentials, and responses. In turn, this has created an opportunity for organizations to extend offers based on data-driven metrics vs. the influence of conscious and unconscious biases."
Recruiting Daily offers a solution that can help to move the needle toward compensation equality for all, based on data-driven metrics.
Related reading: Federal Hiring Reform Addresses College Degree Skills Gap
---
For more stories and insights on HR, diversity and inclusion, and hiring, click here to subscribe to our weekly newsletter Hire Learnings.