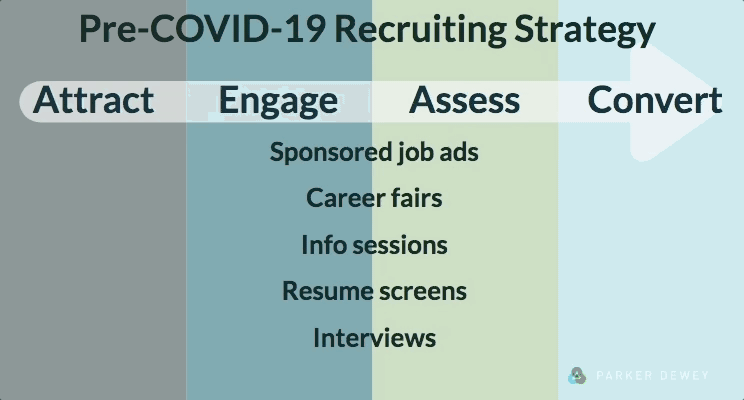 2020 Fall Remote Recruiting Check-In
As we kick-off October in our first primarily remote fall recruiting season, we wanted to connect with campus recruiters to evaluate what's working, what's not, and what adjustments to remote recruiting strategies can be made now to achieve recruiting goals.
In addition to a survey sent to campus recruiting professionals, we re-visited the data from our student survey conducted in August, and shared some candid comments we've heard sitting at the intersection of universities, students, and employers.
Click here to watch the webinar replay, or keep reading for a summary overview of the content shared by Parker Dewey's own Jeffrey Moss and Kristin Schrader.
What we know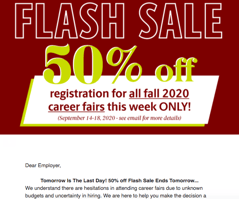 As of October 1, 2020, we know that virtual career fairs have become the default strategy seeking to connect with students. We also know that many schools are struggling to get both employers and students to participate in these events, leaving recruiters concerned about being able to effectively market their employer brand to students without physically being on-campus.
From our survey to campus recruiters we found that: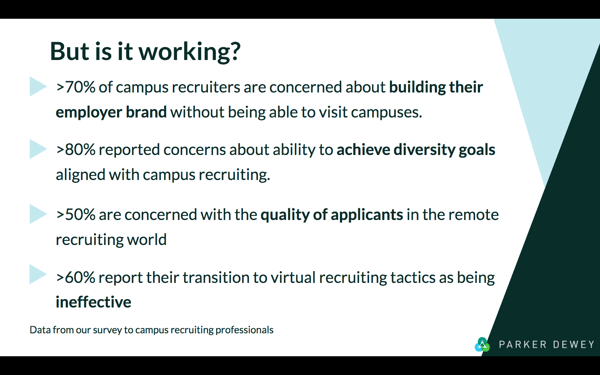 >70% are concerned about building their employer brand without being able to visit campuses
>80% reported concerned about ability to achieve diversity goals
>50% are concerned with the quality of applicants
>60% reporter their transition to virtual tactics as being ineffective
In short, while everyone agreed that we couldn't expect to add "virtual" or "remote" to the traditional recruiting practices and expect the same results, in many circumstances that's exactly what was done and now we're off track. As a result, companies are seeking back-up plans to ensure they hit recruiting targets to engage high-potential students, drive diversity, and achieve hiring goals.

So how can we achieve our campus recruiting goals this year?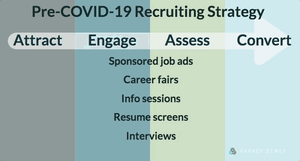 It's never too early or unwise to create a back-up plan. While many organizations took their existing recruiting strategy and plugged it into remote platforms, other companies paid close attention to what students asked for by incorporating additional experiential recruiting opportunities into their plan.
In fact, 80% of students surveyed this past August rated "opportunities to explore careers hands-on by working on a project" as the number one activity most important to them after a "lost summer" due to the COVID-19 pandemic.
Furthermore, without the in person events, students are only researching, engaging, and applying to roles with employers they already know about. As a result, they are not engaging with lesser known brands, or those where they have preconceived notions about the industry ("I never even thought about Pepsi for a finance or technology role.")
Plus, we're all burnt out of Zoom, so what can you do instead?
Building Employer Brand
Companies struggling to market their employer brand without being on-campus should consider engaging hiring managers to offer the real-work experiences students are craving. Managers will find more value with extra sets of hands getting their work done than adding more work by taking a shift on virtual career fairs.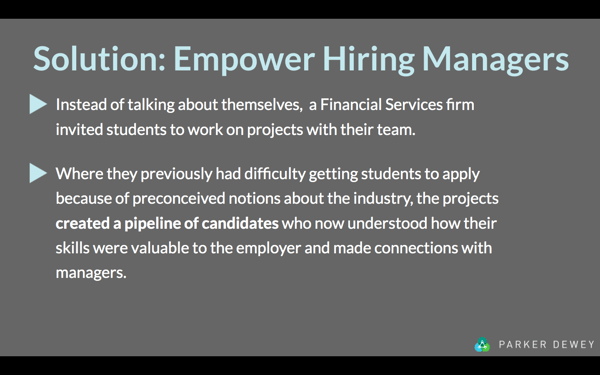 Diversity Recruiting
Companies concerned about achieving diversity recruiting initiative goals and struggling to stand-out from the sea of stock-photo infused career sites should listen to those most impacted by pandemic cancellations and build-in additional opportunities to support students in their professional development. And the students agree as well.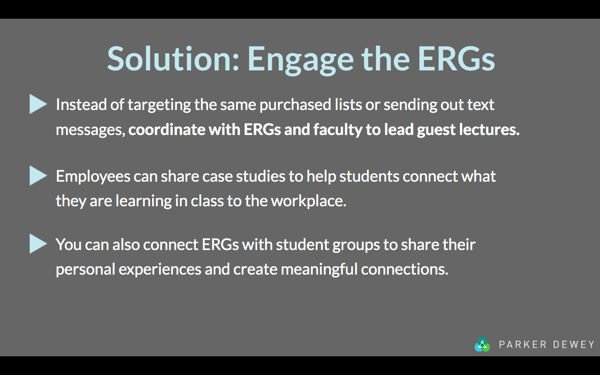 Quality Applicants
Another top concern that emerged from our survey was identifying quality applicants amidst lower engagement numbers from August and September efforts. We again suggest listening to how students asked to engage by focusing on virtual relationship-building opportunities.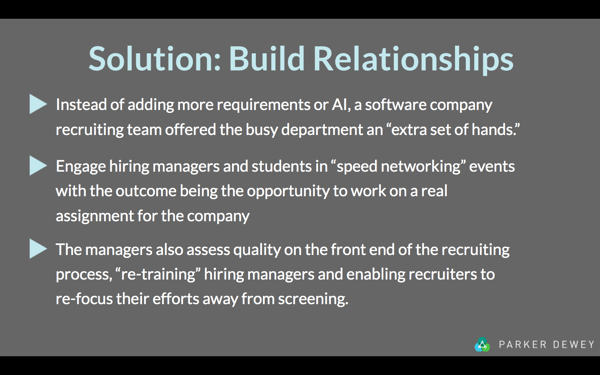 Ineffective Transition to Virtual Recruiting & Empathy
So why has the transition to virtual been less effective for so many campus recruiters? With so much going on both in the world and in our organizations, many students and universities are asking employers to offer a little more grace. For undergraduates, more than 78% had a "lost summer," leaving many graduating seniors with resumes that will look the same as their junior classmates. We don't need to abandon the virtual career fair, but we need to recognize the limitations of those events and include more ways for students to explore careers, make connections, and demonstrate their skills.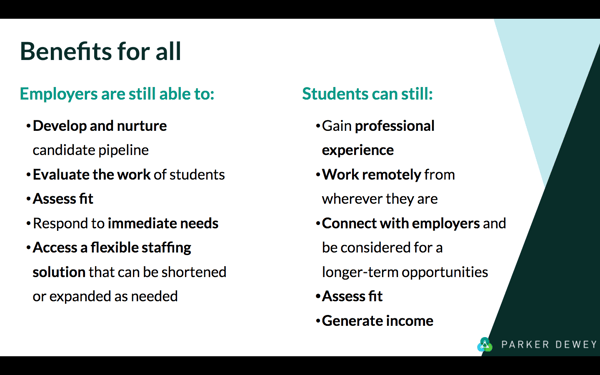 Luckily, there are clear benefits to students and employers alike by utilizing experiential recruiting tactics within their virtual engagement strategy—and those that help students will see the added benefit of higher first-year retention rates.
For more data, discussion, and ideas, access the full replay of our webinar as well as a copy of the slide deck here.