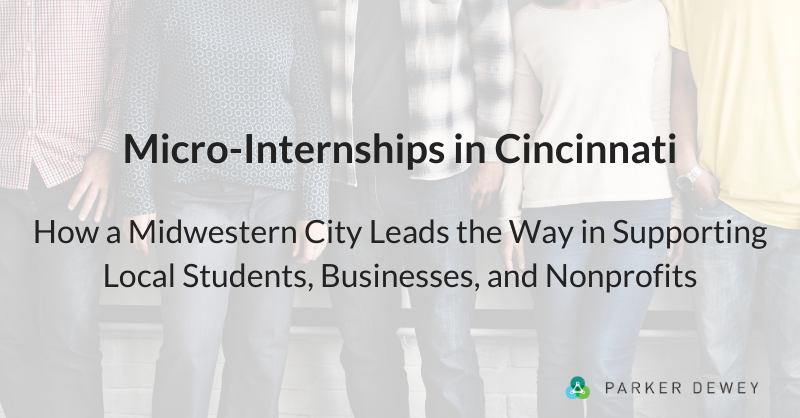 Micro-Internships in Cincinnati: How Your Community Can Attract and Retain College Students
A quick look at the headlines shows that Cincinnati, like many cities and towns nationwide, are losing residents to other states. Whether that's the allure of tech life and venture capital in Silicon Valley, or the hustle and bustle of the Big Apple, many college graduates are compelled to look outside their home state for career opportunities.
Yet real, gainful opportunities exist in these cities from innovative start-ups to Fortune 500 corporations. The challenges for employers and communities is often around getting the word out, showing students they don't have to head for the coasts to launch their career, and retaining talent locally after graduation.
For the Queen City, Micro-Internships have been one tool to enable students to explore career opportunities, while also supporting local businesses and nonprofits seeking to attract college graduates for future roles.
Most notably, the University of Cincinnati (UC) is known as "the birthplace of the co-op" – combining classroom education with real-work experience to enable students to learn while doing, as well as understand how abstract concepts align with business outcomes. This emphasis on experiential learning led UC to seek out funding to help those non-business and technology majors to have similar opportunities to learn and earn.
Through a Department of Labor grant, UC created paid, short-term work experiences with local nonprofit organizations who had plentiful projects but limited budgets or operational ability to offer traditional internships.
For students, the Micro-Internship project experience allows them an opportunity to explore careers – anything from website design, database management, user experience research, to developing online learning content and managing social media channels. For the non-profits, working directly with the students provides not only a fresh set of eyes, but also meaningful support in driving their mission.
Brainwave is one organization created by UC student Teja Bollimunta and staffed by his peers via Micro-Internships. Launched in response to COVID-19, Brainwave provides free online tutoring for K-12 students, as well as consulting services for local businesses. "The biggest thing about running an organization is that there are a lot of steps to get started. Once I learned about Parker Dewey, I was able to leave HR paperwork and NDAs to them so we could focus on our clients and our work," said Bollimunta.
Paula Harper, Manager of Partnership Development at UC agrees. "Many of our nonprofits don't have the internal resources to create and manage a semester-long internship program. That's why partnering with Parker Dewey has been so beneficial. Our students get a small experience that can lead to something big, and our nonprofits get fresh perspectives and support," said Harper.
While Harper's program at UC benefits arts and sciences students and Cincinnati-area non-profits, local venture fund CincyTech has also found value in Micro-Internships. CincyTech is a public-private partnership seed stage investor supporting human health and digital companies in southwestern Ohio. Given their public-private commitment, CincyTech wanted to create an integrated experience with students attending Cincinnati-area universities to not only provide support for local start-ups, but also contribute experiential learning opportunities.
Before discovering Parker Dewey, Carl Labanz, Venture Analyst at CincyTech shared, "I did all the paperwork in 2019 and for just a few students it took a lot of my time. Without that backend support from Parker Dewey, it wouldn't have been possible to scale to more than 50 projects so far this year. HR paperwork, record management, payroll, NDAs, 1099s, all get centralized by Parker Dewey so I can focus on supporting our companies."
Four Tips to Launch Micro-Internships in Your Community
Empower students to identify opportunities.
From Harper: "The students did the research on what organizations they wanted to work for. It made it easy for me to reach out to the organizations and offer clear ways our students could support them. For students, this meant they were more invested in the opportunity. For the non-profits, it was an easy ask, and even though we provided the initial funds, many of the organizations carved out budgets to continue to work with students after seeing the benefits."


Educate local small businesses on ideal projects.
From Labanz: "After overseeing a handful of Micro-Internships, I now know what makes a great project and can directly offer those to our portfolio companies. They also come to me with ideas, and I work with Parker Dewey to flesh these out to be a good fit with a clear deliverable for a student."


Spread the word to "non-cyclical" organizations.
Just because universities work on an academic calendar doesn't mean businesses do too. Many do need project-based support outside of summer and that won't take a whole semester to complete. Micro-Internships enable companies and students to work together on-demand for shorter durations. For students, they use these small experiences to land the "big ones," while many companies use the projects to evaluate potential candidates in addition to getting work done.


Don't bog down employers with paperwork.
Partnering with Parker Dewey means no W-2s/1099s/NDAs or payroll processing for employers. They can focus on what matters to them while Parker Dewey takes care of the rest.
To hear more from our discussion with Harper, Labanz, and Bollimunta, click here to watch the replay. For support in spreading awareness of Micro-Internships to employers in your community, contact us.