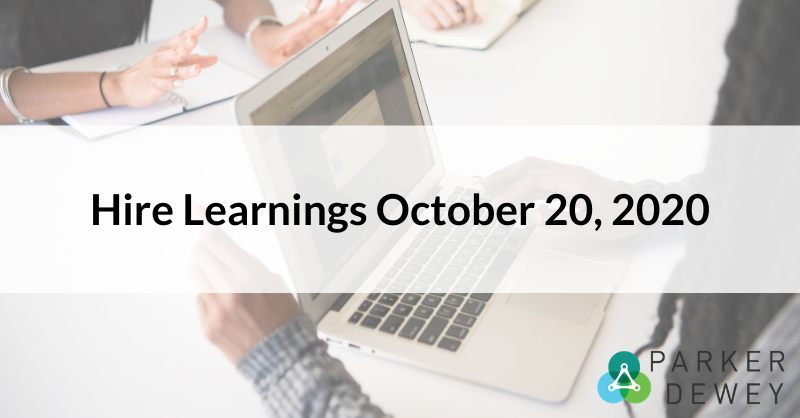 Hire Learnings October 20, 2020
As we hear from many college students that they are "done with virtual info sessions and career fairs" after their first one, I was curious why. So I sat through one hosted by a big company that is rated as one of the top employers for new grads. It was painful.
And it wasn't just me. While attendance started lower than I would have thought given the company's brand name, it declined pretty significantly from about the 5-minute mark. Is it time for recruiters to do something a little different?
Read my full post on LinkedIn for the rest of the story and why I think this is happening. And to hear about how Cincinnati based organizations and universities are collaborating to address this, join us this Thursday for what should be a really interesting session.

Jeffrey Moss, Founder and CEO
---
Articles of The Week
How to Make Diversity and Inclusion Part of Your Company's DNA - SAP
How Businesses Can Recruit and Develop More Young People of Color - HBR
How Upskilling, Reskilling & Continuous Learning Can Help Retain Talent - Smart Recruiters
Student Voice: How Companies Can Benefit Through Micro-Internships - Parker Dewey
---
"By embedding diversity and inclusion into their DNA, companies can experience benefits including increased employee engagement, higher productivity and innovation, better customer satisfaction, and stronger financial results."
Making diversity and inclusion as part of your organization is a journey, but what makes it worthwhile is its celebration of all people. This article offers a few suggestions on how to encode diversity and inclusion into the DNA of your company to achieve this goal.
Related reading: Webinar replay: COVID-19, Diversity, and Fall Recruiting
---
"Students from Black-led organizations and HBCUs, and students of color throughout the United States, are the talent that industries are overlooking. These are the people who could have filled the more than seven million jobs that were vacant before Covid-19."
Companies can do more to help build up Black talent via pathways to equitable systems that meet their needs and support the community.
Related reading: How Micro-Internships Can Bring Diversity, New Perspectives, and Talent to Employers
---
"It's an employer's responsibility to introduce structured learning opportunities in the workplace."
Upskilling is important in a world where learning never ends. To be successful at retention, read on to understand why employees appreciate learning opportunities and how it's important to build trust, engagement, and growth.
Related reading: How WE leverage this time and experience to influence the next generation with Michele Aymold
---
A former Micro-Intern provides insights into what he suggests that other companies can do to provide the best experiences for other students during their Micro-Internship projects.
Related reading: How to Use Micro-Internships for Campus Recruiting (An infographic)
For more stories and insights on HR, diversity and inclusion, and hiring, click here to subscribe to our weekly newsletter Hire Learnings.