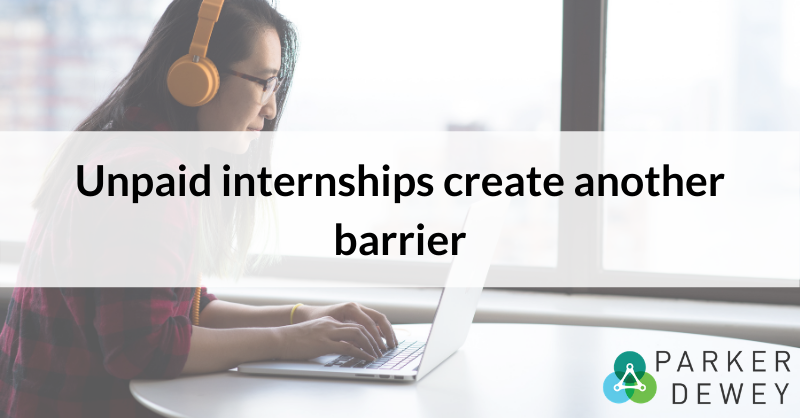 Prioritizing job applications based on family income
Last week I read about a program where companies are allowing college students to get 5-10 hours of training and virtual experiences at no cost to the student. This sounded amazing, especially as I thought about all of those students who are hungry for professional experience and may not have the social capital to explore careers or get in the door.
However, during Thursday's panel with the leaders of four foundations that work with college students from diverse and underrepresented backgrounds they highlighted why asking students to work for free was not only unfair, but hindered DEI efforts. Although they were highlighting unpaid internships (which I think we can all agree are wrong), I realized that these programs create similar barriers, especially when "Your job application will be prioritized for review" is a benefit only available for those who can afford to do this unpaid work.
I'm sure that the companies who introduced programs had the best intentions, but the reality is they create yet another barrier for those who don't have the extra time due to part-time jobs or other family commitments. And in some ways, these programs are even worse than unpaid internships as they may not even provide the opportunity for network development and professional interactions with existing employees at the companies that could lead to summer internships and full-time roles.
Instead of unpaid projects that aren't accessible for so many, why not pay a college student to complete real work and gain professional experience? This will help them get the experience they crave (especially during this year's longer holiday break), and it's easy to introduce since every professional has projects they are trying to wrap up before year-end. And if you missed the webinar, we captured some of the other best practices to ensure that you're providing students from all backgrounds with equitable pathways to professional roles at your organization.
Jeffrey Moss, Founder and CEO
---
Articles of The Week
Skills aren't soft or hard — they're durable or perishable - Chief Learning Officer
'Skills are the currency of the future': The rise of a skills-based economy - HR Dive
6 Ways Diversity And Inclusion Impact The Cost And Effectiveness Of Recruiting - Forbes
This One Factor is Reducing Your Diversity Hiring by 30%! -Tim Sackett

---
"The growing interdependence of human and technical skills is not the only factor that demands new skill-development frameworks. Research suggests that skills generally have a "half-life" of about five years, with the more technical skills at just two and a half years. This results in something that might resemble 'E-shaped' talent, or, eventually, a base with new technical skills constantly being built, but also losing relevance in time."
Focusing on narrow skill sets silently forces employers to face challenges to their long-term success. Learning and development training would largely benefit from a strategy that puts an emphasis on durable skills that strengthen more dynamic contributions of an employee.
Related reading: Soft Skills Rank at the Top of the List for In-Demand Entry-Level Professional Roles
---
"It's become more evident that skill level outweighs pedigree… The evolution of the workforce and the jobs of the future are moving toward a skills-based economy, 'where skills themselves are the currency of the future.'"
Skills are vital, but we don't need new credentials. Employers want to see skills demonstrated through experiences, which allows room for ways that students can engage with them. And many of the most important skills cannot be captured through a badge – communication, adaptability, problem-solving require a more individualized experience with the candidate.
Related reading: At the Core of Job Success: Why "Soft" Skills are Core Skills
---
"But regardless of whether a company wants to diversify their talent because they believe in the value of being diverse and inclusive, or simply for compliance reasons or for appearances, there is an obvious economic advantage in hiring from a more diverse talent pool: increasing the supply of candidates lowers hiring costs, especially when there is strong competition for talent."
Whatever your diversity and inclusion goals stem from, there is a definite impact on your recruiting costs. In turn, this also changes the average quality of the talent that you can hire.
Related reading: The Intersection of Diversity and Campus Recruiting
---
"For racial minorities, those who received the pro-diversity statement were 30% less likely to apply for the job. In a follow-up survey, the prospective applicants said the statement prompted worries that they would be token diversity hires."
While companies work to improve diversity, equity, and inclusion, there are often unintended consequences that actually hinder those efforts. Instead of talking about DEI, allow prospective candidates to experience it for themselves, through real engagement with existing employees.
Related reading: How Micro-Internships Can Bring Diversity, New Perspectives, and Talent to Employers
For more stories and insights on HR, diversity and inclusion, and hiring, click here to subscribe to our weekly newsletter Hire Learnings.