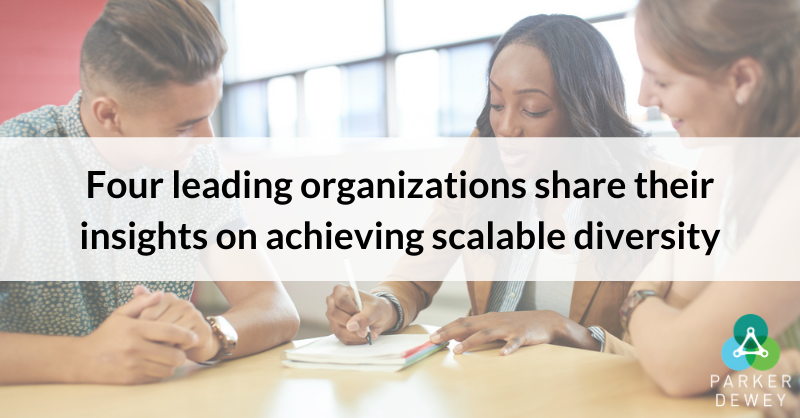 The Intersection of Diversity and Campus Recruiting
Diversity recruiting is "booming," yet while many organizations understand the benefits of attracting a diverse workforce, few have found a scalable strategy to attract, develop, and retain students from diverse backgrounds straight out of college.
Updating the corporate career site is a good first step, but most organizations struggle to think outside their tried-and-true recruiting pools, often leaving high potential candidates out of the recruiting process entirely. And while many companies try to engage diverse students with increased communication or building relationships with on-campus communities, it has become increasingly difficult to overcome the noise with so many other organizations trying to do the same.
With more than 11 million degree earners nationwide, university recruiters struggle between filtering candidates out and welcoming potential candidates in. Instead of investing in new tools, four organizations with differing missions and agendas came together with Parker Dewey founder and CEO Jeffrey Moss to discuss strategies to engage students from underrepresented backgrounds.
Panelists included:
Together, the panelists highlighted several ways employers should rethink their university recruiting strategies if they are truly committed to hiring diverse applicants. Watch the full, 1-hour replay now.
Rethinking the Resume Review
Each of our panelists highlighted the unique challenges faced by the student populations they support, yet all agreed on one main point: academic pedigree doesn't predict success, and there are simply not enough accessible, paid, professional opportunities available for students to build the parts of their resumes that do. For many first generation and low-income students, they can't afford to accept unpaid internships, nor do they have access to a professional network to help them identify meaningful opportunities. For DACA students, without access to federal educational loans, many work multiple jobs around their academic schedules to pay for school, which greatly impacts their ability to take part in a traditional 10-12 week internship program. Similarly, student-athletes are short on time needed to participate in so-called career building experiences. As highlighted by Corinne Milien of The Winning Edge, "Resume workshops happen during practice. Career fairs take place during away games. And summer internships run during the same times as training camps."
Though students from diverse backgrounds may struggle to participate in so-called professional development, most are still gaining both the hard and soft skills necessary to succeed. Tania Wilcox of TheDream.us shares one example when it comes to the DACA students she serves:
"These students have had challenges and barriers their entire lives and in spite of that they're succeeding. That takes people that are resourceful, people that can problem solve, people that do not get overwhelmed by challenges but instead can rise above them, and so many of those 'soft skills' that are so hard to find and so hard to teach unless you learn them through your lived experiences."
Rethinking Classroom-to-Career
Though it's clear many students struggle to obtain professional experience outside of the classroom, Jamie Seger of the University Innovation Alliance shared how the pilot programs running across seven of the alliance's eleven schools have led to positive outcomes.
"Even the simplest intervention that happens in the classroom makes an amazing difference for the student. For example a professor highlighting what soft skills they are gaining as a part of the course culminating into an internship. A University of Central Florida student gained confidence just by learning what skills she already had through an assignment her professor had given her and was able to create her first resume and submit the resume for an internship with The Smithsonian and she was able to get that internship. That's an amazing and incredible outcome just because a faculty member said 'Hey - this actually applies to workforce preparation and I'm going to give these students a resume building assignment that can help them learn what skills they have.'"
Rethinking the Hiring Process
In addition to classroom interventions and on-campus services, Corinne added that we're assuming students are using on-campus resources--they're not.
"For the student-athlete, their resume is not going to be glowing and filled with experience but that doesn't speak to their talent, so employers should think about how are you making it accessible for them to show you their skills? Short-term projects give hiring managers a chance to assess the talent in a space that's low risk for the student. We have to think beyond the traditional way of assessing talent. Employers have to be flexible and meet people where they are. You're missing out on an entire population you say you want, but you're not really making it easy to attract student-athletes by using the same processes from the past."
Todd Penner of Dell Scholars added,
"This idea that we have jobs and these students need to conform to our way of doing things is a fine strategy if you don't want to hire diverse students. It's not a good strategy if you do. And so the message is, the old models do not work for the majority of today's college students. There is an effort that has to be made by employers if they really truly want these students, they've got to try to meet these students where they are."
A New Model For Hiring
Given the challenges facing today's college students that come from diverse backgrounds underrepresented in the workforce, each organization has found value in facilitating Micro-Internships for its students–and encourages employers to adopt this model if they are committed to meeting students where they are.
Why It Works
Since every professional has short-term tasks that aren't the best use of their time, allowing them to engage college students for support provides them with an additional, on-demand resource. By positioning Micro-Internships as a perk for hiring managers, companies can allow college students to gain these invaluable experiences, while also creating a more effective way for recruiters to identify, engage, and assess potential candidates for internships and full-time roles.
Limited availability due to athletics, multiple jobs, and family responsibilities mean the traditional internship is inaccessible to the vast majority of today's students. Yet they are eager for opportunities to explore careers and gain confidence by connecting the skills they practice in the classroom with professional outcomes. Short-term, remote, work enables employers to meet students where they are and assess for skills over bullet points on a resume.
The low-risk, high-reward nature of Micro-Internships empower companies to engage students who might not otherwise apply or would get filtered out of the recruiting pipeline, while helping students create authentic connections with professionals. Students see firsthand how their skills translate into the workforce while having a clear, concrete work experience they can speak to as they prepare for careers. Whether or not the project turns into a long-term internship or full-time role, students connect with employers that value their differences, and are helping their communities develop and prosper.
Employers invest money directly into developing and supporting students from diverse populations, rather than website makeovers and career fairs that may be inaccessible to ideal candidates. As a partner in career readiness, employers can build connections with students over short-term work and assess for core competencies that cannot be effectively described in a resume format.
Whether you're interested in working with students from the Winning Edge, Dell Scholars, University Innovation Alliance, or TheDream.us, or creating access to professional opportunities for the more than 11 million degree earners nationwide, Parker Dewey is here to help. Connect with us to learn more about how Micro-Internships complement your existing diversity and campus recruiting efforts, while also creating a new pathway for high-potential talent left out of the traditional recruiting process.