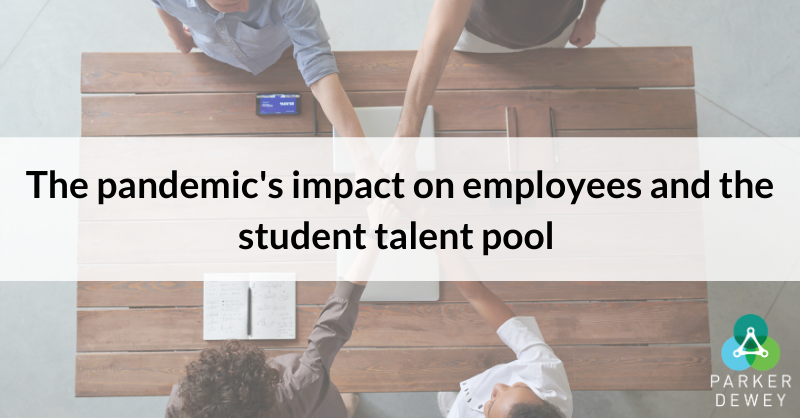 Companies are leveraging new tools (and students) for productivity
While I often use this space to focus on how the pandemic has impacted the professional pathways for college students, we've also seen firsthand its impact on existing employees. Whether it's Zoom fatigue, hiring freezes, or the never-ending "fires" that erupt, employees are being asked to do more with less. As a result, employees report increasing burn-out and decreasing satisfaction, especially when the increased workload isn't the best use of their time.

However, as highlighted by the Harvard Business Review, companies are leveraging new tools to not only increase employee satisfaction but make the companies more productive. In fact, as we've seen during the past five years, when employees leverage college students for on-demand support they can focus on higher-value efforts and report improved job satisfaction.

In addition, this approach lets organizations build a proprietary pipeline of future interns and employees to gain a competitive advantage in their campus recruiting. The impact is improved hiring, diversity, and retention outcomes.

As we continue to hear these stories, we want to invite you to our next State of Campus Recruiting call on January 13. Join us to learn more about what the COVID aftermath has taught us and how we can prepare for the spring.

In the meantime, if you have any projects on your plate that aren't the best use of your time, we know millions of college students and recent grads who would be excited to help!
Jeffrey Moss, Founder and CEO
Articles of The Week
The Pandemic Is Widening a Corporate Productivity Gap - Harvard Business Review
3 Reasons to Support Early Talent through Meaningful, Project-Based Work - Handshake
The Challenges—and Rewards—of Deferring College During Covid - Wall Street Journal
3 Seismic Shifts in Campus Recruiting that Will Remain Long After Covid-19 - LinkedIn
---
"The key difference between the best and the rest is how successful they were at managing the scarce time, talent, and energy of their workforces before Covid-19. Companies that were stars before the pandemic have continued to shine. Those with less stellar performance have struggled mightily."
Companies are increasingly using emerging models such as Micro-Internships to keep employees engaged and productive. By having college students work on short-term tasks that don't require the skills of an industry expert, current employees can focus on higher-value projects leading to increased productivity and happiness.
Related reading: Micro-Internships and the Benefits of Remote Work for Students
---
"Micro-internships, or project-based work, allow students to work remotely on short-term projects while continuing to stay in school, live at home, or hold onto other jobs. By doing so, employers can access a wider pool of talent with diverse skills that will undoubtedly strengthen their teams."
For companies not yet leveraging Micro-Internships, Parker Dewey has made it easy. Though a single platform, busy professionals have access to college students & recent grads across every US college, and there are no administrative burdens ("It's as easy as going to Kinko's!").
Related reading: How WE leverage this time and experience to influence the next generation with Michele Aymold
---
"To get a better sense of COVID-19's impact on resources, we interviewed over 1,500 global talent professionals for the Future of Recruiting report to learn how they expect their organization's recruiting budget to change."
LinkedIn's latest report's findings show trends around COVID-19's impact on recruiting budgets and where some companies may be increasing or decreasing their spending.
Related reading: Platforms for Hiring College Students in a COVID Environment
---
"Students who take time off as making careful choices about their future—something likely to endear them to potential employers. 'A silver lining is this could give them clarity, in terms of what their future can and should be.'"
As students find ways to cope with this year's challenges at university, many are in need of paid opportunities, which can also help them bridge the gap between their semesters.
Related reading: Micro-Internships in Cincinnati: How Your Community Can Attract and Retain College Students
For more stories and insights on HR, diversity and inclusion, and hiring, click here to subscribe to our weekly newsletter Hire Learnings.