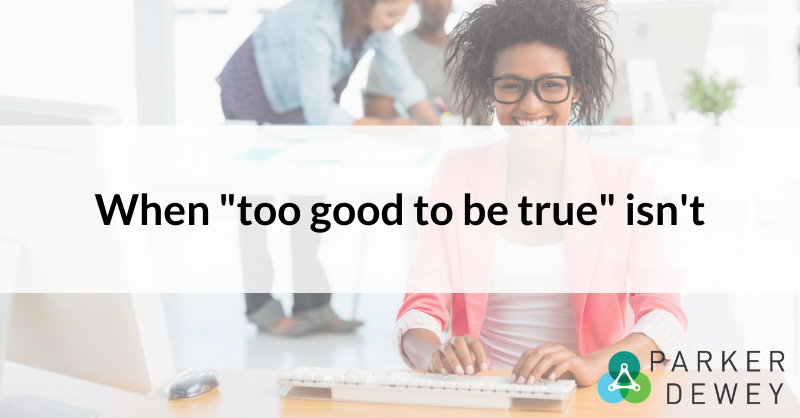 Mission driven means no catches
"What's the catch?".
When introducing Micro-Internships to people who haven't heard of them before, this is my favorite question because, in short, there isn't one. We designed Micro-Internships to be that simple.
Busy professionals get immediate support.
Campus recruiters enhance hiring and diversity outcomes.
College students gain the professional experiences they crave.
Beyond being easy for any professional to get immediate support from Micro-Interns, it's so inspiring to see how Micro-Internships have helped so many college students and recent grads gain the professional experiences they crave to help them launch their careers. This is why we founded Parker Dewey over five years ago.
To that, as a mission driven organization, we knew it was important to remove every potential objection. No cost to hire. No administrative burdens. No obligations.
In short, no catches.
Jeffrey Moss, Founder and CEO
Articles of The Week
The Pandemic Widened The Skills Gap And The Tech Industry Must Step Up - Forbes
It's NOT Just 'Zoom Fatigue'​ and Technical Glitches: 2020 Virtual Recruiting Challenges - LinkedIn
Keeping Talent in Indiana: The IT Capstone for College Completion - Inside Indiana Business
Company Voice: Why We Launched a Micro-Internship Program - Parker Dewey
---
"Skills that were in demand before are now a lifeline for many organizations. These include the expertise in building websites, mobile apps and bots, as well as how to integrate various systems so they talk to each other. Organizations are also looking for business skills, including the ability to manage distributed teams, conduct meetings remotely, market inclusively and demonstrate empathetic leadership."
Partnering with colleges and universities is vital, not to teach "technical skills," but rather to help companies and students appreciate the importance of core skills like adaptability, communication, analytical thinking, and grit.
Related reading:
Improving diversity, equity, and inclusion with "Skills Based" hiring
---
"Knowing full-well of students' longstanding preference for 1:1 interaction, employers invested immeasurable hours in planning and executing virtual events, and, as with digital career fairs, quickly realized that the challenges extend far beyond 'Zoom fatigue' and technical glitches."
Students and employers agree that virtual events are convenient, but can be exhausting. But what is the long term implication of the way that virtual recruiting has overturned recruiting strategies? It may be the elephant in the room.
Related reading: What's in your mix of virtual recruiting tactics?
---
"Both employers and students, particularly liberal arts students, report concerns about the readiness for jobs that is provided by the college experience. This was true prior to the pandemic, as concerns about the cost and value of college continued to mount, but is now more acute as the on-campus learning experience has been significantly disrupted."
Universities and colleges around the nation are figuring out innovative ways to bridge the skills gap. Employers in Indiana have made large strides to find solutions for the growing field of IT. They are finding new ways to nurture the technical and human skills needed in the field for the state's growing wave of talent.
Related reading: Micro-Internships in Cincinnati: How Your Community Can Attract and Retain College Students
---
"Similar to a traditional summer internship program, hiring managers that utilize Micro-Interns have to come up with short, viable projects. By sharing how Micro-Internships are easy, flexible, and on-demand, it helps managers understand that students are ready to and capable of helping."
Senior talent acquisition manager of M. Holland provides his insights on why and how he spearheaded a Micro-Internship program at his company through Parker Dewey.
Related reading: Alternative Approach to College Recruiting Aims to Reduce Cost and Attrition While Improving Diversity
For more stories and insights on HR, diversity and inclusion, and hiring, click here to subscribe to our weekly newsletter Hire Learnings.