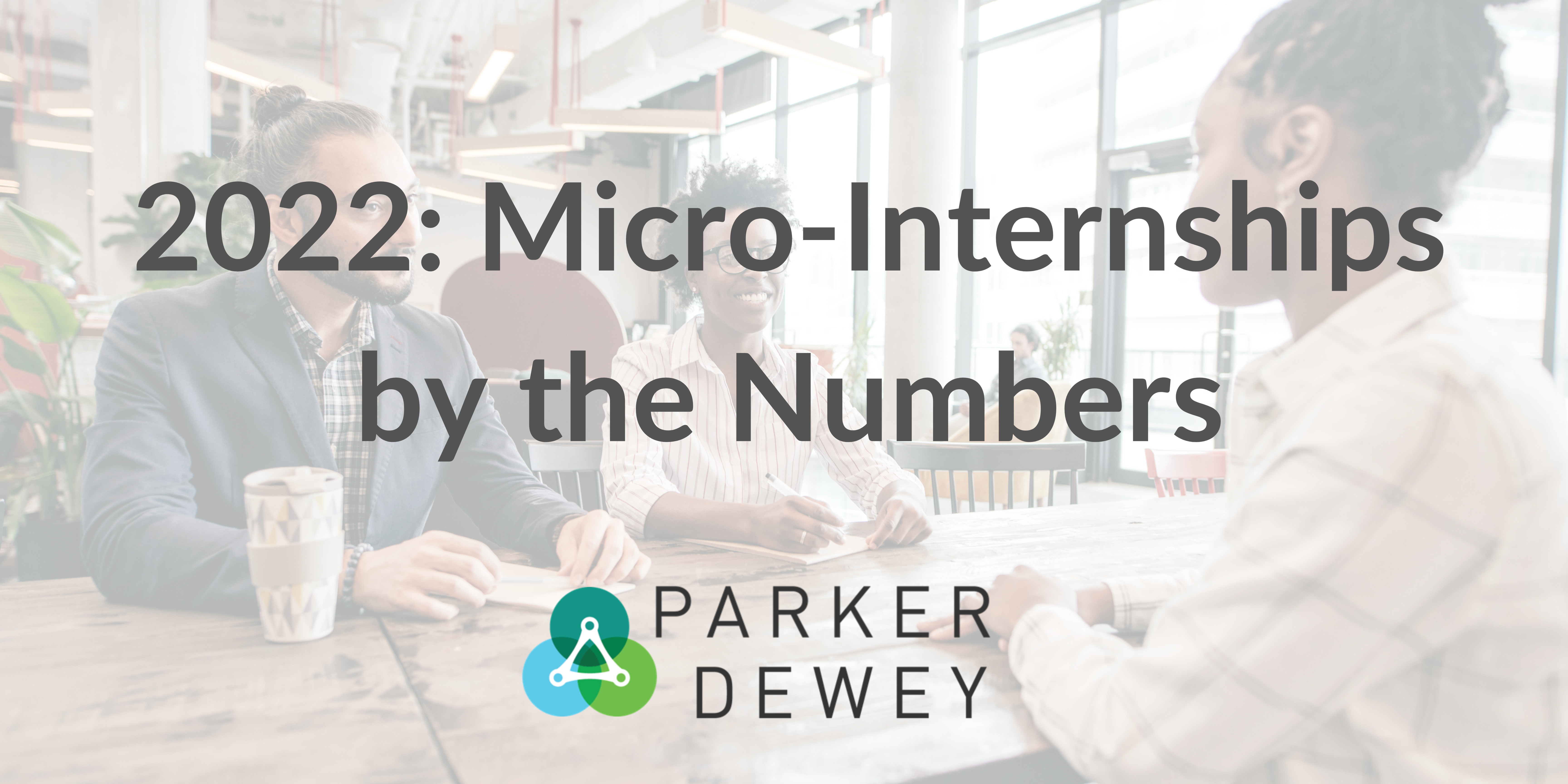 2022: Micro-Internships by the Numbers
It's only February, and we're already excited by our progress in the first months of 2023—from our updated website, designed to make Micro-Internships more accessible to recruiters and talent alike, to a host of new projects posted through initiatives like The Frederick A. DeLuca Foundation Micro-Internship program. And just last week, Parker Dewey saw more students selected for Micro-Internships than ever before!
While there is still much to be done to improve college-to-career transitions for students, employers, and universities alike, looking back at 2022 makes us confident and excited about what we can accomplish together during the year ahead.
Some highlights from 2022:
Students and graduates from more than 2,300 colleges and universities joined the Parker Dewey platform.

More than 80% of Micro-Interns hired were individuals from underrepresented populations in the workforce.

$402 was the average cost per Micro-Intern, and 90% went directly to the career launcher. Companies on our platform see 40-80% in cost savings on cost-per-hire when incorporating Micro-Internships into their existing process.

40% growth occurred in the number of Micro-Internships offered by companies like Smith+Nephew, HubSpot, FleetCor, and Northrop Grumman.
It's only because of the efforts of our friends at so many employers, universities, and nonprofits that a growing number of college students and recent grads had opportunities to connect and work together in 2022. As we saw this past year, what started as a simple idea of connecting college students and recent graduates to on-demand, project-based work has evolved into a tool for:
Thank you for being a part of our mission to improve the college-to-career transition for all. We look forward to continuing to serve as a resource on experiential recruiting trends, and a partner in your campus recruiting and diversity recruiting efforts.
P.S. If you're as excited about experiential recruiting as we are (or if you're excited to learn more), schedule a call with our team.