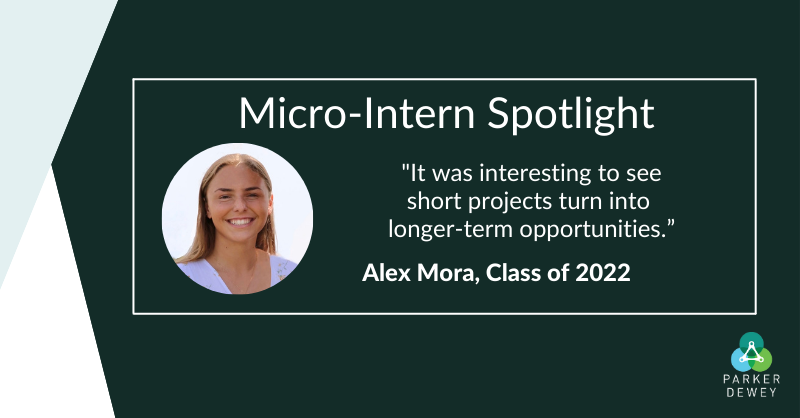 Micro-Intern Success: Turning an Interest into an Internship
Many students feel pressured into selecting a major and corresponding career trajectory early in college, leaving little room to explore for those who have committed to a path, and stress for those who have yet to determine their career goals. Alex Mora, a Sociology major from the University of California, Santa Barbara fell into the latter category. Thankfully, she was able to use a Micro-Internship to gain not only clarity, but also a summer-long internship.
Exploring Interests
Alex shared that she has been a bit overwhelmed by the career decision-making process, admitting, "Honestly, I didn't know what I wanted to do." Alex's wide range of interests are reflected on her transcript, where her Sociology degree is accompanied by a minor in Applied Psychology and a professional certificate in Technology as well as one in Environmental Climate Advocacy and Activism. In the last two weeks of a Managing Technology Organizations course she took for one of her certificates, Human Resources was a topic, and Alex recalled that it also piqued her interest.
"I've been dipping my toes into lots of things to see what I can do with my degree combination. When I learned about Human Resources, I realized that it combines a lot of my other interests, so I started applying to internships in that area to see if I actually did like it."
Alex, a junior at the time, embarked on the arduous and repetitive task of customizing her resume and writing cover letters for opportunities that were more often than not unpaid. Alex struggled with this reality, but knew that she was in need of professional experience on her resume to add to her lifeguard and coaching jobs.
Then she heard about Micro-Internships.
Finding Parker Dewey
While Alex was still intent on finding an internship to test the field of Human Resources, she was excited to see that she could do a related project on Parker Dewey in the meantime and get paid for her efforts.
"It was interesting to see short projects with different companies that could turn into longer-term opportunities. It was also nice to have the opportunity to get exposure to different companies and different industries."
Alex submitted an application for a project with Northrop Grumman, a pioneer technology company with locations throughout the country. The project involved doing research for their HR department and Alex was excited that it not only required a unique combination of skills and knowledge that she possessed, but would also allow her to network with professionals in her field of interest if selected.
Compared to the ordeal she had been engaging in for traditional internships, Alex enjoyed Parker Dewey's simple application process, not to mention how quickly she knew the results of her submission.
"Parker Dewey was definitely unique because it was literally the morning after I applied that I heard back. It was the quickest turnaround I'd ever experienced from an application."
Putting Her Best Foot Forward
When Northrop Grumman reached out to Alex about the project, Alex began researching the company.
"I wasn't familiar with Northrop Grumman at all before finding this Micro-Internship. I had no idea how big of a company it was."
At the kick-off meeting, Alex's research was supplemented with an introduction to the company from her supervisor and another member of the Northrop Grumman team, as well as an overview of the project and context about how it would help the company. Alex appreciated that she had an opportunity to ask questions and set expectations. This meeting was also when Alex's supervisor made her aware of a summer internship in Human Resources that was still accepting applications.
At the end of the meeting, Alex and her supervisor scheduled a mid-point review to make sure she would be on track. Alex showed up to that review already having secured the summer internship and with a finished project. Accordingly, her supervisor shared some feedback, and then connected her with yet another member of the team for an additional experience.
Fast forward to now, and Alex has recently wrapped up the Talent Acquisition summer internship at the same company - an internship that she would have never found if it weren't for her Micro-Internship. Between her two projects and her internship, Alex is excited to have connected with people from both the Talent Acquisition and University Recruiting teams at Northrop Grumman, and credits her initial Micro-Internship project with paving the way.
"I'm working on similar projects to what I did in my Micro-Internship. They saw that work and thought of different ways it could help them out."
Looking to the future
Alex, who graduates this December, is looking forward to continuing her journey with Northrop Grumman. Although her summer internship has ended, she is now engaged in a part-time internship this fall through to when she graduates.
She's grateful not only for the experience, but also for the clarity it's brought about her career path, and for that fact that it introduced her to Northrop Grumman.
"I have a better understanding of what I want to do. Through my internship in particular, I've also learned how important company culture is. I feel like in this summer internship I'm so happy because everyone I'm working with is so genuinely nice."
As for her plans after graduation, Alex now knows that she's excited to pursue a career in talent acquisition. While she's keeping her options open, her experience at Northrop Grumman has set a high bar.
"Something that I've learned is that once people start at Northrop Grumman, a lot of people don't leave. They value growth, genuinely support their employees, and also have great benefits."
Advice
Alex has had the unique experience of being a Micro-Intern, an intern, and working with the team that runs the summer internship program in her current internship, so she's got a lot in the way of perspective and advice to share for organizations considering Micro-Internships.
"I highly recommend Micro-Internships to companies. They're a great way to help companies determine whether someone would put a solid effort into a longer term opportunity."
For her fellow students, Alex has valuable advice about the application process.
"Include school project work. A good way to use Parker Dewey is to build experience, so it makes sense to not have a lot to put in your profile. Don't be afraid to use school assignments or projects to highlight your skills."
Alex has also learned firsthand the importance of having a finished profile and putting effort into her short-answer responses. She shared, "I had applied to some before I completed my profile or without putting real thought into those short answer responses. The first project I applied to after I completed my profile and really put thought into those responses, I got selected the next morning."
Finally, Alex encourages her peers to make sure they log into the platform regularly, because you never know what opportunities will be added from one day to the next.
"There really are projects for every interest and major and the opportunities change every day. Keep checking!"
OCTOBER 2022 UPDATE:
Alex has let us know that she has received and accepted a full-time offer with Northrop Grumman! Alex, who graduates in December of 2022, is excited to be starting her role as an Associate Talent Acquisition Business Partner at the end of January 2023, based out of the San Diego office. Congratulations Alex!
---
Looking for a way to build your company brand? Learn how with Micro-Internships!