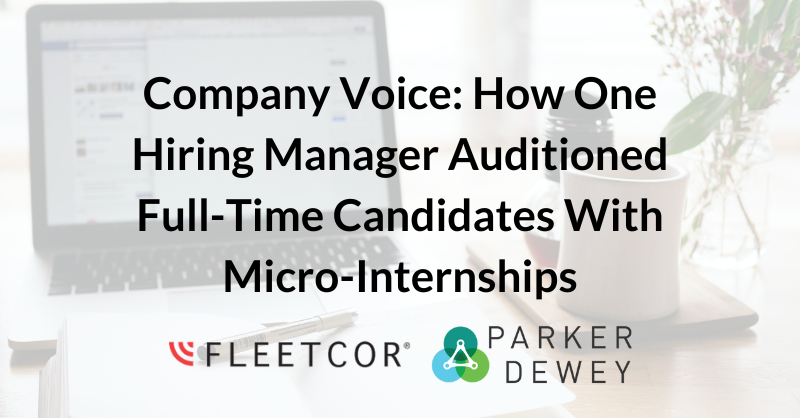 Company Voice: How One Hiring Manager Auditioned Full-Time Candidates With Micro-Internships
Ashlie Summer, Vice President of Product Operations at FleetCor, shares how she used Micro-Internships to assess full-time candidates and bring on a new full-time hire, Jessica Tardy. For the Micro-Intern perspective, check out this interview with Jessica.
When it comes to making new hires, resumes, GPAs, and academic pedigree only tell a small part of the candidate story. As Vice President of Product Operations at FleetCor Ashlie Summer shares, "You're going off of words on a paper or what somebody says in an interview." And with companies still relying on these markers, it's not uncommon for employees to bring on a new hire, only to find out later that the match isn't quite right.
This is where experiential recruiting comes in. Instead of sticking to the traditional process to fill an open role, Ashlie opted to see candidates in action with Micro-Internships—and ultimately bring on one Micro-Intern as a full-time member of her team.
How Ashlie designed her full-time role audition
Intending to identify a full-time candidate, Ashlie posted a data analytics project for recent graduates and prepared to invite multiple candidates to participate. Each would be assigned the same project, but work independently on their own deliverable.
Once Ashlie identified candidates of interest—those who'd written thoughtful responses to her short-answer questions—she directly asked each whether they were open to completing the Micro-Internship as an audition for a full-time role at FleetCor. Those candidates who were both interested in a potential long-term opportunity and not already committed to other companies were then offered the project, resulting in a group of five Micro-Interns.
Positioning the deliverable "more as a test," Ashlie used the project to assess core skills like communication, proactivity, and problem solving. She gave each Micro-Intern the same kickoff information—data, context for how the data is typically used, and project expectations. She encouraged the Micro-Interns to use creative license, but made herself available as a resource: "I told them that I wasn't giving them a PowerPoint or a framework, but if you have questions, or you want to update me, or run an idea by me, I'm here for the next two weeks."
With the Micro-Interns aware of the potential for full-time, she paid close attention to who communicated with her throughout the course of the project. "I used the kickoff meeting to gauge how they asked questions—about the company, the project, the future role." Ashlie notes that one Micro-Intern, Jessica Tardy, proactively updated her on the work, sent over drafts, and checked in via short-calls two-three times each week. "It was interesting to see how it went from a broad set of applicants, whittled down to one in just a short period of time," she shares.
How Ashlie saved time in the interview process with Micro-Internships
Impressed by Jessica's frequent touchpoints and work ethic, Ashlie felt confident in inviting her to formally interview for the full-time role. "In a conversation we had just before the project was about to end, I asked her if she was still interested in a full-time opportunity with our organization, even though I hadn't seen the final output."
"When you interview people normally, you're going off of their resume, LinkedIn, and screening questions. But when you have the opportunity to see someone's actual work ethic and what they can do—that makes a huge difference."
When the official interview process kicked off, Ashlie was able to bypass the first few steps. "It basically eliminated the need for me to interview her. At the time that we did the Micro-Internship, I didn't have the job posted online. Once I knew that she was interested, I told our talent acquisition team to post the role, and I sent Jessica the link. She applied right away. Any sort of prescreening information I already knew—I had two weeks with her." Ashlie then connected Jessica with peers for a round of interviews with colleagues. "It was an accelerated interview process," she explains. "We basically cut [the hiring process] in half."
Ashlie also notes that she was interested in Jessica as a potential candidate from day one, when Jessica sent a recap of the kickoff call with next steps. "I saw right away that she was organized and disciplined. I can teach her about the industry and the company and our products. If someone's got those characteristics, it makes selection so much easier." Though Ashlie's main objective was to assess for full-time potential, the output was ultimately so well done that Ashlie is excited to see Jessica continue to build on it as a new hire.
How Micro-Internships complement existing internship programs
Like other large companies, FleetCor offers a robust internship program for recent graduates. Ashlie shares that she views Micro-Internships not as a replacement for the existing program, but as a supplemental tool. "With Micro-Internships, you can have that opportunity to build up a pool of full-time candidates, should there be that opportunity," she explains.
Though Micro-Internships create different value than traditional internships, short-term assignments also help mitigate some of the pitfalls of longer-term commitments. "Traditional internships are a bit of a mixed bag. You're committing to that person long-term," Ashlie says.
"As cheesy as it sounds, you're investing in the next generation of talent [with Micro-Internships]. You just have to put in the time and effort to find them, and there will be people who will show themselves—like Jessica!"
---
Interested in learning how you can integrate Micro-Internships into your recruiting and hiring processes? Schedule time with our team.