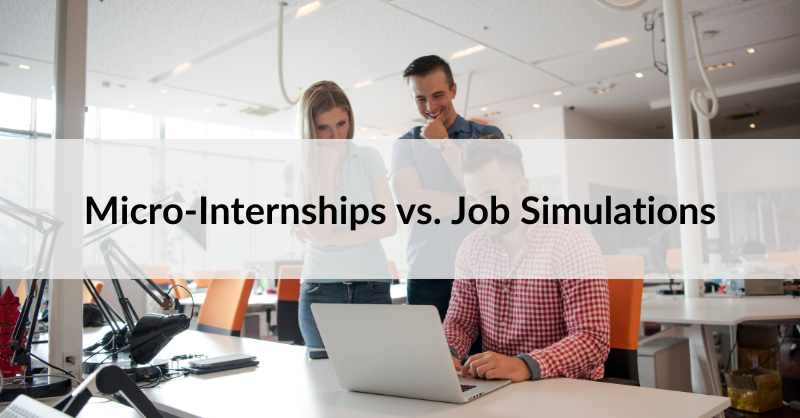 Three reasons why job simulations fall short as a recruiting strategy
While job simulations provide an experiential learning opportunity for candidates, they often fall short as a recruiting strategy and could hurt your company's brand.
Here at Parker Dewey, we surveyed thousands of college students nationwide to help campus recruiters better understand how early-career talent prefers to be engaged by prospective employers and learn about roles at their organizations. We found that less than 30% of college students participated in job simulations, and only 38% of those who participated found it to be a positive experience.
Let's dive right in.
What is a job simulation?
A job simulation is a test that helps you assess a candidate's skills in the tasks they will be performing daily in the role they're applying for; they're used to evaluate specific aspects of candidates' abilities.
Some of the reasons why job simulations fall short as a recruiting strategy are:
Job simulations require a significant amount of a candidate's time. As a result, prospective candidates choose not to participate, including those with other academic, work, and family obligations. This is amplified by the unpaid nature, especially for those who rely on part-time jobs.

64% of college students work while pursuing higher education

, and 40% work full-time.
Students perceive simulations to provide few benefits beyond the possibility of being interviewed.
The hypothetical nature of simulations makes them less important for students and may negatively impact candidates viewing the activity as "make-believe" work.
If you're interested in adding an experiential opportunity into your recruiting strategy, incorporating Micro-Internships into your early-career recruiting process can help address internal pain points while driving increased engagement and value for candidates and hiring managers.
College students ranked their top four ways of engaging with employers to be:
Real, paid work experience with a company
Understanding the responsibilities of a role through hands-on opportunities
Connecting with professionals in their chosen field
Building job-specific skills for a certain field/employer
Job simulations don't meet students where they want to engage. They're unpaid, candidates don't connect or work with professionals, and they're composed of make-believe work instead of actual tasks that candidates would execute daily in the roles they're pursuing.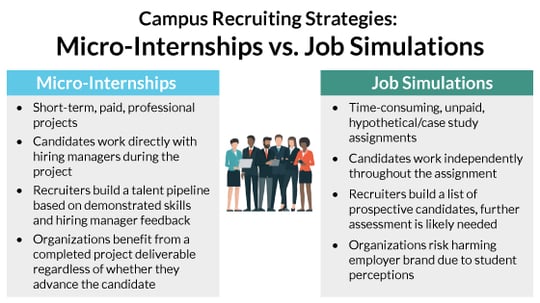 While working on Micro-Internships, college students can assess an employer based on communication, expectations, and instruction during the project. Employers can also evaluate a college student's skills, work ethic, and ability to get the job done. Employers and early-career candidates get an idea of what it's like to work with each other.
Now, we'd like to hear from you. Are you interested in implementing Micro-Internships as an experiential learning opportunity in your recruiting strategy? You can post a single Micro-Internship in five minutes or launch an integrated program in days. Connect with us to learn how.
As the largest network of highly motivated college students and recent graduates who are excited to complete short-term, professional assignments, we know internships!
Our mission is to provide meaningful opportunities for Career Launchers to add to their resumes while helping organizations get work done. If you're passionate about this too, please join our email newsletter Hire Learnings, and follow us on social!