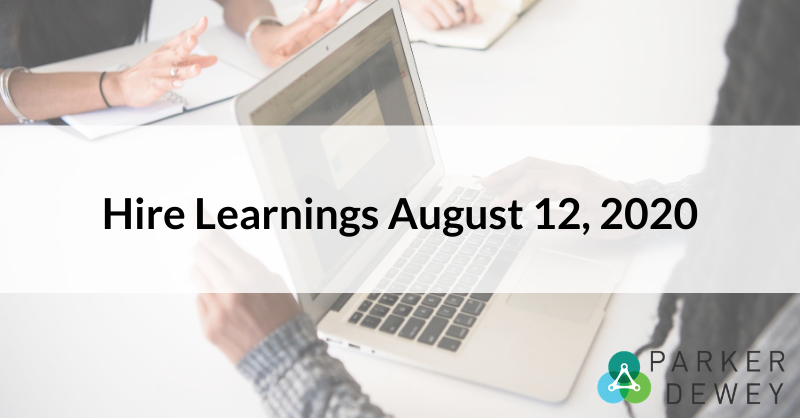 Hire Learnings August 12, 2020
As I mentioned last week, we conducted a student sentiment survey to get insights on their preferences and goals when it comes to career preparation, and how they want to engage with prospective employers given the constraints of COVID-19.
After receiving several thousand responses from students across a variety backgrounds, schools, and majors, we are able to share the results of this survey with you here. For employers thinking about their campus recruiting strategies, there are some great reasons why virtual career fairs, info sessions, and other events may not achieve expectations. There are also some great insights on simple ways to achieve recruiting goals, and even enhance outcomes versus prior years.
I also invite you to join our upcoming webinar on August 18th where we will be sharing this data in more detail, along with tactical ways to engage students based on these results.
Jeffrey, CEO and Founder
What we're reading this week:
By the end of the first quarter, HR departments had to drastically shift their priorities for the year. Now that the second half is here, Chief HR Officers are facing a different set of challenges as they look toward the short and long-term future. These top concerns are considered important for many in leadership positions to address and strategize for by the end of the year. Read the full article on HR Exchange Network for the full list.
Related reading: The pandemic's impact on hiring strategies point to a new, human-centered approach, Optimizing Your Organization: Comparing Interns, Contractors, and Employees
---
Oftentimes hiring managers go with their gut instinct to determine a candidate's fit, but this is not usually the best way to find a good hire and is not supported by data.
"Instead of relying on such a flawed measure, hiring teams need to screen for candidate fit in a way that can be analyzed and compared, a way that minimizes bias as much as possible."
Recruiter.com expands on how recruiting teams can determine a good candidate fit using different sets of data.
Related reading: Job Auditions: The Job Interview Will Soon Be Dead
---
The gig economy is highly popular in almost any industry and many entrepreneurs flock to it as a tool to grow their business. "But there are lots of myths about gig work, whether full-time or part time. It's growing, but not as much as you think, and in ways that may be very different than you imagine."
Harvard Business Review debunks 5 myths that you may have heard around the gig economy that are worth dispelling.
Related reading: Selecting a Gig Platform at Your Company? Be Sure to Consider These 3 Things, Freelancing as a pathway to a career, not a career path
---
As universities across the country limit opportunities for on-campus activities during the pandemic, recruiters have been forced to shift from in-person to virtual tactics. To help companies and colleges prepare for this unique situation, Parker Dewey surveyed students currently enrolled for fall semester to understand ways they wish to engage with prospective employers given the constraints of COVID-19.
Related webinar: 2020 Fall Recruiting Student Sentiment Survey Results
For more stories and insights on HR, diversity and inclusion, and hiring, click here to subscribe to our weekly newsletter Hire Learnings.