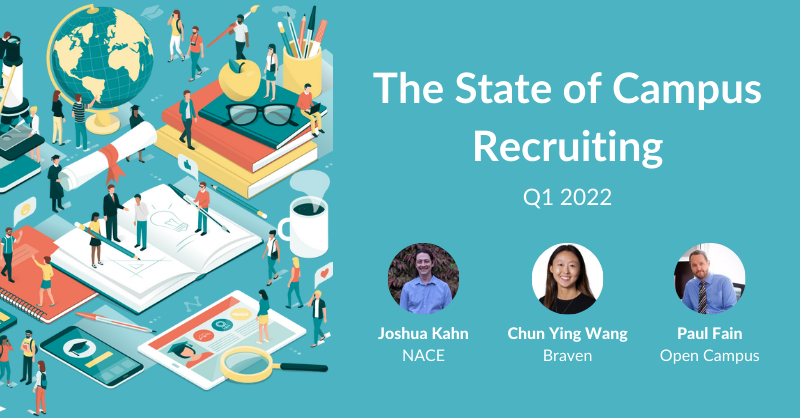 The State of Campus Recruiting - Winter 2022
The past year has proven to be a perfect storm for campus recruiting—as COVID continues, employers are struggling to fill roles, while students are complaining about a lack of jobs. On top of all this, employers are strained by the Great Resignation, trouble hitting DEI goals, and understaffed HR teams.
In our winter 2022 edition of The State of Campus Recruiting, panelists discussed the top challenges facing early-career recruiters after another unusual year and offered insights on new ways of improving student engagement.
Panelists included:
Joshua Kahn, Assistant Director of Research and Public Policy at NACE
Chun Ying Wang, Director of Data & Strategy at Braven
Continue reading for some of the key takeaways from the conversation, or watch the webinar replay!
Students are eager to improve their skills — especially those that are tied to the workforce.
Year after year, students express a desire to improve their skills as part of the career development process. This suggests that employers should be implementing more skills-based hiring, but according to a survey data shared by Joshua, only about 3% of employers use real-work skills assessment as part of their hiring process.
Joshua: What we do know is that students want to improve their skills and that is 2 of the top 3 attributes they cite when they're talking about things they're looking for in their first job. They want to improve job-specific skills and applied skills like communication, professionalism, teamwork, things like that.
Joshua: Students want to improve their skills, so if employers and colleges frame everything that they do in terms of skills—the skills that will be improved, the accomplishments that they'll be able to achieve—if it's framed like that, I think students will be interested.
Chun: What we're really finding is that students are looking for skills, they're looking for especially that special connection or network to make them comfortable interacting with an employer, interacting with a recruiter on campus.
What are some barriers to student engagement with experiential learning programs and career development events?
Joshua: It's hard for folks to forgo a paycheck to take an internship, whether paid or unpaid, because they may have a full-time job and it's hard to put that job on hold for 90 days or however long the internship is and then go back to your regularly scheduled life. It's tougher to fit these longer experiences in and that doesn't mean they're not valuable, it's just difficult to administer.
Chun: Sometimes we have problems with engagement or fellows wanting to attend and RSVP and what we're learning from them individually is that 1) they have a lot of day-to-day commitments that often take precedence over career planning, especially students who come from lower-income backgrounds who are first generation, so it's hard to just make that time and 2) there's still a barrier of feeling comfortable even in a group setting.
What are the barriers to employer involvement in experiential learning?
Paul: The business units have to be convinced that folks who come up through these nontraditional pathways can do the job, and that is tough work.
Joshua: We conducted a smaller survey of employers around skills-based hiring and we asked "What are some of the barriers to implementing a skills-based hiring paradigm?" and the number one barrier was cultural buy-in from their departments.
Chun: I think that buy-in goes both ways. Students need exposure to employers. They need to understand what the culture and what the company is like. I also think the buy-in is a lot of really getting to know students who may not have an active on-campus presence, but you see their determination and all of the transportable skills…that they do have.
How can employers and career service professionals create more equitable opportunities for students to connect with employers?
The biggest takeaway from our panelists:
Accommodate the diversity of needs, skills, and experiences that students bring to the table, even those that are less traditional.
Joshua: What I would propose or promote the idea of is having a diversity of a range of experiences to match the diversity of needs and wants in the student population.
Chun: One thing that is hopefully a tangible recommendation for anyone who is recruiting is to specifically ask for students to describe their skills that they've gotten from perhaps non-traditional experiences, whatever jobs you have that are "not internships." Really explicitly state "These are the skills that we're looking for—collaboration, communication and problem solving. We realize that you can get those skills in a wide variety of contexts."
Chun: It's hard to forge that individual connection with hundreds or thousands of students, but I think it's a relatively lighter step to shift your communication of what you're asking students to demonstrate and explain and be really inclusive about all the experiences that students might bring and have benefitted from.
Paul: As we know, every transfer student on average loses 43% of their credits. Higher ed does a terrible job of guaranteeing to transfer your credits. It doesn't even honor certifications usually. It's the same way with employers—you can't just get folks in the door for really a dead-end entry-level job and say that you're increasing opportunity. So how are you giving them opportunities to advance into those better jobs?
Build strong personal connections — these are what drive authentic and sustainable diversity.
Joshua: That is something that we hear from a lot of our members— that students from historically marginalized groups, more so than their white counterparts and male counterparts, they really do look for a personal connection with the recruiter, that really trying to build trust with the recruiter and with the company to feel comfortable taking a position there that they feel like they can grow in.
Joshua: We conducted a study and we found some results that were fairly surprising to us and we found that students from historically marginalized groups —African-Americans, Latinx, Hispanic, first gen students, women—felt more comfortable in a virtual recruiting environment than in person. They said they learned more from the recruiter about the job and the organization. They said they thought the recruiter took more interest in them as an individual than their white, male counterpart.
Final words of advice on how to engage students?
Paul: Students trust faculty members. There's incredible surveys that show when students have a positive experience in college, [the typical top reason] is that they had a close relationship with a faculty member. They are the advisors. They're career advisors. So to incentivize faculty to do more of that and to free them up to do more of that, to prioritize it as part of their job, not just adding it to an already busy job, I think is a great way to help that we don't see enough of.
Joshua: Incorporating faculty into the career development process is really the next frontier in expanding to integrate career into the rest of the institution.
Joshua: Hybrid is going to be here to stay so figure out how to use that well, build relationships as much as possible—that's what people crave, especially with the increase of virtual settings—and like we've been talking about, I think a shift towards skills and competencies away from these traditional approaches, but thinking in terms of skills and competencies.
Chun: As much as you can, help students broaden what they believe is possible for their careers and jobs.
Join Parker Dewey each quarter when we bring together corporate leaders, universities and organizations supporting students, and all those interested in addressing the challenges of college-to-career. The State of Campus Recruiting call touches on hot topics facing recruiters and institutions and welcome questions in advance to help shape discussions with our panelists.