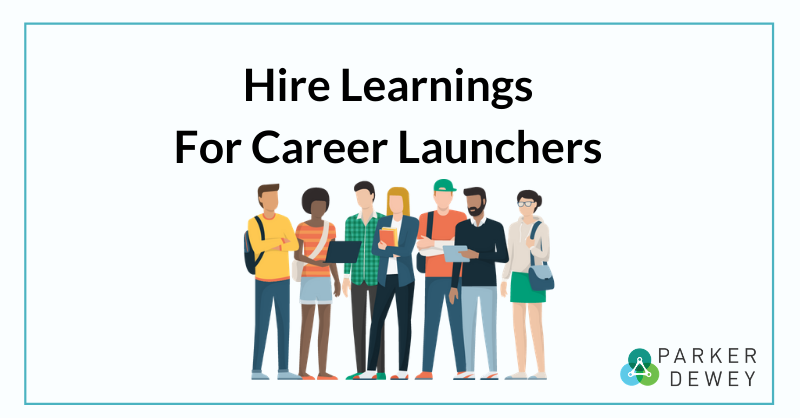 Let's Talk Landing a Micro-Internship
Each month, we feature tips for success in landing Parker Dewey Micro-Internships, opportunities to get involved with our larger community of companies and organizations, and success stories that highlight the benefits of Micro-Internships. This newsletter was originally published in April 2021. To receive future Hire Learnings for Career Launcher newsletters, click here!
---
Start by

viewing open opportunities. New projects are posted daily, and are typically filled within a few days. The platform deliberately uses very few filters so that you can explore and apply for all projects that interest you. As you scroll through the list of available projects, click on

Favorite

to mark ones that interest you. Select

Hide

to hide a project from your list. You can also filter projects by location, or view only remote Micro-Internships. (Most projects are completed virtually these days!)
Once you find a project title that interests you, click DETAILS to see the full description.

Be sure to note important dates, estimated hours, payment, and desired skills—listed to help you determine whether you're a fit for a particular project.

Finally, click "Apply to this project." You'll then be taken to a short-answer application, which typically includes 1-3 questions. For tips on how to respond to these prompts, scroll down to this week's featured article on acing a short answer application!
P.S. Your campus career center is always happy to help do an application and profile review to help you stand out—don't forget about this valuable resource!
---
Featured Article: How to Ace a Short-Answer Application
Most people probably think of the interview as the most crucial stage of any job application process. But what about short-answer questions that are sometimes included on application forms?
In some cases, you may be selected for a role solely based on a short-answer application process, like in the case of Parker Dewey's Micro-Internship applications.
Do you know how to articulate your value? Consider these tips the next time you need to ace a short-answer application.
---
Monthly Spotlight
Meet Gustavo Zuchini, an Economics major at Florida International University. In completing multiple Micro-Internships in a variety of fields—accounting, marketing, and even software testing—Gustavo has used these experiences to reflect on long-term career choices while growing his network at the same time. See Gustavo's full story here!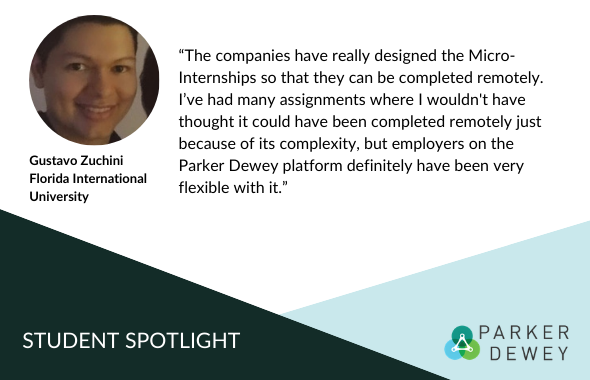 ---
Want to receive future Hire Learnings for Career Launchers newsletters?
Get on the list here!