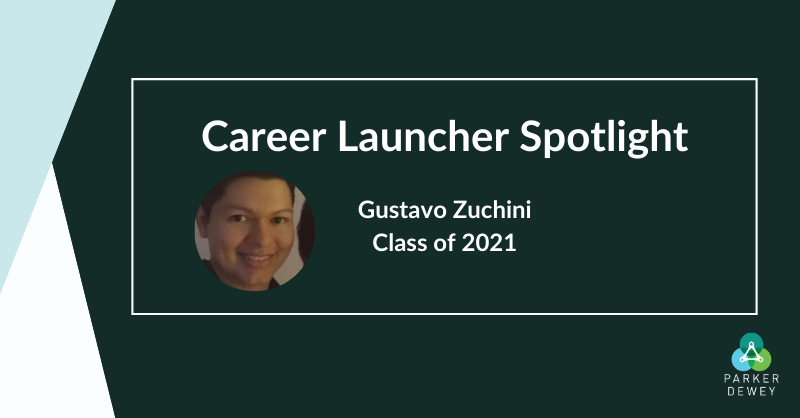 Student Success: Persistence Pays Off
Gustavo is an Economics major at Florida International University. In completing multiple Micro-Internships in a variety of fields—accounting, marketing, and even software testing—Gustavo has used these experiences to reflect on long-term career choices while growing his network at the same time.
Scroll on for Gustavo's thoughts on expanding his skillset, application tips for other students, and how he has seen Micro-Internships benefit companies firsthand.
Q: How did you hear about Micro-Internships on Parker Dewey?
Gustavo's success coach at Florida International University recommended Parker Dewey to him as a way to gain paid, professional experience while he finishes his degree. Despite the pandemic's negative impacts on student internships in early 2020, Gustavo found flexible opportunities through Micro-Internships on Parker Dewey.
Q: How has your experience been working remotely on Micro-Internships?

Having completed previous projects in a hybrid format, (partially on-site and partially remote) working fully remote was a new experience for Gustavo. Despite the complexities of the projects, remote work was a positive experience for Gustavo.
"The companies have really designed the Micro-Internships so that they can be completed remotely. I've had many assignments where I wouldn't have thought it could have been completed remotely just because of its complexity, but employers on the Parker Dewey platform definitely have been very flexible with it."
Q: What advice would you give to other Career Launchers?
Persistence and honesty are two key attributes of success on the Parker Dewey student platform, according to Gustavo. He urges other students to challenge their perceived capabilities by applying for projects across industries. (With, of course, reasonable exceptions: "If you can't do drafting, then you would not take an architectural drafting project, because you wouldn't know where to start.")
Being open to new experiences while also being honest with what you know how to do will help you find the right balance of projects to consider.
Q: What advice do you have for students that haven't landed a Micro-Internship yet?
Have yet to land a Micro-Internship? "Keep applying," says Gustavo.
"You may not hear from some, but keep applying. Sometimes the process takes a while." In the meantime, uploading a profile picture and your resume to your account will help potential employers learn more about you and help match you to the best opportunities.
Q: What types of projects did you complete as a Micro-Intern?
Gustavo gained experience working with smaller startups as well as larger firms through his Micro-Internships. He was also introduced to different industries by working with companies specializing in FinTech, Marketing, and Real Estate.
Q: What goals did you have when starting Micro-Internships?
With his graduation date approaching, Gustavo's goals are to push his comfort zone and learn as much as he can. While gaining this professional experience, he is also expanding his network, helping companies get work done, and making informed decisions about his long-term career goals.
Q: What were your relationships like with your managers during remote Micro-Internships?
Gustavo developed positive relationships with his managers, which led to open and honest feedback on areas of success and areas of opportunity. He viewed his managers as mentors in industries that he was interested in, which helped him learn and complete high-quality work.
Q: Can short-term projects turn into long-term opportunities?
While Micro-Internships are short-term, paid opportunities for students to complete smaller projects for companies, sometimes companies and students find the right fit. This can result in simply extending the project or even onboarding the student as an employee. Regardless of the outcome, Micro-Internships are a flexible, low-risk opportunity for students to gain experience and for companies to get work done.
Q: What should employers know about Micro-Internships?
In Gustavo's experience, companies, universities and students have had one another's best interest in mind through Micro-Internships. As a student, he was exposed to Micro-Internships through his university. These opportunities led him to make informed career decisions and network with talent from around the country.
Gustavo is expected to graduate from FIU in April of 2021 and will begin a new Micro-Internship in a couple of weeks.