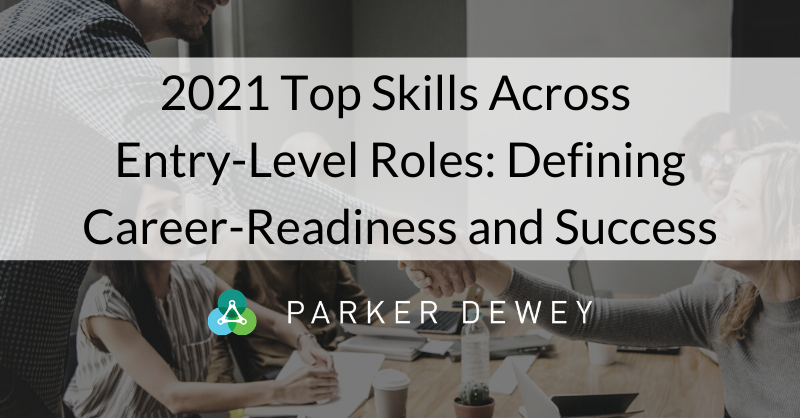 2021 Top Skills Across Entry-Level Roles: Defining Career-Readiness and Success
In an ongoing review, Parker Dewey, the largest network of highly motivated college students and recent graduates, has released the top skills desired by employers for entry-level positions. The unique results for 2021 were pulled from a sample of Micro-Internship postings during the past year, yielding more than three thousand data points for identifying the top skills in demand. Data analysis used qualitative coding to segment both skill and industry inputs from postings into descriptive categories.
Based on the Parker Dewey data, the following were the top ten skills required for entry-level projects in 2020:
Digital Technology (API, website, Windows, Web Design, programming, etc.)
Communication (articulate thoughts and ideas, storytelling, people skills, etc.)
Social Media (Facebook, Instagram, Twitter, LinkedIn, public relations, etc.)
Data Analytics (data collection, database, SQL, survey, Tableau, etc.)
Creativity (graphic design, visual, videography, sound, illustration, etc.)
Professionalism (work ethic, attention to detail, independent, accountability, etc.)
Writing (writing, technical writing, etc.)
Research (research, market research, social media research, etc.)
Critical Thinking (analysis, strategy, calculation, problem-solving, etc.)
Leadership (adaptability, emotional intelligence, hustle, initiative, etc.)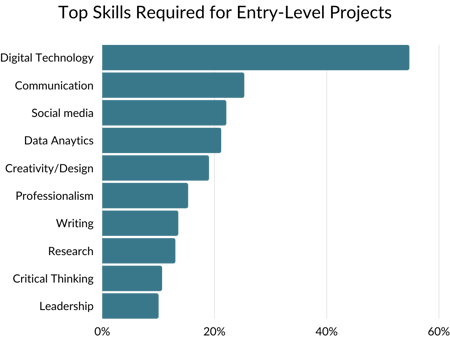 Compared to previous data reviews, digital competence played a much larger role in the projects listed on Parker Dewey's innovative platform, but not limited to programming and compute science majors. Employers were increasingly seeking college students and graduates across all majors with a wide variety of technical capability, from Microsoft Suite to programming and web development.
Example Projects*
Required Skills
Digital Marketing - Search Engine Optimization
In alignment with our marketing strategy, assist in driving traffic to our website and increased number of qualified sales leads through search engine optimization of our existing content.

Digital Technology: basic knowledge of Google Analytics and web publishing software
Research: interpret data to create an action plan and define success
Critical Thinking: identify best practices, content gaps, and areas of focus based on top ranking content in contrast to our existing content

Data Unification Process
Using our Low-Code, Visual Process Workflow Designer, create a process workflow with a GUI that allows users to select 2 or more MySQL Objects of the same type and merge the data between them into a new object.

Digital Technology: prior experience using low-code development tools
Data Analytics: working knowledge of MySQL relational databases
Professionalism: strong attention to detail, presentation, and a sense of ownership

Animation
Create a short 30-60 second animation highlighting the accomplishments of a well-known professional in the sports industry.

Digital Technology: prior experience creating digital animations and use of video editing software
Communication: ability to tell a compelling story
Creativity: create and combine illustrations, graphics, and sound
*Edited for clarity and in adherence with our NDA
Previously, six soft skills were shared in the top ten lists for both 2019 reviews, which included attention to detail, communication (written and oral), reliability, problem-solving, resilience, and self-starter. The 2020 data showed that employers still considered communication an essential skill for entry-level projects. Demand for other soft skills, such as reliability and problem-solving, were still present in the 2020 data under categories such as professionalism and critical thinking, in line with the National Association of Colleges and Employers (NACE) key competencies for career readiness.
The data also showed that the top three industry sectors seeking entry-level on-demand support were marketing (32%), operations (16%), and technology (14%).
Marketing 31.96%
Operations 15.83%
Technology 13.77%
Human Resources 5.24%
Research 4.93%
Finance 4.21%
Education 4.21%
Journalism 3.80%
Arts 3.60%
Administration 3.19%
Other 2.88%
Customer Service 1.75%
Health 1.75%
Community Outreach 1.75%
Engineering 1.13%
Though employers seeking support on marketing and social media projects continue to dominate Parker Dewey's Micro-Internships, 2020 projects spanned all departments, roles, and industries.
In an era of rapidly increasing remote work environments, employers recognize the need for talent from alternative sources, which requires key indicators of performance and success not effectively assessed via resumes and interviews alone. The data from Parker Dewey's platform shows that employers are placing an emphasis on both soft skills and technical expertise in the evolving professional landscape, and are increasingly turning to short-term, professional, paid projects to attract, assess, and hire digital natives.