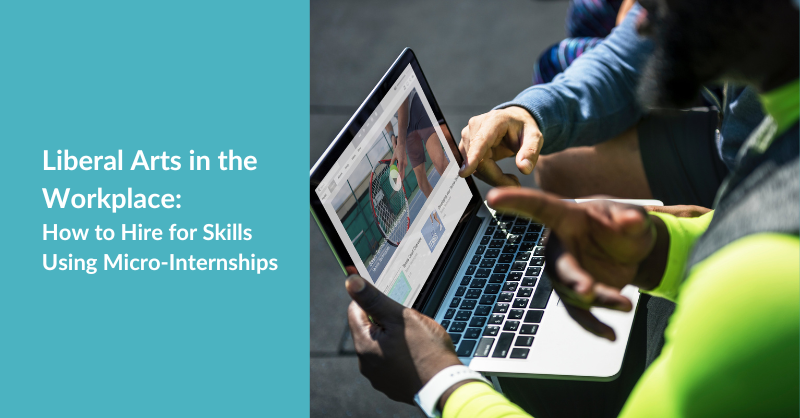 Why Employers Should Engage Liberal Arts Students
One of the most popular buzzwords in the talent acquisition space is "skills-based hiring." As companies embrace the idea and continue to drop degree-specific requirements, they begin to lean on skills to identify top-tier talent. Many find the candidate they've been searching for in liberal arts majors who bring a wealth of knowledge, comprehensive solutions, and a unique perspective to the workforce.
What are liberal arts?
The liberal arts are defined as studies that, in addition to providing a base foundation of knowledge, also help students build the intellectual tools to apply reason and judgment. These courses of study include the arts, humanities, natural sciences, and social sciences. The liberal arts teach how to think critically and solve any problem the scholar may encounter throughout their lives and careers, as opposed to having been trained to do a specific role.
According to the National Center for Education Statistics, "In 2019–20, over two-thirds of the approximately 1.0 million associate's degrees conferred by postsecondary institutions within the United States were concentrated in three fields of study: liberal arts and sciences, general studies, and humanities (402,700 degrees)."
Common liberal arts majors include:
History
Literature
Language
Philosophy
Sociology
Psychology
Creative Arts
Regardless of major, that vast majority of liberal arts students graduate with core skills critical to success in the workplace including, but not limited to:
Communication
Creativity
Professionalism
Research
Critical Thinking
Leadership
These in-demand skills are not easily assessed by resumes and interviews alone. Instead, skills-based hiring can not only open opportunities to more diverse candidates, but also better assess the current capabilities and potential of an early-career candidate, regardless of major.
Why liberal arts graduates are valuable in the workplace
It has been widely recognized that a significant portion of graduates will someday work in a role that didn't exist when they earned their degrees. In fact, it's already easy to come across job postings for roles that were previously nonexistent, but are now in-demand. Specified training for jobs of the future is impossible to do. Still, a liberal arts education does the work of producing well-rounded, inquisitive, critical thinkers capable of tackling whatever the next frontier in the workplace will entail. This need for the liberal arts perspective was highlighted by Fleetcor President Keagan Russo, who has seen his share of success hiring liberal arts college students and recent graduates.
"[They] might attack a problem in a different way than I would've. And it often leads to a better outcome than if you have someone go out there and try to solve the problem that's laid out in a more traditional, business school approach, versus someone who has a different style. Marrying those two together usually produces a better outcome. I haven't seen the liberal arts background as a deterrent - if anything, [liberal arts students] have a tendency to be a little more resourceful."
The creative problem-solving that results from a liberal arts education is also evidenced in the origin story of Netflix, as was highlighted by LiberalArtsEDU.org. Both the founders of Netflix, Reed Hastings and Marc Randolph, earned their bachelors degrees from liberal arts colleges (Bowdoin College and Hamilton College respectively), and it was their resulting ability to look at a challenge with logic and reason that allowed them to develop the model that ultimately led to one of the world's best-known streaming services (and the host of a great Micro-Internship project).
How to avoid missing qualified early-career candidates
When you're in a crunch to hire fast, it can be easy to overlook qualified talent just by limiting job posts to specific majors believed to be more directly aligned with the role. When you take the time to unpack the responsibilities of a particular role, you'll often find that the ideal candidate simply needs core skills to succeed.
Consider what makes a great junior financial analyst. In this role, a new hire will likely be responsible for data clean-up, account reconciliation, extracting insights from data, and even financial data modeling. Each of these responsibilities call for a high attention to detail, strong communication skills, and critical thinking. By opening up applications beyond finance and business majors, you'll gain access to a wider pool of candidates who may not have previously considered a role in your organization.

Additionally, as they progress in their careers, liberal arts graduates will continue to think critically about their roles, their purpose, and how they can be even more impactful. Those are the hires that can grow with an organization, regardless of how the industry changes, and make contributions that could lead to that company being one of the leading innovators. In short, hiring managers are missing out on qualified candidates when they're focused on the 'now' as opposed to the long-term, and it can be a costly decision.
Career paths for liberal arts majors
From the student perspective, it can be a challenge for liberal arts students to determine what opportunities to pursue, because their skills are so widely applicable. Beyond marketing and communication, technical writing, human resources, product research, data analysis, and even technical roles are all viable options for liberal arts majors.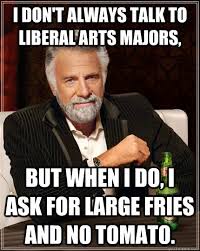 Most of us have come across criticisms and likely a meme or two questioning the value of liberal arts degrees. These negative evaluations typically stem from the assertion that a liberal arts degree doesn't prepare the recipient for a career, and those claims are correct….
A liberal arts education doesn't prepare the student for a singular career. On the contrary, a liberal arts education prepares scholars for any number of careers they might decide to pursue, and therein lies the challenge for liberal arts graduates - how does one determine what to pursue when they have so many options? This challenge (and an answer) has been highlighted by Lori Sparger, the Chief Operating Officer of Purdue University's College of Liberal Arts.
"Many of our students pursue majors with names that don't sound like job titles—this [Micro-Internships] helps them understand how the skills developed in philosophy, history, and other courses relate to those jobs they will have after graduation."
How Micro-Internships support skills-based hiring
Parker Dewey Micro-Internships are short-term (typically 10-40 hours), paid, professional projects that allow students and recent graduates to see how their various skills and interests can be applied to a given industry. Micro-Internship success story, Melanie Garcia, highlighted how her Micro-Internship projects have helped her gain career clarity in the face of her many options.
"With my liberal arts degree, I know I have lots of options in a variety of industries. Parker Dewey allowed me to see some industries that interest me and how my skills can be applied to them."
In the following ways, these projects make it easy to access and engage talented liberal arts students that can have a lasting positive impact on your organization.
Support Career Exploration: Because liberal arts students have so many career options, they can be hesitant to commit an entire semester to something without a prior positive experience. Micro-Internships allow employers the opportunity to spark the interest of liberal arts students without a required long-term commitment from either party.
Easy Access to Creativity: Many (perhaps most) professionals have projects on their to-do lists that they're just not sure how to attack. Why not engage the creative problem solving skills and fresh perspective of a liberal arts student to get it done?
Industry Awareness: Micro-Internships allow companies to give liberal arts students a sneak peak into their industries, so they can begin conceptualizing whether they see themselves doing that type of work longer-term, all the while applying their creative problem solving abilities and communication skills to a project in the present.
Inside Track on Hiring: Not only do organizations get a completed project while the student gets experience, but a Micro-Internship also allows organizations to form a connection with students that may lead to them joining the team down the road.
In conclusion, any organization seeking to add creative, inquisitive, problem-solvers with strong critical thinking skills to their team needs to be engaging liberal arts students, and Micro-Internships make it easy.

Ready to start building relationships with liberal arts students?
Replay our 30-minute session, where we covered how connecting with these students benefits companies and talent alike.