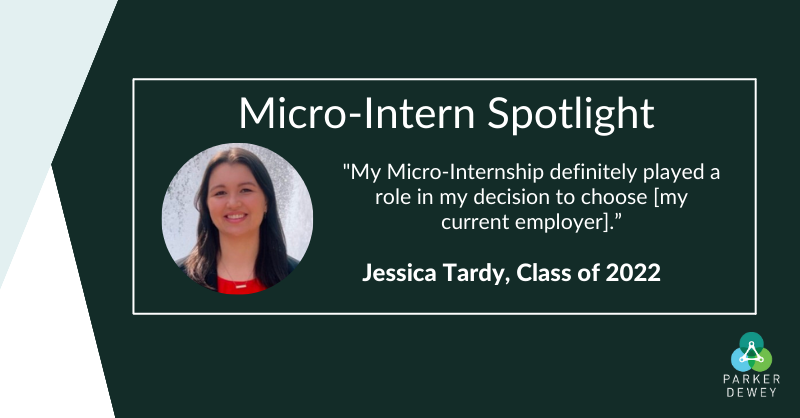 Micro-Intern Success: Finding a Fit
As many recent graduates can attest, one's senior year of college can be overwhelming. Not only are students still managing their coursework, but they are often also trying to balance that academic load with extracurricular commitments, jobs to make ends meet, and being repeatedly asked the same question: What are you planning to do after you graduate? This well-intentioned query leaves some feeling like they should have plans lined up, pushing them to cement something so they'll have an answer to the question. Jessica Tardy, a recent Economics and Psychology graduate from University of Georgia, felt that same pressure, but rather than rush to commit to a full-time opportunity, she used a Micro-Internship to make sure she was committing to the right opportunity for her.
Exploring Her Options
Jessica first heard about Parker Dewey through a newsletter from her career center. As a student with a multidisciplinary background, she was drawn in by the range of possibilities. The economics and psychology double-major explained, "There's not a one-to-one match between my degree combination and a career… Micro-Internships can help you see how what you know can translate into careers."
Jessica also had her full-time job search at the front of mind as she considered her use of Parker Dewey. The senior had already been laying a strong foundation for her search by talking to her counselor, going to fairs, and doing lots of networking. Jessica clarified that she was very intentional about her search, explaining, "I didn't want to just take a job. I wanted to find the role that was going to be a good fit for me and was going to be the right place for this stage in my career."
While Jessica was willing to put in the work, she was also well aware that the job search could be financially and emotionally challenging, and Micro-Internships seemed like a good way to mitigate both challenges while continuing to build her resume.
"I was looking for something to support me while also allowing the flexibility for that search to remain my main priority, and Parker Dewey offered that."
Jessica also expanded on the financial component, explaining that the paid aspect of the projects were key for accessibility. She shared, "A lot of us get stuck, because we can't take an internship that's unpaid so we have to go work jobs that aren't related to the fields we ultimately want to be in."
Developing a Sense of Ownership
Jessica landed a Micro-Internship shortly after graduation, and immediately recognized a sense of ownership in her project that was unique from her other internship experiences.
"What was really different about Parker Dewey is it was the one where I had the most responsibility as the intern. Even though the process of data analysis and making recommendations was similar to other experiences that I'd had, this was much more independent, and owning that process was different from my previous experiences and internships."
Jessica reflected on the impact of that ownership, sharing, "I think it was beneficial to me to have that experience of holistically owning that process while still having the opportunity to ask my supervisor questions whenever I needed to."
Jessica also recognized the benefits of having a specific project that she was able to jump into, and how that differed from what some experience in other internship opportunities.
"With traditional internships you might feel like you're doing busy work sometimes or don't have anything to do, but with Micro-Internships, you're making real contributions."
Finding FleetCor
FleetCor, despite being a worldwide leader in business payments, was a company Jessica had never heard of before Parker Dewey. Jessica recalled, "I had no idea who FleetCor was when I applied. I chose that specific opportunity because it was data analysis and when I read the description it sounded like something I could handle." Jessica shared that she'd done similar projects with other students as part of The Student Industry Fellow Program, a student consulting group she was involved with at UGA.
While Jessica didn't know anything about the company at first, she found that her Micro-Internship was "a fun way to get introduced." Unlike traditional hiring processes where a candidate often puts in substantial time to tailor a resume and write a cover letter before even being considered for an interview, Jessica recalled that she only began researching FleetCor once she realized that they were interested in selecting her for their project.
From her first meeting with her supervisor, Jessica recognized that this relationship had the potential to lead to more than a project. She recalled, "When we first met, she had asked if I'd committed to anything full-time, so I had it in the back of my mind that a full-time opportunity might be a possibility."
While Jessica was interested in FleetCor, she was still determined to find the right opportunity, not just any opportunity, so she was curious to hear the details when she had completed her project and her supervisor scheduled a conversation to discuss what a potential full-time role would entail. When her supervisor started to bring up concepts like human-centered design, Jessica began to get really excited about the role.
After that conversation with her supervisor, she also interviewed with other members of the team. Jessica enjoyed being able to have those conversations with the details of her Micro-Internship in mind, sharing, "It was really cool to already have the context of what this role was and to have already done some of it… It also helped me see how the role was important and necessary."
The team was impressed and offered Jessica the role. While Jessica was excited to receive the offer, she had a decision ahead of her. The recent graduate had received two other full-time job offers in the same week!
As she reflected on her options, there were two key factors that influenced her. One was the culture at FleetCor. The other was her Micro-Internship experience.
Jessica couldn't say enough good things about FleetCor's culture and team. She shared, "One of the things that stood out to me about everyone at FleetCor was their honesty about the role and the team and the culture and the company as a whole. From the very beginning, I was able to ask anything and receive an honest answer. That transparency is really important to me, and it was exciting to see that from my potential manager."
Ultimately though, it was Jessica's Micro-Internship experience that was the deciding factor.
"My Micro-Internship definitely played a role in my decision to choose FleetCor."
Jessica shared, "Because of my Micro-Internship, I was able to more clearly envision what that role was going to look like and that experience with the team. The fact that I've gotten to meet and work with my supervisor allowed me to make that decision with confidence."
Transitioning to Full-Time
As of publish, Jessica is in the midst of her first week in her new full-time role, having traveled to Nashville for onboarding and to meet the team.
Excited to jump in, she shared, "One of the things I'm going to be doing is continuing the project that I started. Now we have two more months of survey data, so right away I'll be incorporating that into the things I've already done, so it will be a nice transition into the team… I'm already the expert on this survey data."
Jessica is thrilled to have found the place she wants to begin her career. Smiling, she said, "This role is a really great fit for my skills and all of my interests. I feel like I get to bring my whole self to work."
We are so excited for you, Jessica!
Advice
For companies, Jessica recommended considering Micro-Internships if you want to reach as much potential talent as possible, reminding employers, "Full-time internships aren't an option for some people, especially if they're unpaid… Micro-Internships allow companies to pay a student for what they actually need while also getting exposure to really awesome talent."
She also had some advice for the project content themselves, advising, "The closer to real-world an experience can be, the better."
Jessica encourages other students to read the newsletters and emails their Career Center sends, and couldn't say enough good things about the ways her own UGA Career Center has helped her. She credits them with helping her find Micro-Internships, and shared, "I've really appreciated all the guidance they have given me throughout the years."
While Jessica loved how easy it was to apply Micro-Internships, she also cautions Career Launchers that they still need to put thought into their applications.
"As the applicant, it was nice to not have to fill out a super long application, but it means you have to be very thoughtful about your responses… You only get a few sentences to really sell yourself, but it's a good opportunity to reflect on what your key experiences are and how they relate to the project."
Jessica recommends Micro-Internships to all students and recent grads, regardless of where they are in their academic journey, saying, "In general, it's nice to have this as an option whether you're still in school looking for experience or you've graduated and you're using it to supplement the larger search… There's a lot of pressure to do things in a very specific way, but in reality you can be creative and be flexible with it, and Micro-Internships allow you to take ownership of that journey."
Jessica, who successfully prioritized finding the right fit for herself, clearly follows the advice she left the interview with: "Enjoy the process and don't get caught up in what other people are doing."
---
Looking for a leg up on securing top talent like Jessica? Learn how with Micro-Internships! You can also check out this story from Fleetcor's perspective.