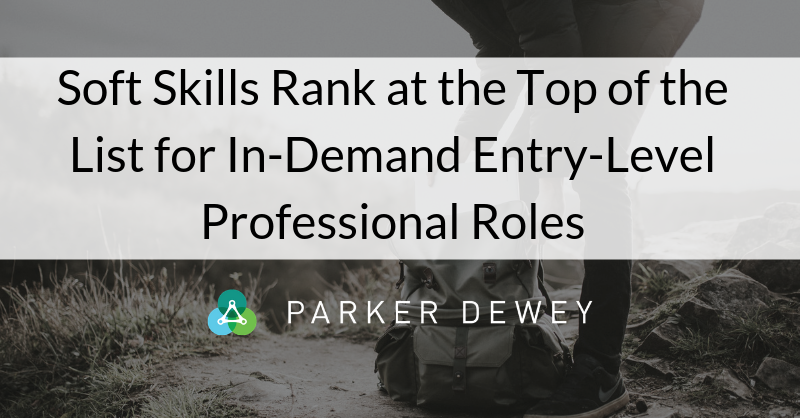 Quarter Two Findings: Soft Skills In-Demand For Entry-Level Roles
Q2 2019 Parker Dewey data shines a light on broader industry trend of soft skills defining career-readiness and success
Parker Dewey, which connects highly motivated college students and recent graduates with businesses via its Micro-Internship platform, has released its findings on the most sought after skills for entry-level roles for the second quarter of 2019. Based on Parker Dewey's database of Micro-Internship project postings, the top skills were: communication (oral and/or written) (99%), resilience (99%), problem solving (96%), attention to detail (91%), dependability/reliability (91%), teamwork (91%), appetite for learning (88%), time management (88%), self-starter (78%), and creativity (71%). Compared to Q1, organization, empathy, and integrity fell off the top ten list, yet these skills are desired for up to 50% of the entry-level work assignments. The data also showed that the top three areas in which employers required Micro-Internships – or short-term, professional, paid roles – were marketing (39%), sales (16%), and human resources (8%), which overtook the need for operations-related projects in Q2.
The data from Parker Dewey demonstrates the increasing demand for soft skills as employers recognize these competencies are key indicators of a candidate's potential and are core to productive work environments. Even technology giants such as Google have found that the most productive and innovative groups across their companies were filled with individuals who bring strong soft skills to the table. Parker Dewey's founder and CEO, Jeffrey Moss, emphasizes that soft skills are critical when it comes to career readiness, "over 90% of talent professionals ranked these skills as important per LinkedIn's Global Talent Trends report. We need to highlight that these are not just 'soft skills' but 'Core Skills,' required throughout industries and roles to launch and build a career."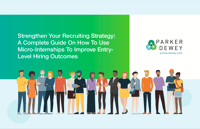 Find out how Micro-Internships can help companies to assess Core Skills to improve entry-level hiring with our Complete Guide on How to Use Micro-Internships to Improve Entry-Level Hiring Outcomes.