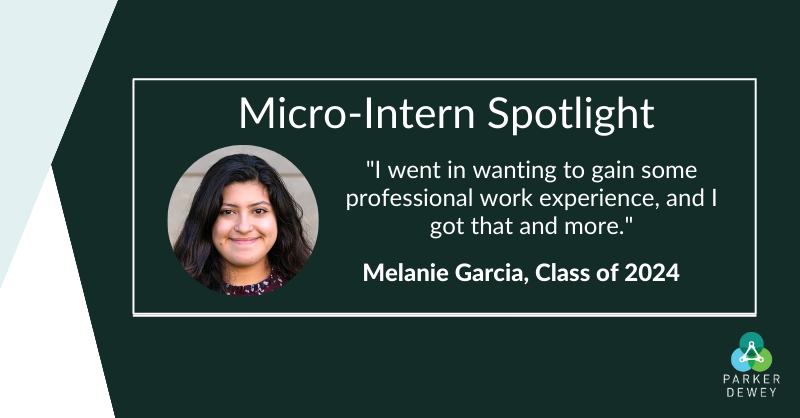 Micro-Intern Success: Connecting a Liberal Arts Education to Career Opportunities
As our society evolves, so do the roles within it. While estimates vary, it's widely recognized that a significant portion of today's graduates will someday work in a role that doesn't exist yet. Specified training for a job of the future is impossible to do, but a liberal arts education does the work of producing well-rounded, inquisitive, critical thinkers capable of tackling whatever the next frontier will entail. For many liberal arts majors, however, a closer and more pressing challenge might be figuring out where and how to apply those skills right when they graduate. This is something that was on the mind of Melanie Garcia, an English major at Wesleyan University.
The Dell Scholars Program
As a first-generation student, Melanie knew she could benefit from additional support and perspective throughout her college career, and made sure to set herself up for success by applying for and being accepted into the Dell Scholars Program during her senior year of high school. The program, which has existed since 2004, is dedicated to providing students like Melanie with the support they need to earn a college degree.
It was through a newsletter from the Dell Scholars she received during her sophomore year at Wesleyan that she found out about Parker Dewey Micro-Internships. While Melanie was already appreciative of the support the program has provided throughout her college experience so far, she's particularly grateful that the Dell Scholars Program made her aware of Parker Dewey. She shared, "If it wasn't for Dell Scholars letting us know about Parker Dewey, I probably wouldn't have found out about it on my own."
Micro-Internships and Exploration
Melanie, who was trying to determine a career path at the time, was excited by the opportunity to experience different companies and types of projects without committing to a full semester. In her words, "I needed something flexible so I could dip my toe into the water and test different industries."
Melanie also described a challenge common to many college students: struggling to find experiences that could both further her professional goals and help cover bills at the same time.
"I had been working in fast food, at a movie theater. Nothing really professional that could help me get a longer term internship. I saw a Micro-Internship through Parker Dewey as my golden ticket."
Despite being excited about the platform, Melanie still had concerns about what projects she would find, and whether she would be qualified. She confided, "One of my greatest fears when I was first getting into the search was not being able to find something relevant, but Parker Dewey always has something available, and there's always something new. I kept looking until I found things that genuinely intrigued me."
Melanie was sure to check the platform on a regular basis, and kept a keen eye out for writing and marketing opportunities in particular, which she found to be plentiful on Parker Dewey. In April of 2022, she landed her first project assisting with blog writing for a professional coach who serves women and mothers.
Gaining Connections and Perspective
Despite her enthusiasm for the project, Melanie shared that there were still nerves involved, especially since this was her first professional experience. She recalled, "When I first interviewed, I was worried about being professional enough or not having the right things to say, but once I connected with my supervisor, we really hit it off. I got to know her as a person as well as a professional."
Melanie described some of what was involved in her first project, including receiving assignments and editing. Through her project, she realized that while editing might seem boring to some, she loved the process. She's grateful not only for the professional insights she's gained about herself, but also for the way she's been inspired by her supervisor's coaching business.
"I felt that we crossed paths at a great time. I went in wanting to gain some professional work experience, and I got that and more. "
Melanie went on to explain the many aspects of her life this experience has impacted, detailing, "I've gotten to see how she approaches clients and her role and it's helped me to learn more about career planning, relationships, and in a lot of ways, growing up in general. I've also learned a lot about how to market myself." Melanie recognizes that the experience has been a unique one, acknowledging, "This is a niche business that I don't think people see that often, so I'm grateful to have been exposed to and be a part of it."
Recognizing the Impact of Her Liberal Arts Education
Having now done two Micro-Internships, Melanie was quick to credit her liberal arts education with preparing her for success. For example, she shared, "In my first project, I did a lot of research on the industry, read a lot of psychological articles, and created drafts for blog posts that are heavily based on science. As an English major, I'm constantly reading, so even though I'm not a STEM major, it didn't take me long to figure out how to approach scientific articles and then word the findings in a way that clients would be able to understand."
Melanie also highlighted how her degree choice has been preparing her for the demands of the professional world, saying, "As an English major, I know how to write on a tight schedule, I know how to edit, and these were all things that I needed to do for my projects."
Melanie described the liberal arts model as one that allows her to flourish, and acknowledges that no matter what direction she decides to go with her career, she can feel confident in her writing skills and the demand for them. Based on her Micro-Internship experience, she acknowledged, "I didn't realize that my background in English would help me so much in marketing."
"With my liberal arts degree, I know I have lots of options in a variety of industries. Parker Dewey allowed me to see some industries that interest me and how my skills can be applied to them."
Looking to the future
With her first professional experiences under her belt, Melanie is excited to take on the new opportunities they have paved the way for, including an internship this fall related to leadership development and a professional project with the Dell Scholars Program.
Melanie credits her current endeavors and newfound confidence to her Micro-Internship experience, saying, "My experience with marketing, blog writing, and content writing helped make me a competitive candidate, and being able to talk about those experiences has opened the door to other opportunities."
Melanie is also thrilled to be applying her skills to a project for Dell Scholars, explaining, "I'm so grateful that it worked out this way. Now I feel that I get to give back to Dell Scholars which is great because they helped me find Parker Dewey."
Now that her Micro-Internships have opened her eyes to the range of possibilities, Melanie plans to continue exploring, albeit with a better understanding of her own strengths, skills, and preferences, as well as a lot more confidence.
"Instead of being fearful of not having any job, now I'm trying to narrow down what I do like because I realize I have a ton of options."
As she begins her junior year, Melanie is looking forward not only to the experiences she has already lined up, but also to testing her skills in a variety of organizations and environments so she can determine what she likes best.
Advice
Melanie encourages employers to consider the positive impact they could be having on a young person's life when they post a Micro-Internship, while simultaneously receiving high-quality work. With this in mind, she hopes to see even more employers posting Micro-Internships.
For her peers, Melanie recommends persistence and a willingness to learn new skills to secure the types of projects they're interested in. The first project that sparked her interest was one involving SEO, and even though Melanie was interested, she was skeptical of why a company would choose her for their project. Then she got an interview. While she didn't land that particular role, Melanie shared, "The fact that they were interested enough to interview me lit a fire. I started taking a SEO certification course because that interview motivated me."
By the time another Micro-Internship related to SEO was posted, Melanie had made herself a competitive candidate, and landed the Micro-Internship that she has described as life-changing.
"Now, I know I'm interested in content writing and SEO. I wouldn't have realized I could do something like that if it weren't for my Micro-Internship experience."
---
Do you want to change a student or recent graduate's life while simultaneously knocking a project off of your to-do list? It's easy with Micro-Internships!