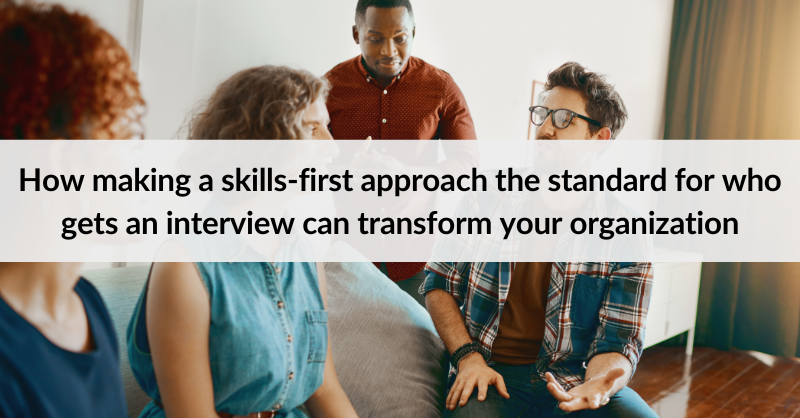 The benefits of skills-based hiring
Are you tired of traditional hiring processes that may exclude highly qualified candidates? Micro-Internships can help!
Traditional hiring practices that rely on criteria such as academic degree, GPA, personal referrals, or other credentials have repeatedly proven to lead to ineffective and biased hiring outcomes.
This is one of the many reasons why skills-based hiring is on the rise, and employers nationwide have used Micro-Internships as an assessment tool to prioritize a candidate's practical skills and competencies, allowing them to find the right talent for their needs.
Micro-Internships are a highly effective, low-cost, and low-risk way to close skills gaps, retain employees, and reduce the chances of making a bad hire. Implementing Micro-Internships in your skills-based recruiting strategy will benefit you in the following ways:
Stop missing out on talent
Skills-based hiring lets you see if a candidate is well-equipped to do the job. When you or your team need another team member to help during an overwhelming period, you aim to make the best hire the first time to fill your workforce's skills gap effectively.
Liberal arts college students and recent grads are just one example of a high-potential talent pool that possesses highly in-demand skills that are often overlooked. Their abilities surpass what can be assessed through resumes and interviews, and their skills may be precisely what you're looking for in a candidate.
Utilizing Micro-Internships, you can effectively bridge the core skills gap with Micro-Internships, assess the skills of students and recent graduates who may not know about the opportunities at your company, and get the on-demand help you need.
Build an inclusive recruiting process
Though it may not be on purpose, systemic hiring inequalities may start early in your employment cycle. Early in their recruiting process, some companies utilize personality tests, degrees, and other credentials that are often false indicators of success, leading to ineffective hiring outcomes.
Adopting a skills-based hiring approach can help you create a more inclusive and diverse workforce that values talent and potential over narrow qualifications and enables you to provide the same opportunities to candidates from nontraditional backgrounds.
As you forecast your talent needs for the fall, avoid missing out on high-potential early-career candidates unable to participate in traditional programming—such as student-athletes, student parents, and part-time students eager to demonstrate their skills and be an asset to your organization. Optimize your DEI recruiting initiatives through Micro-Internships and tap into a broader, more diverse talent pool.
Create authentic relationships with candidates
Early-career candidates are anxious to look beyond the career fairs, info sessions, emails, and interviews. With Micro-Internships, they can authentically engage with you. Micro-internships support candidate needs, allowing them to "test drive" opportunities, build relationships, and gain the confidence they need to apply.
Candidates benefit from skills-based applying, and you can benefit from skills-based hiring by assessing candidates based on their performance, helping you identify the best fit for your open role, and bettering your understanding of a potential employee's skills and abilities.
Provide an experiential opportunity
In our annual student sentiment survey, 95% of students rated "real, paid work experience with an organization" as the most valuable way to engage them. Candidates are encouraged to learn through Micro-Internships; upon project completion, they will have strengthened their skills and gained new ones that help them succeed at your organization.
With Micro-Internships, you can offer an opportunity for prospective candidates to understand how the skills they already possess can be applied to your industry while also demonstrating the type of work they are likely to encounter daily.
Micro-Internships are an innovative assessment tool for attracting, developing, and retaining talent—even for hard-to-fill positions.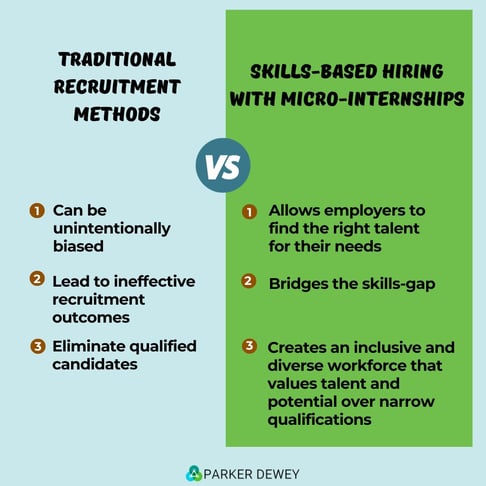 If outdated recruitment tools do more harm than good, try skills-based hiring with Micro-Internships and engage high-potential early-career candidates today!