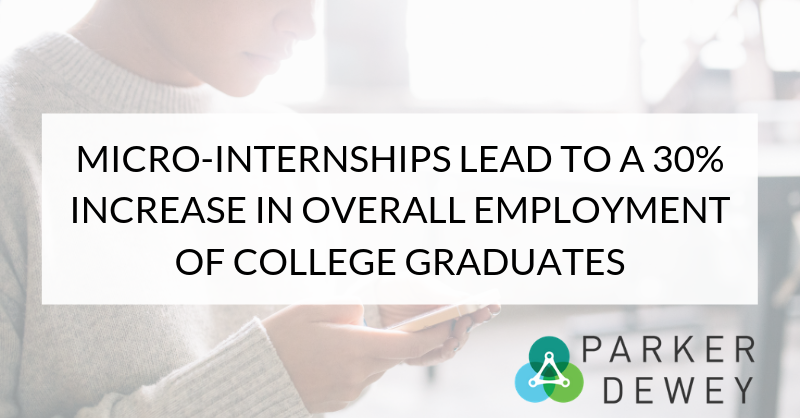 2019 Micro-Internship Destination Survey
More than 40% of recent college graduates are under or unemployed, yet companies spend millions on campus recruiting tactics to filter out candidates based on factors that don't predict success. There's a better way for both students and companies to connect through real work experiences via Micro-Internships – short-term, paid, professional opportunities that allow all types of students to gain experience while demonstrating skills to potential employers.
In Summer of 2019, Parker Dewey surveyed more than 400 Career Launchers – college students and recent graduates who have completed at least one Micro-Internship – to understand the outcomes related to their participation. Out of the respondents, 97% identified as being part of an underrepresented group in the workforce that traditionally lack access to professional opportunities that are both accessible and equitable. Overall, Parker Dewey has seen more than 80% of Career Launchers selected for Micro-Internships come from underrepresented backgrounds including: first generation college students, women, immigrants, students from underrepresented racial groups, and those with disabilities. In addition to a variety of demographic backgrounds, Career Launchers come from all majors, and attend or graduated from a variety of colleges and universities.
Career Outcomes
Of all Career Launchers surveyed, 39% of respondents reported being currently enrolled in school and 56% had graduated within the past five years. Of those that had graduated, 94% are now employed, compared to 64% employment rate of graduates overall, according to NACE. When asked about job fit and career outcomes, 93% reported being satisfied in their job, and 98% feel supported at work. Both responses point to the positive impact of Micro-Internships on the college-to-career transition. Additionally, 100% of employed Career Launchers rated themselves both as feeling confident in the workplace after completing their Micro-Internship experience and also motivated to achieve career-oriented goals.
Regardless of employment outcomes, 98% of all respondents are satisfied with the degree they pursued. When asked how their degree program related to their Micro-Internship experience, 64% reported applying knowledge gained in the classroom to the work they completed, which is significant given more than 40 percent of college graduates take positions out of school that don't require a degree, according to the Strada Institute. Outside of the classroom, Career Launchers reported that participation in Micro-Internships helped them to hone skills in: communication, attention to detail, flexibility, organization, and dependability. These skills align with the top skills sought after by employers seeking entry-level talent.
The Micro-Internship Experience
In addition to career outcomes, we asked Career Launchers for additional feedback regarding their Micro-Internship experience. 89% of respondents were satisfied with their Micro-Internship experience overall.
When asked for open-ended feedback on what Career Launchers like best about Micro-Internships a few response highlights include:
"I enjoyed the opportunity to experience different fields. It really helped me understand what I liked and what I didn't like. It helped [me] understand what my strengths and weaknesses were!"

"I enjoyed using my skills to work on a project that was short term. It felt like a simpler and less commitment-oriented way to test out my skills and interests."

"I loved being able to explore different channels and verticals in a similar space where I wanted to pursue my career (digital marketing). Also, just meeting new people and growing my network is always very enjoyable for me!"

"I liked that I could work on the projects anytime, anywhere. The flexibility was perfect to work around my school schedule."

"I like that I can complete the work on my own time (respecting deadlines of course). It can be difficult to be a full-time student and have a job with set hours."

"I liked working remotely. I think it allowed me to improve my communication skills. I had to learn to communicate more than I normally would if I was working in person. This helped me determine what was important to say and to be very clear and direct in what I needed."

"Getting paid to share my skills! It's so encouraging to have our work valued instead of being treated as if we're getting a service by working for free. Yes, we gain experience either way, but getting paid for a job on Parker Dewey shows us that we are capable professionals. It's not only a confidence boost, but a way to cover expenses."
The data from the 2019 Micro-Internship Destination Survey is clear: Micro-Internships expand access, at scale, to valuable work experience, leading to positive career outcomes.