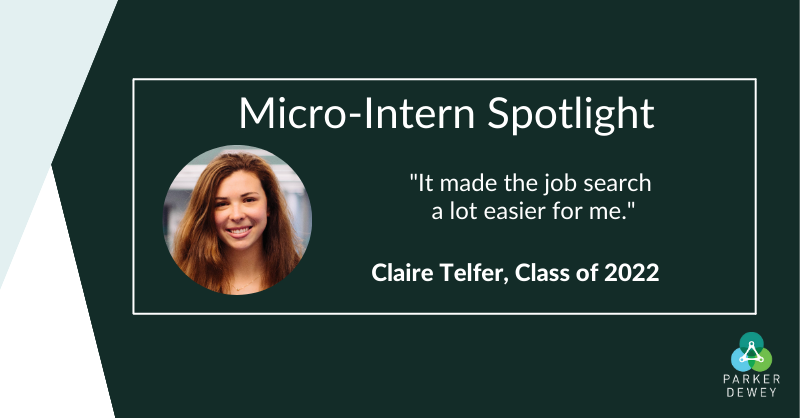 Micro-Intern Success: Skills-Based Applying
When students and recent graduates view the Micro-Internship opportunities on Parker Dewey, they won't find many filters. For example, if a student is looking for an opportunity specifically listed for a Business major, there's no drop-down menu or selection box. While some might assume this is an oversight, it is actually a thoughtful choice: The exclusion of such filters prompts Career Launchers to explore opportunities they might not have set out to consider. This was the case for Chemical Engineering major Claire Telfer, who stumbled upon a Micro-Internship that has led to an unexpected but much enjoyed full-time job in project management at SCB Management Consulting.
An Opportunity to Explore
Claire recalled setting up her Parker Dewey account in January with the goal of further developing her soft skills and adding more professional experience to her resume. She had already had an internship directly related to her major at a small pharmaceutical company, but was looking for something that would allow her to work with people as well as supplement her technical knowledge.
Upon reviewing the projects on the platform, she was impressed not only with the range of opportunities, but also with the way Parker Dewey is structured.
"The application process with Parker Dewey is a lot easier. It's nice to have a profile already set up and I appreciate that the questions that the employers ask on Parker Dewey are very specific."
Claire also recognized that the opportunities varied widely not only in terms of industry, but also in terms of the sizes and types of businesses, sharing, "I really appreciate how Micro-Internships that post on Parker Dewey include small businesses. It's nice to get to know the people you're working with, and those opportunities aren't necessarily the ones that will pop up on other job boards."
Recognizing Potential & Seizing Opportunity
As Claire was graduating from Case Western Reserve University, she landed a Micro-Internship doing project analyst work with SCB Management Consulting. While she hadn't necessarily planned for a career in project management, she quickly recognized that this project was using strengths and preferences that she wanted to apply in her professional career.
She reflected on what she learned about herself, saying, "I really enjoy organizing. I like seeing projects and tasks from the big picture." She also recalls her excitement when she realized her Micro-Internship had the potential to turn into a full-time role, and how much she enjoyed being able to test the role first with the project.
"This feels like a very natural transition, going from an internship to a full-time job offer rather than just starting from nothing."
Claire became a full-time employee at the beginning of July, and credits Parker Dewey with helping her find the opportunity, stating, "It made the job search a lot easier for me… I didn't think this would turn into a full-time job offer. Parker Dewey really helped me out as a graduate."
Now, she's excited to not only be taking ownership of client projects, but also to take advantage of the flexibility that this remote opportunity allows. Claire is particularly looking forward to being able to grow professionally with this company while simultaneously returning to her home in Kentucky, sharing, "It allows me so much flexibility in figuring out the next steps of my post-grad life and being able to be with my family in Lexington, Kentucky."
This winter, Claire plans to continue in her role but change her location again, this time with her eyes set on Colorado. She shared, "One of my main goals after graduation is to explore the west and learn how to ski better."
Claire's plans are a clear reflection of her openness to opportunity and adventure - the same attributes that led to her considering Micro-Internships outside of her major and her resulting full-time role.
Advice
Claire shared that her Micro-Internship supervisor, who is also her current boss at SCB, loves using Parker Dewey and getting new grads with a wide range of experiences. Something her supervisor does that Claire encourages others to do is acknowledge students' various strengths, and use them to the company's advantage. Claire explained, "She appreciates my skills as an engineer and has framed projects in a way that utilizes my process-oriented background."
To help attract students and recent graduates with wide ranges of talents and experiences, Claire encourages companies to write their project descriptions in a way that could appeal to students from a variety of majors.
"If you appeal to a broader audience, you might have more success with attracting students with unexpected, but really valuable perspectives."
Claire also encourages students and her fellow recent graduates not to get too hung up on their major, but to genuinely consider how their skills and interests could apply to any project they see on Parker Dewey.
"Apply for as many as you think are interesting. It doesn't have to directly relate to your major."
---
Learn how your company can benefit from the wide range of student perspectives using the Parker Dewey platform.