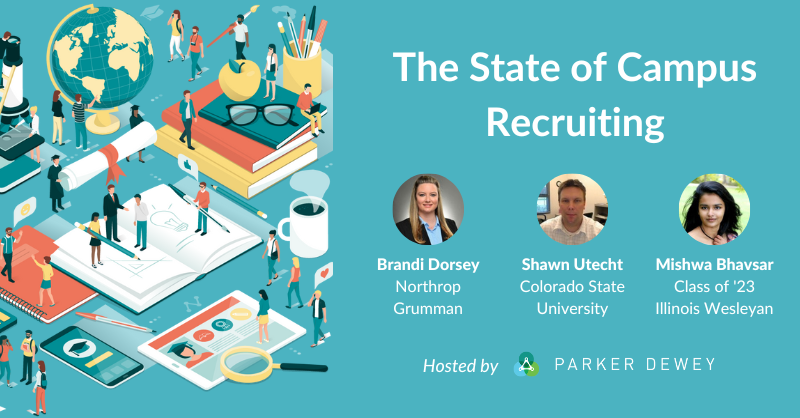 Fall 2022: The State of Campus Recruiting
Recently, college students shared how they want to be recruited by employers in this year's Student Sentiments on Campus Recruiting survey. Among the findings, the survey revealed new insights on which recruiting activities make a real impact, the best time to engage college students, and the top four ways employers can effectively reach them.
And in the midst of another unusual year of campus recruiting, we positioned our fall 2022 edition of The State of Campus Recruiting around some of these insights and covered some of the most pressing topics in campus recruiting—from the virtual/on-site event debate, to renege rates, to DEI efforts.
This one-hour conversation features:
An employer perspective from Brandi Dorsey, Senior Principal University Relations Program Lead at Northrop Grumman
A career services perspective from Shawn Utecht, Manager of Employer Relations at Colorado State University's College of Business
A student perspective from Mishwa Bhavsar, a recent Micro-Intern and senior at Illinois Wesleyan University
Read on for some key takeaways from the panel, and check out the full recording here.
---
Building real relationships with employers remains top of mind for college students.
When thinking about making those critical connections, whether from the student, employee, or campus perspective, it's clear that authenticity is top priority. (We previously covered this topic in-depth this past spring.) This idea was a common theme for all three panelists when discussing their goals for the year and what they have noticed amongst students and employers:
Brandi: "Our number one goal this year, and always has been, is to build a robust and diverse pipeline where candidates can begin their career with us, but also continue their career with us."
Mishwa: "I think one of the main goals that I had, and I still have, is building professional connections and just trying to figure out how recruiting works, and how I can find a place within the market. I'm a transfer student, so the first thing I did [at Illinois Wesleyan University] was visit the career center to find internship opportunities to build my professional profile. This helped me because I personally did not know how to reach out to employers."
Shawn: "After COVID, we have companies trying to settle back into their recruiting strategies. We're seeing students wanting to engage with employers, they want to reach out with employers. There is a lot of energy and a lot of things being refocused."
72% of students wanted to begin career exploration before their sophomore year.
Making connections, even early on in a student's journey, is vital: according to the survey data, 72% of students wanted to begin career exploration before their sophomore year. Furthermore, there is a large push for earlier job offers in the fall, particularly in fields such as finance, accounting, consulting, and technology. Early access has become an increasingly prevalent topic, and both campuses and employers are shifting strategy to address student interest.
Shawn: "[Early access] is a huge trend…there is a large [number] of discovery programs that are happening for first-year students, some built around identities, some built around just exploring, like a career in consulting, or exploring a career in accounting…We are seeing as early as that first year, [employers] want to be talking to students, chatting with them."
Brandi: "We are thinking even back in the K-12 space. We have a whole corporate citizenship unit and they really do focus on how we give back to K-12 students, how we help teach students about what it's like to be an engineer. In high school we have programs to start internships with [Northrop Grumman] and once they get into college, we start very early on in looking at what types of clubs they're interested in working with. We are thinking a little differently about recruiting and thinking beyond career fairs."
Career fairs are still relevant—but employers should also pursue other methods for reaching students.
With campus recruiting underway this fall, career fairs are top of mind for employers and students alike. Survey findings reinforced the idea that while career fairs can be useful, they're not always the most effective channel for reaching students. Instead, employers can convey key information about their organization through websites, videos, and other digital means. As such, the career fair should not be used for that purpose—and instead, should be focused on face-to-face connection. What's more: irrespective of how good an employer's online or career fair presence is, students often only engage with companies to which they already plan to apply, especially if they are juniors and seniors. This is why companies need to think about creative ways to engage freshmen and sophomores to build those relationships.
Shawn: "A lot of companies are really thriving with virtual fairs. But a lot of smaller companies are struggling with virtual. It's important to have a portfolio of ways to engage with employers, beyond career fairs: Micro-Internships, shadowing, mentoring, alumni relationships, etc."
Mishwa: "Personally, what I usually do is I look at the list of the companies that will be at the career fair and I research about the company and their mission statements and some of the job opportunities they have available. I usually just visit [the companies that I am most interested in] and I usually ignore the other companies [that don't seem as relevant]."
Brandi: "We try to highlight the major programs that are coming out. You don't have to be just an engineer to work on those programs. There are so many other jobs and support for each program…[Micro-Internships] have been a driver for a lot of success with students who may not know Northrop Grumman. [Micro-Internships] are highly engaging."
Students continue to pay attention to DEI efforts by companies, in the recruiting phase and beyond.
There's no shortage of data to illustrate why a DEI lens must have a place in any current campus recruiting strategy. 76% of survey respondents identified as being from an underrepresented background highlighting how companies with real, actionable DEI strategies have a leg up when it comes to attracting and retaining top talent.
Mishwa: "As a candidate, diversity is important to me. Talking with people from diverse backgrounds really helps me. I love to help communities, I came from an underdeveloped community, so I know the struggle behind reaching out to people. If the company I choose to work for has [programs that support underrepresented communities], then I would really appreciate it."
Shawn: "It is about relationships and being really specific. I spend a lot of time engaging our diversity groups, like the Latin Business Association, talking to employers and engaging them, which is a challenge because it is all 1-on-1. Be intentional about who you send [to career events]. It needs to be authentic. After all, access without support isn't really access. There is a difference between saying 'oh this is open to everybody' and saying 'this is designed for you.' Just saying we are open to everybody is not enough."
Brandi: "We have lots of ERGs, and you can also become part of one of our alumni chapters. We have partnerships at several HBCUs and we have our largest ever HBCU invitational happening in October. We've had extensive planning sessions around that. We also have a partnership with the Greater Washington Partnership and we have made a commitment to hiring 50 full-time interns or full-time hires. [As a company], we are very focused on DEI."
(See how you can connect early-career talent with ERG members here!)
Final thoughts from our panelists:
Mishwa: "[For recruiters], a welcoming personality and just being able to give information, not just information about the job, but other opportunities or programs that the company has for students to look into is really helpful [at a career fair]. If I form that personal connection, if I get that friendly vibe in a professional setting, it really helps me [and] sparks my interest."
Shawn: "[For companies with limited resources], look for alternatives and use your alumni. Tapping into your alumni base can leverage the time for your HR and recruiting staff. It just goes back to relationships. In the end, it is talking with people. Be intentional about who you are sending to campus."
Brandi: "For students: be you when you go on an interview, your passions will come through. I think we get to know you best when we learn what you're passionate about and what skill sets you have."
---
Stay tuned for more details on our Winter 2022 The State of Campus Recruiting call!