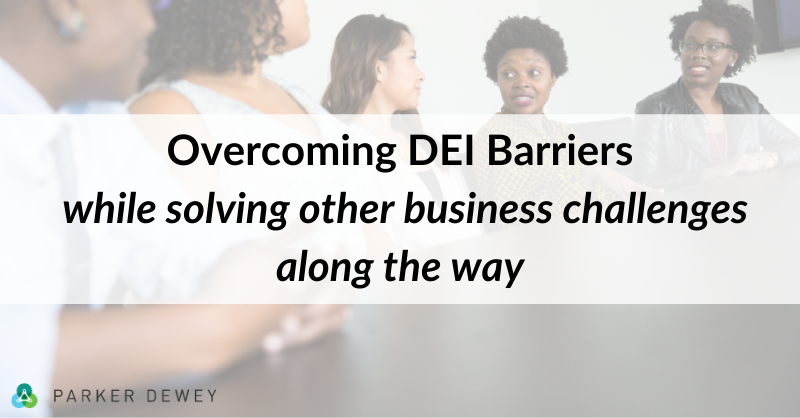 Overcoming DEI Challenges in Early-Career Recruiting
Oops! Looking for our March 16th Hire Learnings blog? Read on over here.
As we look back on Black History Month, I'm so inspired by how many organizations are focused on addressing the diversity, equity, and inclusion challenges. Beyond recognizing the social need to improve this situation, the business case for diversity has never been more clear.
However, this is not a new issue. After too many years and billions of dollars, companies are still struggling to achieve their DEI goals, while many current and prospective employees remain disappointed with the impact. In fact, while companies had a greater focus on DEI in 2020 than ever before, Black and Hispanic early career professionals remain 50-70% more likely to be unemployed relative to their white counterparts.
Why?
While there are a variety of causes, the early career space provides a great reference point as recent grads have fewer professional experiences that can otherwise explain differences in career outcomes. After engaging with millions of college students, recent grads, professionals, and others we realized the root cause comes down to two things:
Candidates can't visualize themselves at a company
Hiring managers can't visualize a candidate at the company.
This isn't rocket science, and shouldn't be surprising. What is surprising is that companies are still trying to address these issues using approaches that don't work and don't scale. What's also surprising is that there are ways to address this situation that also overcome other challenges faced by hiring managers and talent acquisition, DEI, and other HR professionals.
Candidate awareness and perception
We've all heard the old adage asking how many of us knew in college what we'd be doing today. Like most of today's college students, we didn't appreciate the variety of opportunities in HR positions, understand that marketing was more than just creating advertising jingles, or recognize that a role in the healthcare industry didn't require being a doctor. However, for college students from underrepresented backgrounds, the challenge is even greater. They don't have the social network to facilitate this exploration, or in many cases the guidance to "nudge" them to do so.
In response, companies have increasingly invested in employer branding programs to overcome this. Whether it's platforms that let them blast emails and other content to students, organizations that provide access to specific communities, or third parties to assess or nurture candidates, all of these efforts are focused on trying to get a student to listen to the message the company wants to promote. As college students have shared, "All of the messages look the same" and they "will only pay attention if already planning to apply."
They are also especially cynical when it comes to DEI-focused messaging. "Companies come to the HBCUs preaching their diversity focus, but a LinkedIn search shows they have almost no current employees from my school." Beyond the cynicism, students also have concerns about the experience if they join the company, especially if they don't build relationships with current employees from backgrounds like their own.
In contrast, as they told us last summer and again last month (and really during the past five years), what college students really want are opportunities for real experiences with companies. They want to showcase that they're more than their academic transcript and demonstrate their skills. They want the opportunity to learn about companies and roles by actually doing work in these areas. They want to build relationships with current employees not at a cocktail hour or campus event, but by actually working with them.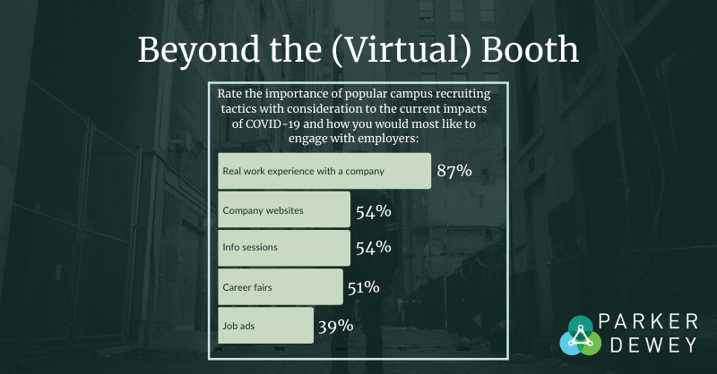 Data from our 2020 Fall Recruiting Student Sentiment Survey
Solution
This is why Experiential Recruiting has become some popular and effective, especially around DEI efforts. By providing these project-based opportunities, college students from all backgrounds can learn about different organizations even if they don't have family with experiences in these spaces, or connections to help schedule "informational interviews." For companies in industries that have historically been less diverse, this is especially important as many students might not otherwise even consider applying.
Experiential Recruiting also provides a way to nurture authentic relationships between existing employees and potential candidates. While companies have gotten better about making sure the campus recruiting teams are more diverse, students from underrepresented populations want to engage with hiring managers with backgrounds similar to their own. And even if companies still don't have the level of diversity they strive to achieve, proving these authentic engagement opportunities can really help overcome the concerns students may otherwise have.
In fact, we've seen companies use a really interesting strategy to engage their ERGs / BRGs in the campus recruiting effort. By providing the financial resources for ERG members to engage college students from similar backgrounds on these short-term projects, potential candidates and ERG members can build real relationships. And while ERG members appreciate the on-demand support for projects that aren't the best use of their time (but are great for a college student), they also enjoy the authentic mentoring that may take place and the company's commitment to professional pathways for college students from backgrounds like their own. In addition, not only are college students are excited to learn about their organizations and demonstrate their skills, they can also visualize themselves at the company and value the relationships they've formed leading to better conversion outcomes.
Hiring manger expectations
While I hope few hiring managers would argue with the importance of diversity, many still have certain behaviors the make it challenging to have a diverse, equitable, and inclusive environment. And I'm not talking just about Michael Scott-esque actions or unintentional biases in the workplace. In fact, one of the key DEI obstacles interferes even before someone is even an employee.
Hiring managers (like many of us) rely on signals to determine who to recruit, interview, and ultimately hire. When hiring experienced professionals, these signals are based on prior professional experiences. How much did you grow sales last year? How long was your average time to fill an open role? What was the impact of your new marketing program?
For early career hires those experiential signals don't exist. As a result, hiring managers rely on other signals like school, GPA, and major. While many don't really believe that a certain school produces better hires, they do fall back on these traditions. Sales reps come from big universities. Members of the finance team have at least a 3.8 GPA. The marketing team is only marketing majors.
And since making a full-time hiring decision or 10-week internship commitment is a high stakes decision for the hiring managers, overcoming these traditions are difficult. It's also challenging for HR leaders, as pushing a candidate who doesn't work out can create additional issues.
Solution
In the same way that Experiential Recruiting can engage potential candidates and overcome preconceived expectations, it can do the same for hiring managers. Instead of trying to convince a hiring manager to look beyond the traditional candidates or relying on gut when making hiring decisions, this approach changes hiring manager behavior by providing them with the real experiences with the candidates. The key, however, is lowering the stakes to help existing hiring managers to gain these experiences.
While I described the students as facing a high stakes decision when selecting an internship or full-time role, the stakes are also high for hiring managers. Bringing on the wrong person, even if only for 10 weeks, can create conflict, wasted time, and general frustration. As a college student described for me using the metaphor of dating, in the same way we don't jump right to marriage (full-time hire) or engagement (internships) in our personal lives, why are we doing so professionally?
To that, by providing a way for hiring managers and potential candidates to "date" through short-term projects, companies can create a low-stakes, low-risk way to break down the biases that result from tradition. What's especially powerful about this approach is that hiring managers view it as a perk – who is going to push back on an extra set of hands for a project they don't want to do themselves? And since it's viewed in this way, hiring managers don't ask about school, background, or those other traits that hinder DEI efforts and we know don't predict a good hire.
As one HR professional in the financial services sector shared with us, she was struggling with a specific hiring manager who refused to even interview candidates who didn't have Ivy league pedigrees and GPAs over a 3.8. While she could have escalated the situation, in her words it "was a high-risk proposition. If the hire didn't work out, [she] would be blamed and it might undermine future efforts."
Instead, the HR professional offered the hiring manager the opportunity to "offload tasks to college students through its new Micro-Internship portal." Since the hiring manager viewed it not as an interview or a time commitment on his part (and was actually a time saver), he didn't ask about the students' backgrounds. After his first experience having a student draft a client article on his behalf, the hiring manager "insisted that [they] hire the student for a summer internship since she was so amazing!" Ironically, the student attended a college outside of the company's focus schools, and had a 3.4 GPA. She was also a first-generation student athlete excited to learn about financial services, and eager to demonstrate the grit, communication, and problem-solving skills she honed on and off the field.
Conclusion
While we all wish that diversity, equity, and inclusion was already ingrained into every organization, it is positive that so many recognize the value of DEI and importance of making improvements. As companies focus these efforts, it will be vital that they measure the results to ensure that they are achieving the expected impact. While many efforts let companies "hang the banner" or have a great PR spin, unless they address the root causes they will not be effective.
Fortunately, as we've seen during the past five years, new programs are emerging that address these core issues. And unlike the traditional "solutions," they don't require massive budgets, provide immediate value, and create sustainable impact.