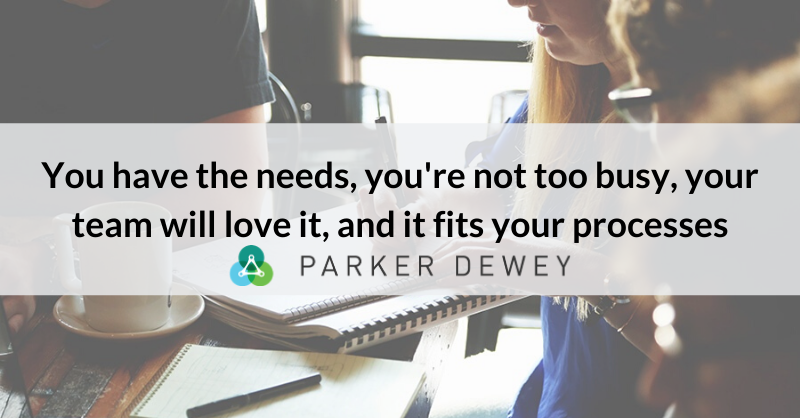 You have the needs, you're not too busy, your team will love it, and it fits your processes
Work (and hire) more effectively in 5 minutes or less - there's no reason NOT to.
Parker Dewey's mission is to fix the college-to-career transition for companies and Career Launchers college and grad students and recent graduates. For companies this includes improving hiring effectiveness, driving employee diversity, and decreasing employee attrition.
To develop a solution, we spoke with thousands of professionals across departments and seniority levels, using their insights to craft our platform. In particular, we confirmed that we needed to provide immediate benefits without creating more work. If we got either wrong, professionals wouldn't bother.
This research led to the creation of Micro-Internships: short-term, professional projects executed by college students or recent grads on behalf of professionals. Through this model, busy professionals get immediate support on assignments that are either on their back burner or not the best use of their time, while also identifying and evaluating potential candidates for for full-time roles or internships. We've essentially taken the acceptance (and benefits) of "gigs" or freelance models and applied it to create a more effective way to audition college students and recent grads. And because of the intrinsic motivation of these Career Launchers, the outcomes of the assignments exceed expectations.
As a result of our focus, we always hear the same three things when describing Parker Dewey:
I wish they had this when I was in college.
There are so many ways this would help – why aren't we using this?
I didn't know this was out there.
The first two sentiments are awesome, as they confirm we have developed a valuable platform; however, the third is a bit of a mixed bag. While it's great that we are leading the charge on the concept of Micro-Internships, it has cause some confusion that we want to address.
You do have these needs.
We have yet to find a company without a backlog of tasks or employees working on assignments that aren't the highest and best use of their time. Your organization's size, industry, growth rate… doesn't matter. Everyone has a to-do list that never seems complete. Everyone spends some part of their day or night reviewing resumes, pulling data, researching competitors, or burning cycles on some time-consuming exercise. If you don't believe us, during the next 24 hours consider the number of times you think "I shouldn't be the one…" or "We should really…"
If your company uses staffing firms or freelancers, you already know you have the need to work and hire more effectively and we know our solution will surpass your expectations. And if your company has open full-time positions, you can immediately receive support while you look for the perfect hire. Plus there is no better way to identify and evaluate candidates for these full-time roles than actually seeing them do the work, especially since we don't charge anything if you hire them.
You're not too busy to be less busy.
We get it – everyone is too busy. That's why we built the platform in a way that (i) does not create more work (ii) provides immediate benefits, and (iii) removes all of the risks and friction associated with other options like temps and freelancers. It takes under 5 minutes to post.
There's also no on-boarding or management required. Asking someone to identify 50 prospects that have certain criteria does not require a ten hour (or even ten minute) conversation. Same with developing a social media calendar, evaluating the recruiting efforts of competitors, or researching and drafting blog content.
Employees will love it.
Think about all of those times employees complain that it's taking too long to fill an open position, want to hire a new employee that's not in budget, or say they need an intern. Now you can give them a solution they'll love. Not only will you provide them a way to get immediate support, but they can also confirm the need for a new role and refine the specs before you begin recruiting.
This does fit within your process.
We're sure of this because we've removed all of the reasons it wouldn't.
We don't have long-term obligations (or any obligations).
We don't try to guess which Career Launcher is the right fit for you.
We don't charge any fees if you hire someone, so it can't conflict with HR or accounting processes.
They work for us, so your legal department will be happy. (As the general counsel of a large financial services firm said, "This is like going to Kinko's – I don't need to be involved.")
This does not replace internships or new hiring, so it doesn't require any changes to your existing talent acquisition process. There is no need to alter your ATS, interview practices, job board strategy, or anything else. If you do find that rock-star full-time candidate through Parker Dewey, you can still use your existing methodology to hire (though you will already have the benefit of really seeing their work quality and fit). In short, this provides an immediate resource from a highly-motivated Career Launcher and allows you to audition a potential candidate who you can hire without any fees.
It doesn't cost too much.
You set the price for the assignment – there's no negotiation, bidding, or complexity. In fact, all of the projects are fixed fee, so you know the price up front (and you were the one to set it). Most assignments are priced by the companies at between $200 and $600, with an expectation that the project will require between 10-40 hours of work. However, companies have set prices under $100 and above $1,000 – it really depends on what you need. We're of course happy to help if you're not sure of the "right" price. And since there are no fees if you decide to hire someone for an internship or full-time role, the cost benefits are even greater.
In addition, we have heard from the Career Launchers that the payment to them is the least important aspect of working on these projects. While they love getting paid (and who doesn't?), the primary benefits to them are opportunities to demonstrate their skills, explore career paths, and build their networks. As a result, they are motivated to work even harder to exceed your expectations, not cut corners so they can begin billing the next client.
Now what?
Post a project with us. It takes under 5 minutes and there are no obligations by doing so. You can see the candidates' profiles, and pick who you want (and if your needs change or don't see anyone you like, no worries – one click, and the project goes away).