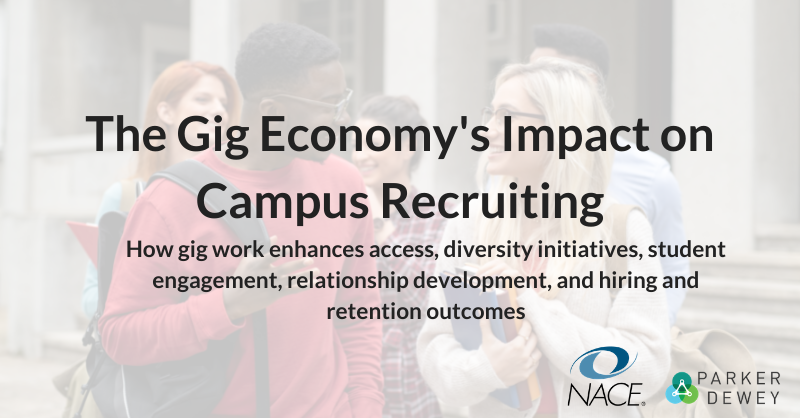 Webinar Recap: The Gig Economy's Impact on Campus Recruiting
As the professional landscape continues to evolve against the backdrop of the pandemic, busy teams are increasingly relying on independent contractors for on-demand support: Forbes reports that gig workers represented around 35% of the U.S. workforce in 2020. Those figures are only expected to grow. Some even predict that gig workers will make up half of the U.S. workforce by 2023.
The benefits of gig work for both students and organizations are many—and for campus recruiters, sourcing candidates through the gig economy means more than just getting the work done. In this session, we covered how companies are embracing the gig economy to enhance access, diversity initiatives, student engagement, relationship development, and hiring and retention outcomes. 
Panelists included:
David Barfield

, President and CEO of BarPellam, Inc.

Jeffrey Moss, Parker Dewey CEO and founder
Jennifer Jordan, Director of Business Career Services at the University of Kansas
Trevor Sherman, University Recruiter at Staples
Read on for a recap of key takeaways from this conversation.
---
Past performance and experience are some of the most important indicators of future success for potential candidates.
But how can recruiters really assess someone who's new to the workforce? Gig economy assignments, like Micro-Internships, are a great method of helping students and recent graduates gain experience and add skills to their toolbox—so when it comes time for that job application or interview, a potential candidate has proof points to share.
"A big challenge we have as recruiters is there is limited evidence because students don't have [a lot of] experience. But when they do have more examples to share, it gives them such a leg up since it shows what they've done, versus just what they've learned in the classroom." -Trevor

"The simpler you can make a screening process to cut to what people have done in the past and their actual skill set, the better." -Trevor
A short-term project can help build a meaningful connection between a student and an employer.
Gig projects like Micro-Internships help candidates understand an organization beyond a career fair or info session. Yaxin Li, a recent UC Berkeley graduate and Micro-Internship alum, explained in a February panel, "It wasn't until I got to actually work with those companies that I actually felt like I knew what I could expect. For me, the companies I felt more connected to were those that I was more involved with early on." And with more than 55% of college graduates leaving their first professional role within one year of starting, building that connection through a shared experience helps ensure a mutual fit.
"One of my students in the business career management program completed multiple Micro-Internships. He was able to get a sense of who he was working for, demonstrate real experience on his resume, and transform his career interests. He was even able to give up his on-campus job and instead earn and gain experience through project-based work. And when he got a full-time offer from a well-known consulting firm, he had the confidence to turn it down for a less-sexy, but more fitting role." -Jennifer

"It falls on the manager to make sure they're setting up a student for success. Even through a 10-hour project, a student will know whether the manager is someone they connect with. You can tell very early on." -Trevor
And beyond building relationships, gig work also helps employers test-drive a potential hire—allowing for a deeper understanding of a candidate's work ethic and grit.
Gig economy assignments help employers and potential employees ensure a proper fit. Recruiters can actually see talent in action, instead of relying on signals that actually aren't good predictors of how someone will perform (think a referral, GPA, or academic pedigree).
"What employers are starting to realize—when you're talking about the quality of hire—the atrocious attrition rates when you've spent all of this time and effort at trying to identify the right students. A lot could have been avoided had we had the opportunity to experience one another to ensure a good fit. If it is a good fit, it's going to be the best outcome for everyone. For the student [that leaves], their time was wasted as well, and that's not a good experience—especially if it's a student's first entry into the corporate world." -David
Overly-complicated, traditional hiring methods often filter people out—especially candidates from underrepresented backgrounds.
Tapping into the gig economy can help recruiters welcome people in and access candidates who otherwise might be passed over, enhancing an organization's DEI efforts. Tools like Micro-Internships allow companies to exemplify and prioritize DEI initiatives in a way that actually helps everyone.
"Our students aren't one size fits all. They have a wide variety of circumstances that do not allow them to do a 10-12 week internship over the summer—for example, it can be difficult for employers to access student-athletes, given their busy schedules. These assignments allow students greater flexibility. Tools like Micro-Internships are a great way to encourage students to continue in their professional development and help them make their choice of career path from the lens of experience." -Jennifer
In 2021, potential candidates have choices when it comes to finding interesting opportunities.
The demands of college students and recent graduates are changing—and there's no shortage of options for emerging talent. Attracting candidates via the gig economy can help you engage with talent who otherwise might not gravitate towards your organization, while allowing candidates to experience your organization's values and priorities firsthand.
"Student perspectives are shifting, and more young people want to work from home. Gig options have become more prevalent in my discussions with students, as they fit really well within the circumstances of the pandemic. That's why we continue to amplify out-of-the-box options that weren't top-of-mind before." -Jennifer

"This new generation of workers are expecting something more and are becoming very two-sided. 'What are you going to do to help me start my career with something that is important to me?'" -David
Leveraging gig assignments is easier than you think—and doesn't take a whole lot of effort on the part of the employer.
Gig assignments should help make your life easier—whether you're trying to lighten your workload or stack your hiring pipeline. At Parker Dewey, it's as easy as creating an account, posting a project, and selecting a Micro-Intern. While there are many ways to bring gig assignments to your company, we've laid out five simple strategies here.
"The way to leverage the gig economy is as a supplement to some of the standard hiring practices and the legacy programs that companies have. Needs are changing all the time, and the need for talent at the corporate level doesn't stop. With the gig economy, it gives [employers] a chance to test-drive students year-round and also get work done year-round." -Trevor
---
Interested in learning more about how the gig economy can supplement your recruiting processes? Check out these resources!