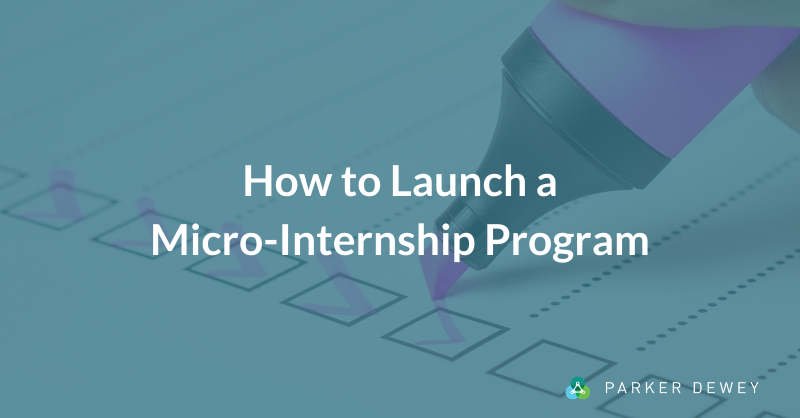 Five Ways to Introduce Micro-Internships At Your Organization
At Parker Dewey, we focus on bridging the gap between college and career through Micro-Internships—short-term, paid, professional experiences projects for college students and recent grads. If you're thinking, "Sounds great..but where do I even start? And where can Micro-Interns help out at my organization?", read on!
In this webinar, Parker Dewey CEO Jeffrey Moss shares five easy strategies for bringing Micro-Internships to your company. Check out our recap of these tactics below, download a copy of the slides, or watch the full replay for more information on how Parker Dewey can help get your Micro-Intern program off the ground.
Busy Employees
Picture this: A highly-qualified candidate, eager to jump in and take a project off your busy team's plate. Micro-Interns are an immediate solve for departments with less-than-enough bandwidth. What's more—a project that's not the best use of your time may be meaningful and impactful to a Career Launcher hungry for professional experience.
Open Roles
Hiring for one or multiple roles? Micro-Internships support your team's immediate needs while you seek the right fit. Bonus: While your Micro-Intern works on the project, your hiring manager can assess whether they actually might be that right fit for the open position. (And the candidate can assess whether you're the right fit for them!)
Freelance Users
For some freelancers, the gig economy is purely transactional. Meet the minimum project requirements, get paid, sign off. Not for Micro-Interns. Early in their careers (or in the process of switching careers), Micro-Interns are inherently motivated to exceed expectations—to prove themselves, make meaningful relationships, and explore pathways. (See our guide to selecting a gig platform for more information on how gig workers can support your team.)
Engage ERGs/BRGs
With roots in diversity, equity, and inclusion, ERGs and BRGs support carving out equitable access for potential new hires. Micro-Internships not only promote authentic relationships between students and members of ERGs and BRGs—they also demonstrate a real, active commitment to DEI at your organization.
Champions
For employees looking to support their alma mater or a specific college program, engaging Micro-Interns is an easy way to give back, form relationships with prospective job candidates, and create awareness about your company or department on a specific campus.
Want to learn more about how Micro-Internships can support your team and create real, sustainable impact at your organization? Schedule a call with us.