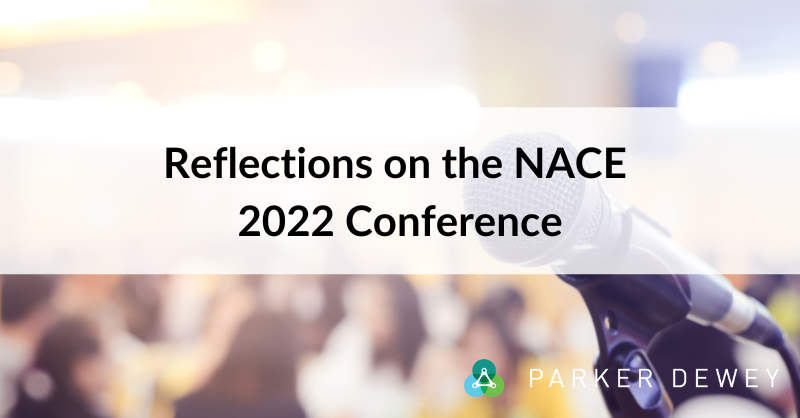 Reflections on the NACE 2022 Conference
For many of you, last week was a wonderful return to pseudo-normal with the first in-person NACE conference since 2019. As I reflect on the week in my jet-lagged state, I am inspired by this opportunity to reconnect, learn, and hear the best new ideas from the leading innovators in our field.
One of my favorite takeaways was NACE President-Elect, Brian Guerrero, sharing that the organization's upcoming year would prioritize creating equitable access for all. What is especially great is how this focus improves outcomes for all of the stakeholders: students, employers, schools, and communities.
Throughout the conference, I heard this theme repeatedly with incredible conversations such as:
Above all, there was acknowledgment that the world of work continues to evolve, and higher education and early career recruiting need to do the same. One keynote speaker said we missed the opportunity to permanently pivot during the pandemic; but after what I saw last week, I have to disagree.
By continuing to have conversations about who is left behind with traditional recruiting methods, opening our minds to try something new, and recognizing that asking students to work for free is neither accessible nor effective, I know we can work to achieve this goal of creating equitable opportunities to connect amazing students to amazing organizations.