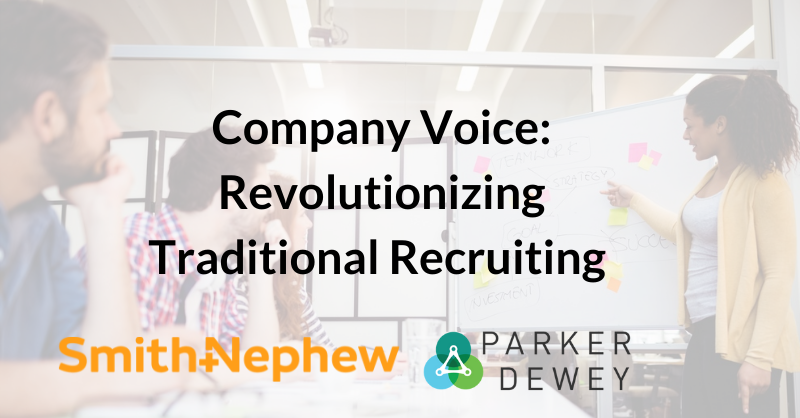 Company Voice: Revolutionizing Traditional Recruiting with Alison Keefe
Alison Keefe, Global Director of Emerging Talent at Smith+Nephew, shares how she used Micro-Internships to find her next great hires.
In today's post-COVID world, finding and retaining top talent is more challenging—and expensive—than ever. Recent estimates suggest a base cost of $4,000 per hire across multiple industries, with bad hires racking up a $240,000 price tag. And finding great talent isn't getting easier: 70% of the best candidates are passive jobseekers and are difficult to find through conventional methods. For this reason, recruiters are on the hunt for new ways to ramp up their candidate pipelines. This includes professionals like Alison Keefe, Global Director of Emerging Talent at Smith+Nephew.
In this role, Alison has been following traditional recruitment practices for many years. Armed with decades of experience and development knowledge, she assists Smith+Nephew with setting global expectations, helping candidates find the right opportunities, and developing talent as they mature in their roles. Alison is always looking for new ways of recruiting students with diverse backgrounds and skills - which is why partnering with Parker Dewey became a no-brainer in 2021.
"Since COVID, I have really rethought my philosophy that we need to be more school-agnostic. We need to be inclusive about bringing in students from other universities. We need to think about doing this in a more equitable and inclusive way."
After some back-and-forth correspondence with Parker Dewey CEO Jeffrey Moss, the light bulb went off for Alison. Not only could she reach diverse students across the country, but she could pay for students to help in the actual recruitment process as well. It would be a cost-effective, efficient, and inclusive way to reach out to campuses Smith+Nephew rarely visited.
"That, to me, was just really exciting," Alison says. "One: an equitable recruiting process for all. Two: creating an experience where students learn to do a sales pitch."
Alison decided to post her project on Parker Dewey later that month, and she ultimately selected seven Micro-Interns for the first round of projects. Each was tasked with creating a sales pitch for a Smith+Nephew product. After watching the Micro-Interns in action, Alison was then able to invite five of the Micro-Interns for a final interview. The research and dedication shown by the students was outstanding, making it easy for her to select the best fits.
"Being able to see the hands-on work of students provided a well-rounded perspective of the candidates," she says. "For me and I think for the students, it was a complete win-win."
Alison ultimately hired two students from this first round of Micro-Internships (see one of their success stories here). Following the success of the first set of projects, she has since gone on to make three additional hires from a second cohort of Micro-Interns.
The time and cost value of Micro-Internships
One of the biggest benefits Alison saw during her Micro-Internship experience was the time and cost savings.
Candidate acquisition through traditional campus recruiting methods can cost thousands of dollars. With personnel costs factored in, NACE reports that the mean cost-per-hire sits at $6,110. Plus, by focusing on only a few "target" schools), recruiters are missing opportunities for growth and change. By considering universities typically untapped by Smith+Nephew, Alison opened new lines of communication and found emerging early-career talent that would easily complement her organization.
Ultimately, Alison was able to "audition" 12 candidates at a fraction of the average cost. Not only did this lead to five new full-time hires—it lowered the cost-per-hire by over 70%.
"There's no reason why any company should not be using Micro-Internships," Alison says. "It is the easiest way to add value to the organization by getting some projects completed, giving students the opportunity to learn, and being cost-effective."
How Micro-Internships complement traditional recruiting processes
Coming from a traditional recruitment background, Micro-Internships were a change for Alison - a big one.
Seeing the benefits of Micro-Internships first-hand quickly dissuaded any concerns that still lingered for Alison and the rest of the recruiting team.
"Inclusion, diversity, and equity is a part of who I am as a person. Utilizing Micro-Internships provides us the opportunity to be school agnostic and helps ensure more students are given the opportunity to apply to our jobs. I've been doing recruiting for a long time in the same way, but different can be really good - and this is a great example of different," she says.
Today, Alison is a strong advocate of the Micro-Internship program, and a thought leader for transforming the traditional recruiting process.
"If you're thinking about trying to diversify your candidate pool or diversify your schools to bring in talent across the country, I think [Parker Dewey] is a no-brainer."
In the future, Alison believes that working with a pool of Micro-Interns could completely revolutionize the traditional recruiting model. She plans to continue leveraging Micro-Internships as a recruiting and hiring tool, creating new inroads for opportunity.
"The value in Micro-Internships is that they really support both candidates and employers," Alison said. "I believe in the mission of giving students the opportunity to learn. We see them as future leaders within our organization, which is what our Commercial Leadership Rotational Program is all about."
---
Interested in learning how you can integrate Micro-Internships into your recruiting and hiring processes? Schedule time with our CEO.