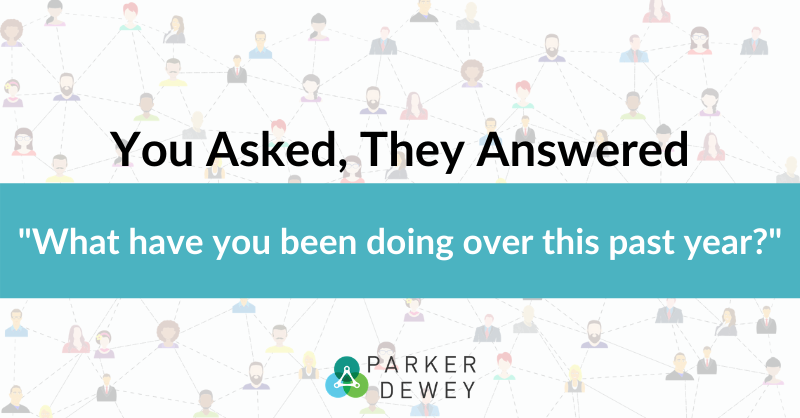 You Asked, They Answered: How you spent your pandemic
At Parker Dewey, we love connecting college students and recent grads with companies offering short-term, paid, professional projects! We also love when we can help bring these two groups, along with career service professionals, faculty, organizational leaders, recruiters, and hiring managers, together to share knowledge that helps our entire network!
Our monthly feature: You Asked, They Answered, helps those looking to launch their career get the inside scoop on all things related to finding the right job after graduation.
This month's question comes from Charles, a Master of Science in Applied Statistics candidate at Loyola University Chicago, who will graduate in 2023:
"As a consequence of pandemic closures, I haven't been able to do much in terms of professional development. How should I respond to a question like 'What have you been doing over the past year?'"
To answer, we tapped our network of early career and career service professionals. Here's what they had to say.
Larry Wasnock, Vice President of Human Resources at TMS International:
"The pandemic can be an excellent opportunity to demonstrate your commitment to your chosen profession, your innovation, creativity, and ability to adapt and overcome unforeseen obstacles—rather than a reason why you haven't done anything.
For example, although many companies have been working remotely and you likely have been unable to travel, there is nothing stopping you from identifying numerous self-development webinars (many of which can be found for free or at a nominal fee), self-study opportunities, virtual assignments or volunteer work. If there is a will, there is a way. To what many may view as challenges and barriers, if you reframe the situation, can be used as a springboard to spotlight your talents, commitment, creativity, and ingenuity to overcome obstacles.
This guidance wouldn't be complete if I didn't mention that the virtual Micro-Internships offered by Parker-Dewey are a great opportunity to obtain meaningful experience and professional development, to showcase your talents to your next potential employer. Don't wait a minute longer, get started now!"
Rex Trewin, Owner of Recruitment Education Consulting Services:
"I am looking for more creative ways they were able to accomplish some or all their goals. An example could be a project that typically a team does together. Since it was not possible to work together, they broke the project into parts and assigned parts to each team member that were aligned with their talents or expertise. This allowed each individual to shine, but still complete the project.
Another example would be things like: I have tried to do more giving back, making sure to take the time to respond to questions like this one or questions posted on the NACE community boards, making sure all my contact info was updated on various professional networking sites so people could reach out to me if they found my background potentially relevant to a question or problem.
I was a bit embarrassed to find some sites had some especially old and no longer valid info on me. COVID-19 or not, we should all take a few minutes every so often and make sure our LinkedIn profiles are current, our contact info is relevant, and maybe find a couple of new groups or organizations that may behoove us to investigate a little more once we are able to once again get out there again."
Priya Balasubramanian, Program Manager, Workforce Development at Braven:
"I always tell people: don't sell yourself short! The pandemic has truly been a massive adjustment period for all of us. You've had to completely restructure the way you learn and understand information that is presented to you...in other words, you're adaptable and display a great deal of resilience in the face of adversity.
Leverage an experience from one of your classes where you've had to work in a virtual team. Maybe you had to use previously unknown software or found a new way to make the presentation engaging for the class.


A lot of your living situations/environmental circumstances might have drastically changed. You may be living in a house with many family members, or have had to move out due to COVID-19. That period of adjustment while maintaining your participation in your courses and extracurriculars is indicative of amazing time management and adaptability.
Make sure to highlight these transferrable skills in your answers, but don't get too bogged down in the nitty-gritty details of your life during the pandemic. It's important to acknowledge the adversities imposed upon you via pandemic, but try to turn negative instances into something you learned a lesson from to improve upon yourself."
Gary Gerber, Job Opportunity & Development Specialist at Montgomery College:
"One of the consequences of pandemic closures is the need to demonstrate your resilience in keeping pace when unexpected change happens, as increasingly occurs in today's rapidly evolving workplace. Showing your resilience, the capacity to recover quickly from difficulties, and adapt effectively to unforeseen circumstances are all highly valued by most employers, and, ironically, the pandemic provides you with the opportunity to shine and distinguish yourself from other candidates. In your responses, only share activities in which you were productive in some way, where you accomplished or learned something relevant or transferable to the job for which you are applying.
A recommended response would be:
Over the past year, due to many pandemic-related closures, I have been creative in undertaking numerous professional development activities (on-and off-line). On-line activities include learning opportunities which are available for free or minimal cost, e.g., LinkedIn Learning content on hard and soft skills companies need most, e.g., Data Literacy, Critical Thinking, Technology savviness, Adaptability and Flexibility, Creativity, Emotional and Cultural Intelligence and Diversity, Leadership, Judgement and Collaboration; Coursera For Campus, including free online learning and job-ready skills for university and college students and Udemy's 130,000 online video courses in IT/Software, Business, Design, etc. When needed, I have used Free Wifi access available at many local public libraries and community centers.
I have also enrolled in free or inexpensive community online college credit and non-credit courses where I have continued to build hard skills including cyber, cloud, networking, data analytics, software development, IT/Computer User Support.
Offline, I have taken the opportunity to safely volunteer at local community organizations providing pandemic relief where I polished my business, problem-solving, teamwork, customer service and communication skills."
TL;DR: You may feel like you haven't done much in this past year, but consider how you adapted to the remote world, the various obstacles you overcame during this time, and the things you can still do now independently to continue to develop professional skills.