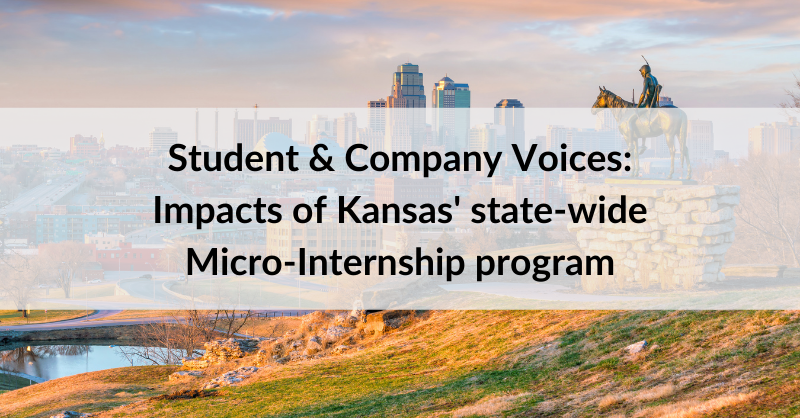 Student & Company Voices: Impacts of Kansas' State-Wide Micro-Internship Program
As part of the Kansas Board of Regents' "Building a Future" strategic plan, Kansas-based organizations are able to hire college students for fully funded short-term, paid, professional projects. The first Micro-Internship from each organization is even covered up to $500. Recently, students and employers who have already taken advantage of this program gathered to share their experiences.
Guests:
Stephanie Sharp, Owner of VoteSharp/Sharp Connections
Deja Coffin, HR Assistant of Sekisui XenoTech, LLC
Kayla Zack, Practice Growth Coordinator at Adams Brown
Emily Hull, student from University of Kansas
Courtney Tinkham, student from Colby Community College / Fort Hayes State University
Read on for a recap of the conversation, or catch the full replay here.
---
Student Perspectives:
Students reiterated that the flexibility associated with Micro-Internships played a big role in their ability to take advantage of the program and the opportunities for exploration it offers. These project-based experience, which typically span somewhere between five and 40 hours, are a perfect addition to busy schedules that can't accommodate a traditional internship.
Emily: "I was looking for something project-based to diversify what I was doing....It's a great way to explore my skills and my interests while not committing to another hefty part-time job."
Students also recognized that Micro-Internships gave them a chance to exercise existing skills and develop new ones, using the projects as opportunities to demonstrate their worth.
Courtney: "It's giving us college students a chance to show you what we have."
The benefits recognized by students didn't stop there, as these Micro-Interns have also seen these experiences positively impact the application and interview process for longer-term endeavors.
Emily: "It's one of the things on my resume that people gravitate to the most…In interview after interview it's something employers ask about."
Company Perspectives:
From companies, one word used often was 'easy'. Throughout the conversation, employers applied it to every aspect of the process:
Stephanie: "It was really easy for me to post. The process of reviewing and filtering candidates - looking at resumes and portfolios, hiring people, and then even paying for it, was seamless and intuitive... I was thrilled with the process part of it."
Kayla: "Our experience was really positive - it was easy to use the website and the Micro-Intern was easy to work with and took feedback really well."
Deja: "We were so impressed with Emily and so impressed with the Micro-Internship program; especially how easy it is to use."
Employers also saw the value of using these short-term, low-commitment experiences as an efficient and effective pathway to longer-term hiring.
Stephanie: "I don't have to bring someone on and find out that it didn't work. It worked with Courtney and I went back and rehired her because it worked." - Stephanie Sharp (Sharp Connections)
Deja: "Almost all of our employees that start as a laboratory technician are straight out of college and most of these colleges are local, so the more opportunities we're able to create through Micro-Internships and the more relationships we make, increases the chance to work with these students beyond their college careers." - Deja Coffin (SEKISUI XenoTech LLC)
It was also recognized that Micro-Internships are particularly well suited for those projects that need attention and add value to a company, but rarely make it to the top of the to-do list.
Stephanie: "The marketing for my company is the last priority when I've got clients calling me and needing things, so it was great that I could farm out this work to a younger person who knows social media trends."
Interested in learning more about or possibly participating in Kansas's program? Click here.