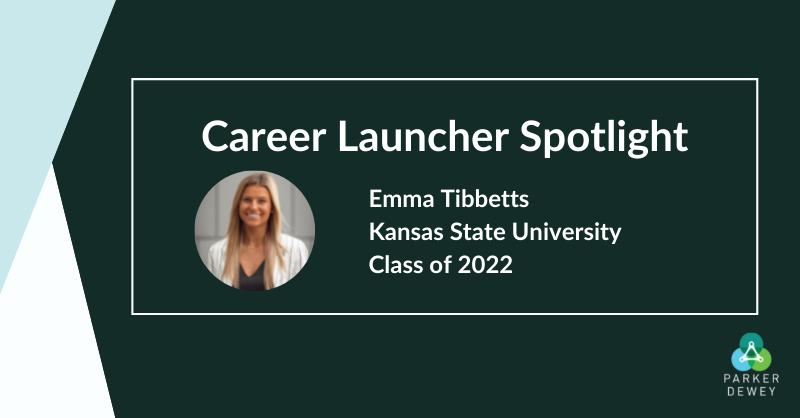 Micro-Intern Success: Micro-Internship to Full-Time Offer
This interview is the first of two stories from Smith+Nephew's Micro-Intern cohorts. For the hiring manager perspective, see part two.
The medical device field is a rapidly growing subset of healthcare technology. According to recent metrics, the industry reached a total size of $4.569 billion in 2020, and a CAGR of 6.1% in 2021. America leads the industry by more than a third of total production, and is developing innovative solutions for today's biggest problems.
It's clear that the medical device field is filled with opportunity. The trouble is, finding a job in the industry can be difficult.
This was the case for Emma Tibbetts, a senior at Kansas State University. As a sales and marketing double major, the medical device sales field was high on her radar. Emma knew that her location was prohibitive to most recruiters, and that opportunities came few and far between. That's when she got the email.
"One of my advisors emailed all the sales students and said, 'we just heard about a Micro-Internship opportunity with a medical device sales company,'" Emma recounts. "They said that we could apply [on Parker Dewey] to learn more about it. And it was paid."
Emma knew that this was the opportunity she had been waiting for. Although she had no prior experience with Micro-Internships before, Emma created a Parker Dewey account and applied to the job posting. "Even if it doesn't turn into anything, it's experience, it's money, and I get some connections," she thought to herself.
Little did Emma know that just a few weeks later, she would be accepting a full-time position with the team at Smith+Nephew, a leading medical device company in the United States.
The path to full-time hire
Emma's experience with a Parker Dewey Micro-Internship was far different from anything she had done before: She had the opportunity to complete real-life tasks for employers, allowing her to gain experience, compensation, and the necessary skills to succeed in the workforce.
"I've done all the career fairs, the networking events, the dinners. I've done a ton of those. I'm pretty involved with my campus sales program. But none of them were as hands-on."
Emma's Micro-Internship represented a unique twist on traditional recruitment methods. She was selected alongside other candidates to complete a sales pitch project for Smith+Nephew. Emma had never heard of Smith+Nephew before, and the project was her first opportunity to learn more about the company and their values. "Actually getting to research stuff and get that hands-on feel really confirmed my excitement for working in the industry," she recounts.
Emma and the other selected project candidates would pick one of three medical devices to pitch back to company executives. The sales pitch would allow Smith+Nephew to see the work of their candidates up close, and determine a potential full-time hire.
"Anybody can show off a resume, but physically showing off a sales pitch definitely gives you an upper hand," Emma laughs. "It was very, very exciting."
Emma chose to research Smith+Nephew's negative pressure therapy system. "I spent about six or seven hours working on the project, doing my research, and honing the pitch," Emma says. "I went in a little nervous, but wanting to impress. It made me really want to go for it, and show them what I can do."
One of Emma's favorite parts about the project was the ability to apply her newly learned skills to real aspects of the industry.
"I've done a lot of sales pitches and competitions, and they felt very similar to the project at hand," she remarked. "It was nice to know that my education was doing something in the long run. It connected a lot with what I'm learning in school."
The date for the pitch had finally arrived. In a 30-minute meeting, Emma was able to sell her findings back to project posters. Initial feedback and estimates were given, and the project was marked as complete. It was time to wait for a callback.
"Alison and Fabien were amazing. They answered any questions I had, and were so lighthearted and easy-going. I got a message just a few days after every portion of the interview. The speed was super nice, and it made my nerves go down a whole lot."
Just a few weeks after the initial project, Emma received a full-time job offer from Smith+Nephew. Not only would she have a job straight out of college, but she would be working in a field that she loved.
"It was just a really awesome experience," Emma says. '"It definitely solidified my interest in [medical device sales]. And it was paid too!"
How Micro-Internships compare to the traditional job interview process
Emma believes that Parker Dewey was an integral part of her career exploration process. "It gave me that exposure to confirm my interest in helping people," she says. "I really like the element of selling something tangible and physical. I felt that I could pretty confidently sell it to someone who really required it."
Emma also loved the prospect of gaining experience while making some money on the side. "Other companies should definitely think about this," Emma says. "It's such good exposure, and what college student wouldn't want to work for pay?"
Most of all, Emma found that Parker Dewey's Micro-Internships were far more efficient than traditional job interviews.
"I think it's better than an interview," she says candidly. "Interviews use basic questions that everybody hears. With a Micro-Internship, you need to be really invested in the product, the company, and the culture. It gives you a full 360 view of the person and how they're going to act and perform in your company. It's so much better than the typical interview process."
Emma officially starts in her new role in June 2022. With a full-time job locked in, she can kick back, relax, and enjoy her final months of college. While she waits, Emma says she's most looking forward to gaining experience. "I'm just really excited to see it all come together and play out."
For juniors and seniors looking for Micro-Internship experiences of their own, Emma urges for students to interview outside the box.
"I would definitely recommend [Parker Dewey] to anybody," she explains. Don't be afraid to go for it. You literally gain nothing but positive experience and resume builders. It's not as scary as it looks. I remember going into it thinking that the word 'internship' was a little intimidating, but it wasn't bad at all. It's a lot more fun than the typical experience. Gain some experience, and maybe a little cash along the way."
---
Students and recent grads: Head over to our platform for current Micro-Internship opportunities!