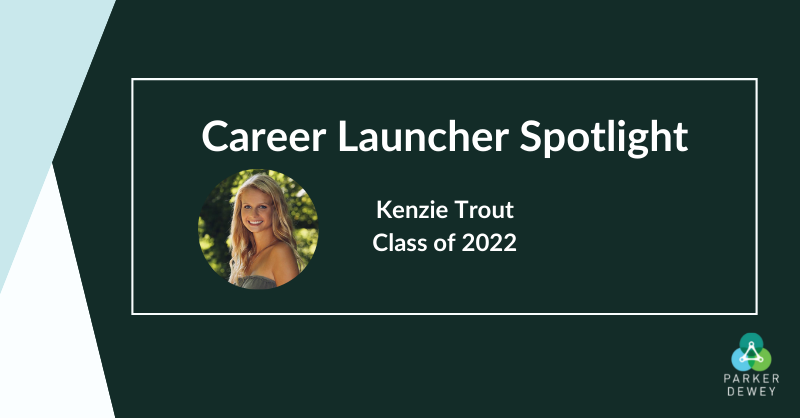 Student Success: How Kenzie's Micro-Internship Shaped Her Career Plans
Meet Kenzie, a junior at Miami University of Ohio majoring in emerging technology and business and design and minoring in digital innovation and marketing. Currently, Kenzie is studying abroad in Luxembourg while also completing a Micro-Internship on the Parker Dewey platform. Post-college, she's aiming to work in marketing.
We sat down with Kenzie to chat about completing a Micro-Internship while studying abroad, how she used Micro-Internships to test-drive her industry of interest, and tips for crafting a killer application.
Q: How did you hear about Parker Dewey?
Kenzie first heard about Parker Dewey when she heard her professor mention a Micro-Internship opportunity with a reputable local company. Kenzie was quick to apply to the position. After a couple of rounds of phone interviews, it wasn't long until she was putting her skills to practice.
Q: What's it like studying abroad while completing a Micro-Internship?
Despite a six-hour time difference, Kenzie has continued her ongoing Micro-Internship with her current company. She's even secured an ongoing month-to-month Micro-Internship contract as a social media designer with her current company.
Q: What is your relationship like with your professors?
Kenzie developed rapport with her social media marketing professor over the last couple of years. She's earned certifications, internship and job opportunities through maintaining a positive relationship and open communication. It was the relationship she built that helped her land her long term Micro-Internship contract, despite the initial uncertainty of COVID-19.
Q: What were some of your responsibilities in your Micro-Internship role?
Kenzie started off running the Instagram account of her company. She sourced content and created a content calendar in addition to creating graphics and copy for their posts. Month by month, she has taken on more responsibilities and has taken ownership across different marketing channels at her company.
Q: Did you set any goals going into your Micro-Internship?
Kenzie's Micro-Internship experience was her first professional experience. Her objective was to determine if the social media marketing and design industries were areas that she wanted to focus on before committing to longer term opportunities, like a summer internship.
Q: What is your relationship like with your manager?
Kenzie had worked with several people at her company and has recently started to work more closely with her current supervisor. She credits her success in the role to an open dialogue, regular check in meetings and constant email communication to clarify questions as they arise.
Q: How have your experiences with Micro-Internships made an impact on your career plans?
Kenzie's Micro-Internship experience helped her land her current work study opportunity abroad. She credits the experience as a great talking point about strategic planning, graphic design and content sourcing during her interview process—all of which helped her confirm her passion for the industry.
Q: What advice do you have for other students who are considering Micro-Internships?
Micro-Internships are excellent opportunities to get experience on a smaller scale with more flexibility than the traditional summer internship. Students have the ability to fit them into schedules that can include up to 18 credit hours of classes.
Kenzie's application tips? Be sure to fill out your profile completely and don't be afraid to reach out to the job poster directly on LinkedIn!
Q: What do you wish more companies knew about Micro-Internships?
Kenzie wishes that more companies offered Micro-Internships. According to Kenzie, they're a great way for students to get more experience and confirm professional interests, since they're shorter in length. She encourages companies to offer them as they can develop long- or short-term relationships with candidates while also getting side projects completed.
Kenzie is expected to graduate from Miami University of Ohio in 2022.
Learn more about how Micro-Internships can help your teams grow!