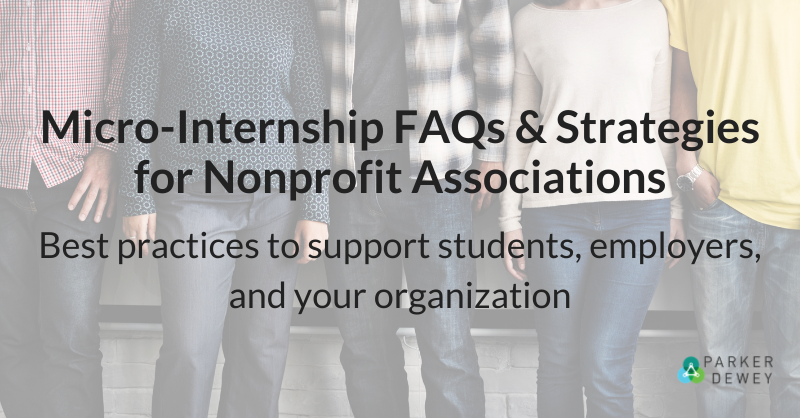 Parker Dewey Nonprofit Partnerships: FAQs and Strategies for Success
Parker Dewey, the pioneer in Micro-Internships, is honored to partner with dozens of nonprofit and other mission-driven organizations who are interested in supporting its stakeholders via Micro-Internship opportunities.

These may include:

For organizations looking to launch or enhance a Micro-Internship program for your stakeholders, read on for strategies and FAQs about how Parker Dewey can support your initiatives.
For Student-Focused Organizations
Most students need professional experience to help them launch their careers, and Micro-Internships offer students the ability to gain experience that can fit into their schedule. Because all Micro-Internships on Parker Dewey's platform are paid and paid fairly, students are not being asked to work for free, making these opportunities accessible to all.
While the Parker Dewey platform is open to all current students and grads of U.S.-based colleges/universities, we are happy to partner with nonprofits and other student-centered organizations at no-cost who are interested in promoting these opportunities to their students more strategically.
Here are some of the benefits of partnership for student-focused organizations:
A basic landing page can typically be created within a day of receiving your organization's logo, and the content can be customized at any time. To request a free Parker Dewey landing page, you can click here.
In addition to these resources, partnering with Parker Dewey allows your organization a unique way to engage your organization's alumni, employer sponsors and other "friends" to post projects for your students. We are happy to share data about what employers have engaged with your landing page and will notify you when an employer or alumnus posts a project.
You can also develop a Micro-Internship Employer Sponsorship Program. This is an opportunity to both generate revenue for your organization and paid Micro-Internships for your students. Here is additional information about that program (PDF), and please reach out if you'd like to discuss this further.
For Company-Focused Organizations
Micro-Internships allow organizations large and small a unique way to get work done while also connecting with highly-motivated college students. In less than five minutes, an organization can post a project by outlining the scope of work, start and due dates, budget (90% of which goes to the student who completes the project), and a few other details. Projects can also be "featured" to students from specific schools or organizations or open to all.
Once one or more students are selected, Parker Dewey handles the administration of each Micro-Internship including payroll, legal, and other onboarding, making it easy for organizations to get items off of its to-do list. To see a list of sample Micro-Internships, click here.
Parker Dewey is honored to partner with organizations such as chambers of commerce, regional development organizations, etc. in promoting Micro-Internships to your members. As part of this no-cost partnership, Parker Dewey is happy to:
Design a custom website with sample projects that can be posted in a handful of clicks. Multiple companies can also be featured to targeted groups of students as illustrated here. To request one of these landing pages, click here.
Customize marketing emails to share with your member companies about Micro-Internships.
Host a webinar to help spread the word and answer questions in real-time.
Provide data access about your students' utilization of the platform.
Parker Dewey is also proud to partner with multiple stakeholders to support their Micro-Internship programs. One example, the Kansas Micro-Internship Program, is a statewide collaboration with the Kansas Board of Regents, Kansas Department of Commerce, the DeBruce Foundation, and Parker Dewey. Through this initiative, Kansas-based organizations can receive matching grant funding for engaging students attending public colleges/universities in Kansas in completing Micro-Internships.
Post a Project for Your Organization
One last way you can get started is to post a Micro-Internship for your organization. Micro-Internships can be posted on-demand by any member of your team. You determine what work you want done, timeframe, and other parameters. We recommend posting a project 24-48 hours before you want your project to begin. And remember: 90% of what you post for the project goes to the student you select, and there are no additional fees or obligations even if you want to hire the student for a full-time job or internship.
When reviewing applicants, you'll only see students who have applied for your project. To apply for your project, students answer one or more brief questions which helps you quickly find the "right" student for your project. Once you select the student you want, connect with the student by phone or video to go over the project, and then you can engage as much or little as you'd like. We'll send you some best practices to help and our Client Success Team is always available to assist as needed.
---
Get Started Now
In these unprecedented times, Micro-Internships are providing much needed support for organizations and unique "real-world" experiences for students from all backgrounds. We would love to discuss how we can support your organization in providing your stakeholders strategic access to these opportunities. If you are interested in a no-cost association partnership with Parker Dewey, you can get started by completing this form.
If you would like to connect in real-time, please let us know.
---
Here are some frequently asked questions:
What is Parker Dewey?
Parker Dewey is a mission-driven organization committed to helping bridge the gap between college to career through Micro-Internships. We are based in Chicago, IL and developed the Micro-Internship concept over five years ago. We have connected thousands of students to short-term, project-based opportunities across the U.S.
What is a Micro-Internship?
Micro-Internships are short-term (typically 10-40 hours), paid, professional experiences that are appropriate for current college students or recent graduates. A great way to think about these are the "We should…" projects that your current team doesn't have time for, or those "I shouldn't…" tasks that aren't the best use of time. Here are some of the most common Micro-Internships.
Is there a cost to students to use the platform?
The platform is free and open to all students/grads attending U.S.-based colleges/universities. We also connect with skills-based training programs who provide pre-professional post-secondary training. If your organization is not affiliated with a college/university, please reach out so that we can discuss if partnership is the right option to support your students.
How does the platform work for students/grads?
Students/grads are able to create an account on the Parker Dewey website in a matter of minutes. They can upload information about their experiences, education, a resume/CV, work samples, and other documents if they wish. They can then see the opportunities currently available on the site and apply to any that are a good fit to their interests and skills.
How does the platform work for companies?
Companies can quickly create a profile about your organization and post projects. If you choose to post a project from our project library, projects are pre-populated and can be posted in a matter of minutes. You only see those students who apply to your projects and can select one or more students for each project. Students work independently on each project and are paid the full amount that is listed in the platform.
All projects are paid on average $15-20/hour, and each project is individually vetted by Parker Dewey to make sure that it is appropriate for college students/recent grads and compensated fairly. It is free to post your project, and 90% of what the companies pays goes directly to the student. Students become independent contractors of Parker Dewey who manages the administrative burden of the Micro-Internship including legal, payroll, and onboarding.
In addition to offering a flexible staffing solution with no conversion fees or long-term contracts, these projects also offer employers access to students who currently have difficulty engaging in traditional internships. These may include student-athletes or non-traditional students who may be unable to complete a summer internship.
Are all opportunities available to all students? Or can some projects only be visible to students from certain colleges or organizations?
Although most Micro-Internships are visible to all students, as of March 2021, organizations/alumni have the option to "feature" their project so that it is visible only to students from specific school(s) and/or affiliations. This change was made to offer universities and nonprofits additional opportunities to engage their alumni and employer networks in support of their students and to generate more opportunities for students/grads.
"Affiliations" are the non-profit organizations with whom Parker Dewey has partnered who are helping students from underrepresented backgrounds with college and post-college success. Examples of these organizations include Dell Scholars, TheDream.US, Winning Edge, and United Negro College Fund.
What kind of support does a student receive if selected for an opportunity?
They will receive the contact information for a representative from the company hosting the project as well as from Parker Dewey's Client Success team. Students also receive a number of onboarding emails and resources from Parker Dewey. Micro-Internships are also a wonderful opportunity for students and faculty/alumni to connect. Upon completion of the project, companies can provide feedback to the students about their performance.
Do Micro-Internships ever lead to longer-term opportunities (longer internships, full-time jobs)?
Yes! Micro-Internships often result in offers for internships and full-time jobs, and are even used as a recruitment tool for those opportunities. Companies who have used Micro-Internships recognize that although the project may be short-term, the projects can be a great way to identify students' potential and evaluate skills like grit, communication, and problem solving that are so important, but often difficult to assess during a traditional recruiting process. Plus, if multiple projects need to be done, these opportunities allow multiple students a chance to work on the different projects allowing for a wider pool of potential interns/candidates for other positions.
Can Micro-Internships be completed by International Students? And how about undocumented/DACA students?
Micro-Internships have been approved for international students, often through OPT or a work visa. It is up to each school to approve the student, and we recommend that students reach out to their International Students Office before applying to confirm their eligibility.
Since these are paid opportunities, in order to complete Micro-Internships, undocumented or international students need to have the appropriate work authorization or a valid International Tax ID Number (ITIN).
Additional FAQ's about Parker Dewey are available here.